Alexa Ace
Gary "Turbo" Webb
While prices in the Oklahoma medical cannabis market seemed to be dipping in the spring, six months later, they have held steady and, in some cases, have risen.
A multitude of factors are responsible for the stagnation in sticker prices, according to dispensary owners and budtenders.
Gary "Turbo" Webb manages Green Plus, 1120 S. Air Depot Blvd., Suite 10, in Midwest City. He previously worked at the company's location in south Oklahoma City. He said growers are still asking about $2,400 per pound of lower-quality cannabis and between $2,800 and $3,200 per pound for top-shelf.
"I think that all of that is very likely to change here in the coming weeks," Webb said. "There's a lot of outdoor that has already been up for harvest and is already out there on the market. More of it's on its way, and apparently there's a lot from everything that I'm hearing. There's going to be a ton of it. So I don't know if we're going to necessarily have any kind of a shortage on cannabis in general, but on really quality, pretty cannabis, shelf cannabis like the stuff that all the customers are griping at us that they want, that's going to be pretty tough to come by. One thing I've seen is that dispensaries have done nothing but go down in their pricing. And the pricing for product has done nothing but go up, so our profit margins have shrunk."
Part of that has to do with the amount of competition for product. He said there are 13 other dispensaries within two miles of his location.
"About two months ago, we went through a dry spell here in Oklahoma where flower was getting increasingly tough to find, and pricing shot up on it all," Webb said. "A lot of stores went dry or had one strain, two strains, four strains max, and we try to base our business on no less than nine or 10. It started a pricing war where we're trying to have to keep pace in competition with these other stores."
Oklahoma patients are consuming a large amount of cannabis, he said, and the resulting demand is spiking prices. The program has just passed the milestone of 200,000 patients just shy of a year of the date when dispensaries began to be able to sell THC products legally.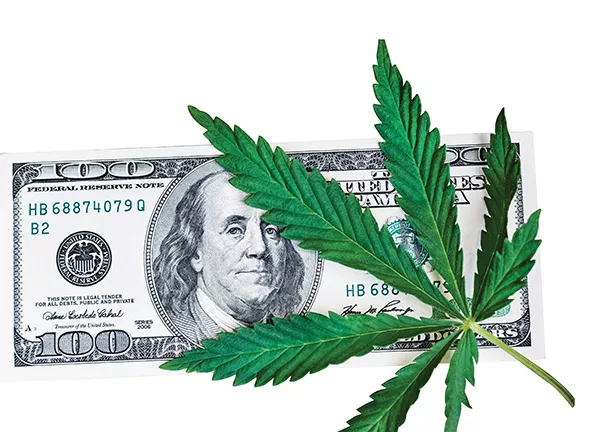 bigstock.com
Oklahoma cannabis prices have stayed constant over the last six months.
Fair prices
In southeast Oklahoma City, brothers Seany and Kelby Valdez own and operate Oklahoma Kind Connection, 3535 N. Shields Blvd. They opened their dispensary in mid-April.
Their pricing has stayed about the same, they said, starting at $8 a gram and going up to $15. They have always carried a large number of flower strains. Currently, they stock just over 40 different types of flower.
"As we get into the first year of legalization, we feel like we're competitive with the selection, the variety and the quality that we offer," Seany Valdez said. "Since the patient cannot smoke before purchasing, it has to have a great nose on it. The terpene profile has to be there, the structure, and at the end of the day, how much we have to pay for it. Growers that are growing high-quality stuff demand more for their product because it's sought-after. We have seen some changes recently with the 'unity bill' coming into effect and the testing results being a requirement as well as some other growers who may or may not have been doing things by the book have started to fall off and quality has gotten a little more scarce. We've seen them go up, I wouldn't say significantly, but I wouldn't say it's unnoticeable either."
Kelby Valdez stressed that they try to keep prices fair.
"If buy something for a certain amount of money, I have to sell it here in order to stay open. But I don't want to be greedy. I don't want to take two times the amount that I paid. I don't want to take three times the amount that I paid, and that's why all of our pricing is the way that it is, just because it's fair for everyone. It's not going to put someone in a bind to try it."A patient convinced them to create a "private reserve" shelf priced at $20 a gram for connoisseur flower, but there are only a handful of strains on the shelf at that price point.
"We had people asking for a certain strain that we wanted to try, and we had to pay a lot of money for it. It wasn't something that we bought a lot of," Kelby Valdez said. "It's really hard to find a strain like that or find a flower like that that is purchasable. Most growers will want to keep it for themselves or it'd be spoken for. … Once we're able to find weed of that quality and caliber all the time, we'll probably dissolve the shelf completely. As the market matures and the growers get more experience, the private reserve will go away because the price will get competitive enough."
Seany Valdez also expects to see prices to drop in the near future due to large harvests coming to market.
"I'm hoping that the prices will soon go down with some of these bigger grows that I've heard and seen that were coming into play," he said. "I've gotten word from some bigger growers that are supposed to be pulling down quality flower that are supposed to be lowering the prices to the market, and that was their goal, to come in with a large surplus of quality to get these high tickets out of the market and get everyone competing at a lower price point."
No matter the prices, Oklahomans are now just under a year out from a completely different business model when it came to acquiring their cannabis.
"That scenario where you had to call a guy, he said he'd be there in 20 minutes. Two hours later, he's still not there. Then he ghosts you for two days, and then when you finally see him, he's like, 'Hey, you still want that?'" Webb said. "You want to be pissed off and tell him to go fuck off, but you're like 'Yes, of course I still want that.' There's a lot of these people that have never experienced that, so just the appreciation of the experience of getting to walk into a dispensary and have the selection that you do, outdoor or not, is something that I think everybody should be a little more thankful for."