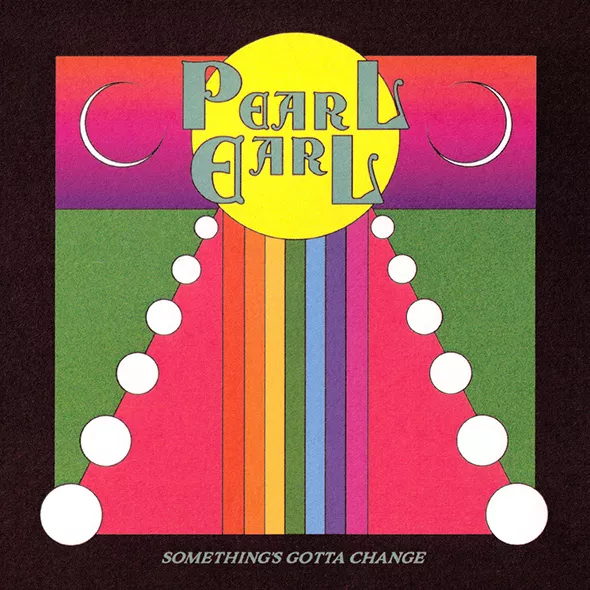 provided
The single "Something's Gotta Change" was released in May.
Pearl Earl
9 p.m. Nov. 15
Opolis
113 N. Crawford Ave., Norman
opolis.org
405-230-0311
$8-$11
Pearl Earl, frontwoman Ariel Hartley would like you to know, is not breaking up.
"Even though I'm moving and [drummer Bailey K. Chapman] moved, it doesn't mean our plan for this band is over," Hartley said in a phone interview conducted the day before she planned to move from Denton, Texas, to Minneapolis, Minnesota. "We're still a band. It's so annoying. You have no idea. All around town, everyone's like, 'Oh my god! What's happening?' It's like, 'It's fine. A lot of people do this.'"
Pearl Earl plays 9 p.m. Nov. 15 at Opolis, 113 N. Crawford Ave., in Norman. The four-piece psychedelic rock band is now divided between Minneapolis, Los Angeles (Chapman) and Denton (bassist Stefanie Lazcano and keyboardist/percussionist Chelsey Danielle), but Hartley emphasized that the concert will not be Pearl Earl's last Oklahoma show. She added that the band, which released single "Something's Gotta Change" in May, is currently making plans to meet up in December to record a follow-up to its 2017 self-titled debut.
"We already have a whole album, really, ready to go and be recorded," said Hartley, who serves as the band's primary songwriter, "but I wanted to include some more new material that we haven't gotten to go over together and practice it as a whole so we can lay it down, too. … I feel like I've always been an album and a half ahead of what we already have out there, but it's so hard to get everyone together with their schedules and record. And then even once you do that, there's release date stuff with PR and all that. I don't know. It's a lot of stuff."
The material for the new album is "more multi-dimensional" than the band's previous releases, Hartley said, but she's not entirely certain how it will play onstage.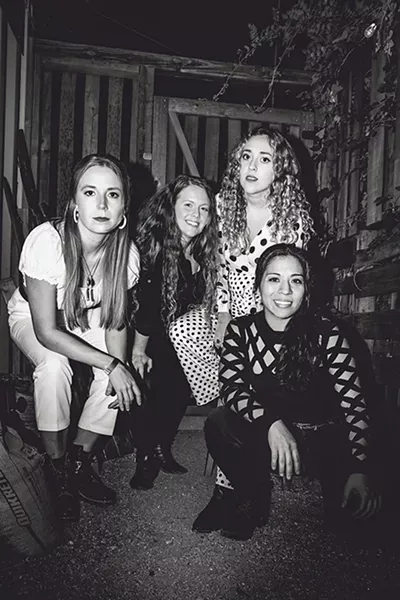 provided
Pearl Earl plays 9 p.m. Nov. 15 at Opolis, 113 N. Crawford Ave., in Norman.
"It's not going to be as much garage rock," Hartley said. "We haven't recorded yet, so achieving it live, I'm not sure because we do play very aggressively and very garage-rocky. In the future, I do want to find something more polished and more fully fleshed-sounding. I do want to add another member, but that's going to happen after this album."
Hartley has also recorded a four-song EP without the rest of the band. She describes the music as "chiller" dream pop, simpler and more accessible than Pearl Earl's prog-influenced glam rock.
"These EP songs, some of them are only like two-chord, three-chord songs, and they're very repetitive, a more typical pop-song structure," Hartley said. "I did that as a challenge to make simpler songs to see if I could pull that off and how that would work, songs that I thought were more boring because they didn't have a bunch of changes to see if it was something that could still sound good to me, and it does."
Though Hartley ultimately makes most of Pearl Earl's creative decisions, recording the EP, which took two and a half years to finish, was difficult because Hartley couldn't rely on the rest of the band for a second opinion.
"I only had myself to decide on what sounded good and what didn't, and it took a lot longer because, also, the songs that I chose to record alone were songs at the time that I didn't feel fit directly in with what my Pearl Earl alter-ego was," Hartley said. "I didn't want to throw them away, but there's songs that I wasn't 100 percent in love with. They weren't my number ones. So whenever I recorded those, it was hard, too, because I think I felt like they would come alive. Now I appreciate it and I love it."
The experience taught her not to spend longer than necessary recording songs.
"When you let too much time go in between mixing sessions or when you record something and then you come back like months later and mix it, you start picking apart the material to where you hate it and you don't want to release it because you don't think it's good enough," Hartley said. "When you first learn the song as a band, you're excited about it because it's like 'Whoo! A new song!' and then you record it, and then you play it a million times, and it's not that exciting anymore. … When you lay it down for recording, then it takes on new life, but if you wait too long in between sessions, it'll become old news just like everything else does. … It's best to just take that inspiration and do everything you can with it and when you use it all up then move on to the next thing because sometimes it's really hard to find the inspiration to keep going with it."
She eventually found a new creative spark collaborating with producer Brack Cantrell and members of Denton band Acid Carousel.
"The songs didn't inspire me anymore, so I actually had some friends come in, and if they heard something that they thought would sound cool, like a guitar line, I'd be like, 'Yeah, sure. Lay it down,'" Hartley said. "Some of it I kept, and some of it I didn't, but it helped ignite a newness into the song that I didn't hear … even though I wrote the whole song structure and I recorded almost all the instruments. … I learned that next time I do something like that, it's a lot more work than I thought it was."
Pearl Earl's live performances have also recently become more inspired as its members get excited for the new chapters in their own lives.
"If anything, the last shows we've been playing have been some of our best shows in the area because, I think, people know we're not going to be locals here anymore," Hartley said. "Our last Denton show was huge, and it was probably one of my favorite Denton shows. The energy was there, and I think we just also gave it our all. It's not like we're turning off; we're just focusing our energy towards actually getting new material out, so we're saying no to shows, to focus on that, and I think we're all looking forward to the rejuvenation of not having to play live shows all the time. It's taxing. We get tired, and we party really hard, so we're looking forward to going a month without playing shows and then just concentrating it to one weekend where, where we give it our all and we get a month off and then we do it again, and then, who knows?"
Locals Helen Kelter Skelter and Psychotic Reaction share the bill. Tickets are $8-$13, and the show is all-ages. Visit opolis.org.