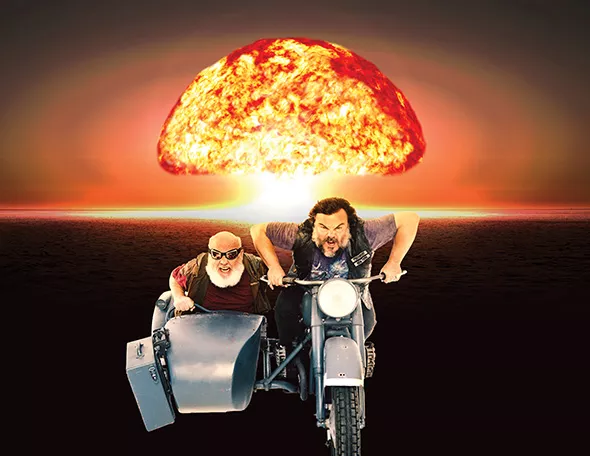 Shane McCauley / provided
Tenacious D plays 8 p.m. Oct. 20 at The Criterion.
Before you can watch Tenacious D's 2018 sort-of animated sci-fi rock opera Post-Apocalypto on YouTube, you must click through a screen warning: "This video may be inappropriate for some viewers." Go ahead and apply that same warning to the text beyond this sentence. In anticipation of the D's Oct. 20 show at The Criterion, 500 E. Sheridan Ave., we had a short phone conversation with Jack Black (aka JB, aka Jables) and Kyle Gass (aka KG, aka Rage Kage) about their latest tour, inspired by the film, which depicts the duo surviving a nuclear holocaust, befriending a three-headed dog named Hope and a chainsaw-bazooka-machine-gun-toting robot, and taking on the Ku Klux Klan (KKK), Nazis and the White House through a slideshow of Black's crude (in every sense) drawings and soundtracked and voiced as only the D could or would. Topics covered include narcissism, when it's racist to yell "Free Bird" at a concert, and the president's (allegedly) weird little penis. (Remember, you were already warned.)
Tenacious D
8 p.m. Oct. 20
The Criterion
500 E. Sheridan Ave.
criterionokc.com
405-840-5500
$52.50
Oklahoma Gazette: I read an interview with you guys on Uproxx where you said part of the inspiration for Post-Apocalypto was recognizing Donald Trump's narcissism as similar to your own in some ways. Do you think narcissism is something you need to overcome or can it be used in positive ways?
Black: You could just ask Howard Stern. He seems to have harnessed it into a powerful entertainment industry tool. A lot of people have. We've definitely used our own narcissism to our benefit, but it's kind of like the Force. It's very, very susceptible to being turned to the dark side.
OKG: When you're dealing with highly charged subjects, do you worry about what you're saying being misunderstood?
Black: Yeah. We did have that conversation. There's a section in there where we're on a mission to save the world, and one of the things we have to do is get the, what's it called again, Kage?
Gass: The Crystal of Gilgamesh.
Black: Yeah, we've got to get the Crystal of Gilgamesh and it's in the White House, and it's being guarded by KKK soldiers and Nazi soldiers, and we devise a plan to sneak in there, kind of like The Wizard of Oz, where our heroes have to dress up like the guards, but the KKK are singing a song. When we first get to that scene, to that chapter of the movie, Kage was like, "Dude, this song is, I don't even know if we should put it on the album because maybe the KKK will use it as their thing," but we ended up using it anyway because I think if you listen to the lyrics, you know that we're anti-fascism. It's pretty obvious.
Gass: Our KKK demographic is very low.
Black: But we can always tell when we're doing a show … during that section, there have been people that have yelled out "Free Bird!" and that, we think is code for, "Fuck you, snowflake! Make America Great Again!" is what they really want to yell, but they know they can't do that, so they yell "Free Bird," which is the international word for, "This is boring. Play Skynyrd." Really what they're saying is, "Fuck you. I'm a KKK guy."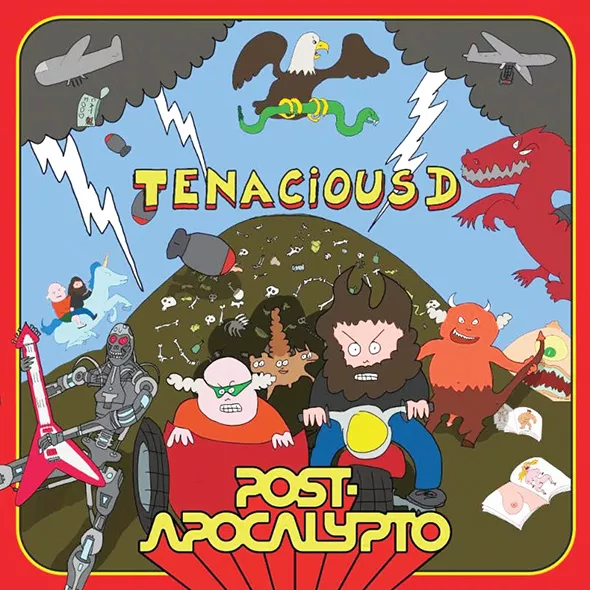 provided
Post-Apocalypto, the soundtrack to Tenacious D's sort-of animated sci-fi rock opera, was released in November.
OKG: I know your album Rize of the Fenix had some discussion of the negative response to your film The Pick of Destiny. How have you felt about the feedback you've been getting for Post-Apocalypto?
Gass: We hope people liked it. What have they been saying? I can't read comments anymore. They say I'm old, and then I stop reading.

OKG: So you're just not really concerned about that anymore?
Gass: I'm very concerned, but I try not to be.
Black: I love to play our rock opera in its entirety for audiences. It's been one of the most rewarding experiences of Tenacious D's whole career trajectory for me. When we get up there and we're just sitting behind the screen and the images from the movie are playing up on the screen in between songs, we get to just chill and listen to the audience and watch the movie do its magic. We've been touring it for like a year, and I just never get tired of it. I just love it. And it feels good to be making something that you really believe in. We always love our own shit. We love our own music, and we love to listen to our albums, but this is the first time we've really done something where there's actually a meaning and a message behind this thing that's bigger than just your everyday average rock 'n' roll album, and it fucking feels great, and the audiences have been really into it, except for one or two "Free Bird"s. I'll take that. … And we should say, we do our rock opera, which really is a condensed version, I'd say it's about 45 minutes, and then the rest of the show is greatest hits. We're all about showmanship at the end of the day. We're not going to deny anybody our hits.
Gass: We're too insecure for that. We have to deliver.
OKG: I'm curious why you go after Donald Trump Jr. instead of Trump Sr. in the movie.
Gass: We knew that it's against the law to even threaten the president of our country. It's not really a bad law. You should really try to hold off on the leader, the great leader, but fortunately for us, his son is an even bigger piece of shit than he is.
Black: And also, aside from that, Donald Trump Sr. is, like, 80 years old, and he just eats fucking Kentucky Fried Chicken every day. So we're like, "Wait. He could easily have a heart attack any minute now, and then we're running around town, you know, with a rock opera about a dead guy, so let's think ahead a little bit." Donald Jr. seemed like a safer bet to stay relevant for at least until the election in 2020.
Gass: Just covering our own asses.
OKG: It also ties in with the overall theme about negativity being passed down through generations.
Black: It comes down to looking at ourselves in the mirror and looking at, "What kind of people are we creating? What's Jables Jr. gonna be about?"
Gass: That's one of my favorite parts, is our song "Colors" when Jack draws the Trump lineage all the way back to cavemen. It's pretty effective, I think.
Black: It all started with a comparison of penis size by the campfire. That started all of this hatred.
Gass: You can see the social rock anthropologists that we are.
Black: There's lots of armchair psychologists that have linked Trump's rage to his obsession with mushroom penises. We know this. This is just fact-based stuff. That was my favorite thing was when we cross-faded from Trump's mushroom cock to a mushroom cloud and a nuclear holocaust.
Gass: They're talking about the Nobel Prize for transitions.
Black: It's true. There's a lot of talk about it. We're not talking about it, but the Nobel commission is.
The show is all-ages. Tickets are $52.50. Visit criterionokc.com.