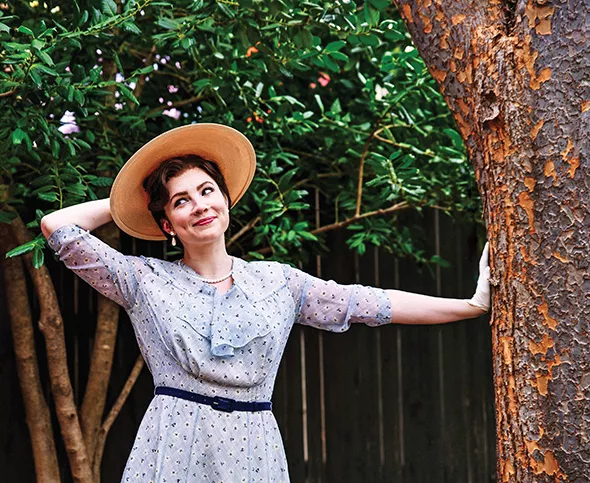 K. Talley Photography / provided
Bligh Voth plays Alice Murphy in Bright Star, a bluegrass-inspired musical written by Steve Martin and Edie Brickell, making its regional premiere April 3-28 at Lyric at the Plaza.
If not for Hamilton hogging the spotlight, Bright Star might have gotten a little more shine. The bluegrass-inspired musical written by Steve Martin and Edie Brickell makes its regional premiere April 3-28 at Lyric at the Plaza, 1727 NW 16th St. Artistic director Michael Baron said he is convinced Bright Star, which closed on Broadway after 109 performances despite earning five Tony Award nominations, could have been a bigger success with better luck.
"I'm confident that this is going to be a classic and be done all the time," Baron said. "The only reason it had a shorter Broadway run is it opened the same year as Hamilton, which took up all the energy in the room, I would say. If it had opened any other year, it would have won the Tony Award for best musical. … I think you're seeing one of those shows that theatergoers are going to start to love once it's done more."
Baron said he knew he wanted Lyric to stage the show immediately after watching a performance in New York City.
"I saw it on Broadway two seasons ago and fell in love with the story, the characters and particularly the music," Baron said.
The show's unconventional score combines elements of traditional Broadway musicals with bluegrass and Americana instruments and influences, and Baron said getting the folksier features right is especially crucial for local audiences.
"In New York, it might have been more of a novelty, but here it's part of the fabric of Oklahoma," he said. "It's a pretty full sound once it gets going, but there's definitely not a lot of belting like Wicked or The Phantom of the Opera. It's real American music coming from a real place in their hearts."


Bright cast
Casting Bligh Voth, also featured in Lyric's production of Big River and a regional tour of Million Dollar Quartet, as female lead Alice Murphy was essential to give the music an authentic sound, Baron said.
"She has been singing bluegrass and country her whole life," he said. "She sounds like a mix between Loretta Lynn and Dolly Parton and Faith Hill. It's just a stunning, beautiful voice. … I said, 'Hey, if I do this show, I'm only going to do it if you're available.' So we found out when she was available and then programmed it around her schedule."
The original Broadway cast recording of the show's music is already becoming popular with actors and theater students.
"When we started music rehearsal, we focused on the ensemble and the background vocals because all the principals already knew their songs," Baron said. "A lot of people are auditioning with them and really love the music. I taught at [Oklahoma City University] last fall, and we did a bunch of the music from the show, and the whole class already knew the songs. They were excited Lyric was doing it, and a few of my students are in the show in the ensemble, so it's exciting to see them actually get to do the real piece."
Set in North Carolina, Bright Star shows Alice during two periods in her life: as a rebellious teenager in love in the 1920s and as the editor of an influential publication trying to help young Billy Cane, an aspiring author recently home from war in the 1940s. Instead of attempting to dazzle with flashy song and dance numbers, Baron said the musical relies on Alice's relatable charm to draw the audience into the yarn she spins.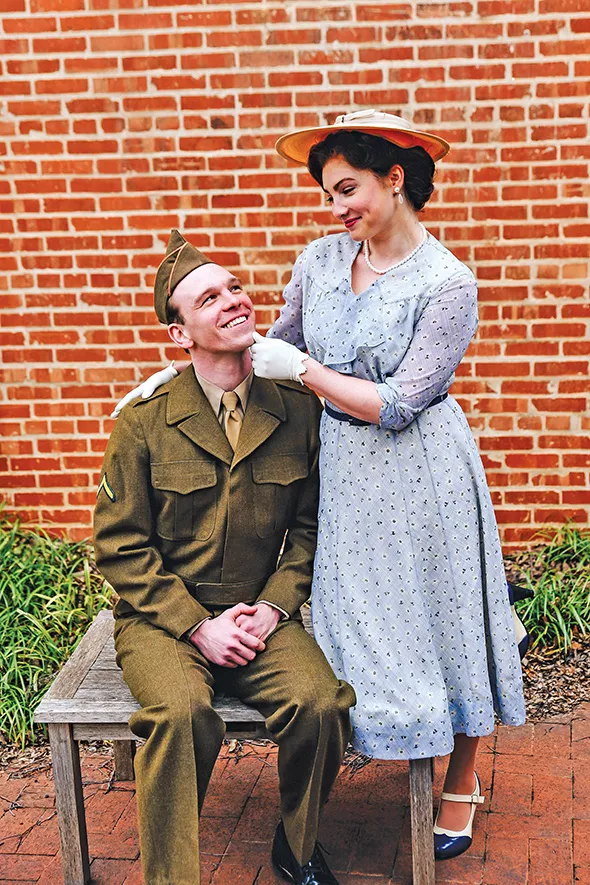 K. Talley Photography / provided
from left Ken Singleton and Voth in Bright Star
"Some shows you kind of wow the audience with, and this is one of the shows where the audience comes to the story," Baron said. "The first thing [Alice] says is 'If you knew my story, you'd have a hard time believing me.' … The curtain opens, and there's a woman that you might recognize as your neighbor saying, 'I'm going to tell you the story of my life,' which makes it special and makes it work particularly well, even though it's probably one of the biggest shows we've done in the Plaza Theatre. I could've done it downtown at the civic center. It's better in the smaller theater because everyone has to be up close to the actors and get to invest in the story and the music."


Period piece
New York Times critic Charles Isherwood said Bright Star "tells a sentiment-spritzed story — of lives torn apart and made whole again — that you might be more likely to encounter in black and white, flickering from your flat-screen on Turner Classic Movies," but Baron said Lyric's production is not intended to mimic the style of an old film.
"People aren't so different in different time periods," Baron said. "Their situation is different. So the scenes and where everything is set put us in that time period, but we're not going to be talking like an old black-and-white movie. Back then the acting style, the accent was called 'mid-Atlantic' that actors were trained in, and it meant you were somewhere between New York and London. It was sort of how Bette Davis talked and Joan Crawford, and we don't talk that way anymore. The accent for the show is North Carolina, but I say it's more important that we tell the story honestly and give it a Southern flair."
Baron compared Bright Star's "unbelievably beautiful" story to a "Southern novel set to music on stage," continuing in the "great literary traditions of America" established by writers such as Tennessee Williams and Pat Conroy.
"This isn't a tap-dancing show. It's really a character-based show with beautiful music to help tell the story," Baron said. "It's funny, but it's also heartbreaking and hopeful."
The skillful scripting allows the story to span multiple storylines and timelines without becoming hard to follow.
"It's written so well and clearly that it's actually not that difficult," Baron said. "For example, she [Alice] starts out as an adult, as the editor of the Asheville Southern Journal newspaper. When she goes back in time in a memory to when she was a teenager, the song is called 'Way Back in the Day.' So there's a song that purposely was written for us to, onstage, transform her back into that world. The show itself is very cinematic."
Though Bright Star's Broadway producers would have doubtlessly been happier if more people had seen it during its initial run, Baron said he is confident new audiences will fall in love with the show just like he did.
"I realize people in town haven't seen it yet, but once they do, it's going to be one of their favorite shows ever," Baron said. "This is one of my favorite shows I've ever seen, and I'm excited to work on it. It's so wonderfully moving and beautiful. It's one of the shows I think people will be talking about for years that Lyric has done. The cast is wonderful, and the story is really, really heartwarming."
Visit lyrictheatreokc.com.