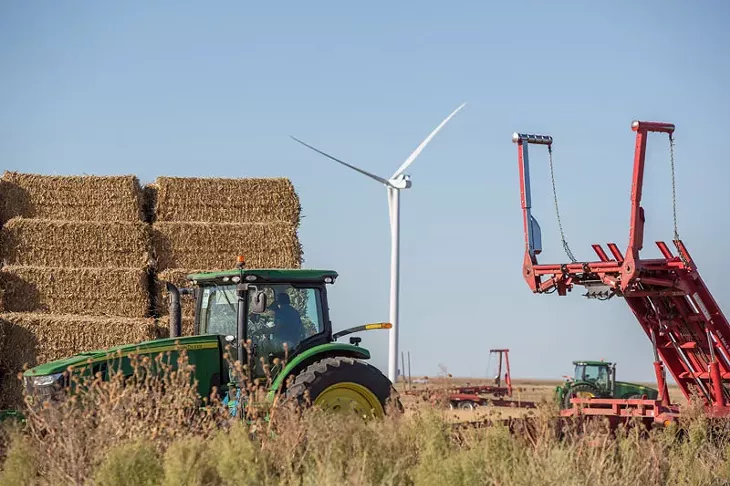 Oklahoma's stream of steady wind propelled the state as one of the nation's top producers of wind energy.
For a global renewable energy company like Enel Green Power North America, erecting wind farms — a series of wind turbine towers dotting the open landscape for miles — made perfect sense in Oklahoma. The Italy-based company's first wind farm began twirling in 2012, and seven additional wind farms followed outside towns like Enid, Davis and Rush Springs.
Oklahoma's wind energy resource was just one of the reasons Enel was drawn to the area, explained Jeff Riles, the company's director of regulatory affairs. Landowners interested in hosting wind facilities on their properties and a growing appetite amongst customers for renewable energy have attracted and retained the company. The state's tax credit for wind and access to transmission lines help too.
"Oklahoma has had a really great, very friendly business framework," Riles told Oklahoma Gazette. "For most of our investments, being able to take advantage of Oklahoma's zero-emission tax credit has been a key factor. It helps us lower the cost of the energy, which we ultimately deliver to our customers. That makes it a competitive place."
More than a dozen years ago, state lawmakers approved the zero-emission tax credit as an incentive to spur the renewable energy industry in areas of wind, geothermal, solar and hydropower.
The state's zero-emission tax credit expired last week following legislation approved by lawmakers and signed by Gov. Mary Fallin in an effort to save the state $500 million over the next 10 years. The tax credit, originally slated to expire on Jan. 1, 2021, is largely responsible for fueling Oklahoma's wind industry. According to trade group American Wind Energy Association, the Sooner State is third in the nation for wind power with more than 6,600 megawatts of capacity.
Hailed as a job creator responsible for rising prosperity in rural communities and part of a clean-energy solution for the future, will this policy change affect the wind industry and Oklahoma's economy?
Wind boom
The Oklahoma Panhandle, perhaps best known as an agricultural mecca with its vast plains and fertile lands, is now becoming home to an ever-growing supply of wind farms, explained Vicky Ayres-Portman.
"When you look at maps of the United States for the development of wind and solar, the Oklahoma Panhandle is the sweet spot for both," said Ayres-Portman, who serves as the Oklahoma manager for Clean Line, the Houston-based transmission company behind the proposed Plains and Eastern Clean Line Project.
The $2.5 billion project is expected to send 4,000 megawatts of wind power from the Oklahoma Panhandle to Tennessee and Arkansas. The Plains and Eastern lines will be the first overhead high-voltage, direct current project in the United States in more than 20 years.
"The problem with the Oklahoma Panhandle, because of its sparseness and lack of need, there hasn't been a lot of infrastructure built for transmission," Ayres-Portman said. "The opportunity was all this great infinite resource and no way to get it out."
The Panhandle is already home to wind farms, some that provide power to Oklahoma-based utility companies.
This spring, officials with Clean Line closely watched the zero-emission legislation move through the Capitol. With the Plains and Eastern lines expected to begin service sometime around 2020, the zero-emission tax credit was never an option for the wind farm developers partnering on the transmission line project.
Since the legislation was tied to worsening state budget problems, Ayres-Portman said the company was grateful the wind industry worked with state leaders on a fiscal solution.
Clean Line sees its project as an economic engine for the state. In addition to the investment from the companies building the wind farms, Clean Line is pumping $1 billion into Oklahoma's economy, Ayres-Portman said. The company expects to pay about $35 million to Oklahoma landowners in easement and structure payments and an estimated $13 million to Oklahoma counties in ad valorem revenues, which benefit school districts and county governments.
"We are going to be the catalyst for over $7 billion in new wind development investment," Ayres-Portman said.
Policy change
When House Speaker Charles McCall, R-Atoka, and Senate President Pro Tempe Mike Schulz, R-Altus, filed legislation to end the zero-emission tax credit more than three years earlier than its sunset date, it came as no surprise.
In November, the Oklahoma Department of Commerce Incentive Evaluation Commission released its report on the tax credit. While praising the incentive's success, the report also painted a grim picture of an unsustainable incentive during a trying time in collecting revenue for the state.
In 2005, the first year the credits were claimed, credits totaled $2.7 million. Six years later, claimed credits totaled $8.8 million and by 2014, the state dished out $113 million, according to the Incentive Evaluation Commission report.
In addition to saving the state money, proponents also argued that the tax credit was no longer needed, as the state's share of electricity generated by renewable energy sources was close to 25 percent, well above state lawmakers' goal to reach 15 percent by 2015.
Opponents argued that ending the incentive early sent the wrong message to the renewable energy community and could result in fewer proposed projects.
Moving forward
In mid-April, Enel, which manages the second largest wind capacity in the state, broke ground on the Red Dirt wind project. As the company's largest wind farm in Oklahoma, wind turbines will dot a 61,000-acre area between Kingfisher and Guthrie, providing an estimated 300 megawatts of wind energy. It's a $420 million investment into Oklahoma. Enel will sell its power to T-Mobile US, Inc. and the Grand River Dam Authority, an electricity supplier in northeast Oklahoma.
The project's construction start date coincided with the governor's signature on House Bill 2298, the legislation that stopped the project from tax credit eligibility.
"We certainly recognize Oklahoma has gone through very challenging times in terms of generating sufficient revenue to fund services," Riles said. "We also recognized that the State of Oklahoma needed revenue more than we needed credits."
With plans already drawn and agreements reached, Enel is proceeding with not just Red Dirt, but the $435 million Thunder Ranch Wind Project located in Garfield, Kay and Noble counties.
As the company analyzes locations for its next wind energy project, Oklahoma is now missing one of the key drivers that attracted the company in the first place, Riles explained.
"Certainly, for Oklahoma, we recognize some of the policy signals we are seeing. That is not something that is lost on us," Riles said. "We believe we have a better story to tell, a better message to deliver. As we evaluate projects beyond Thunder Ridge and Red Dirt, we will be thinking about those things, just like we would for any project."
Print headline: Wind strong, As Oklahoma ends its zero-emission tax credit early, Oklahoma Gazette looks at the wind industry.