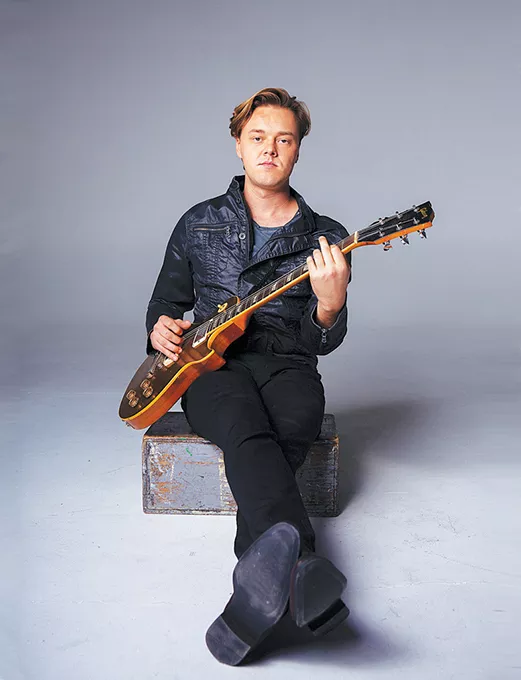 Scott Newton / provided
Parker Millsap
There is an anxious limbo period many artists go through between recording an album and releasing it to the public months or even more than a year after the fact. It's more than adequate time for the mind to stress and second-guess every detail.
Even prodigious talents like Parker Millsap are not totally immune to the angst. Though fans and critics gleefully lapped up the Purcell-born singer-songwriter's honey-gold vocals and lyrics on past albums, there is always room for worry.
But 24-year-old Millsap is missing the pre-release nerves this time around.
"On this one, I haven't had that," Millsap said in a recent interview with Oklahoma Gazette. "With this one, I can put it on and be like, 'Yeah; that's a jam.'"
It would be easy to chalk up Millsap's confidence to the maturity that comes with age or increased experience with the recording and touring process, and those attributes certainly play a factor in it. But Other Arrangements — Millsap's fourth studio album set for a May 4 release under the Okrahoma Records and Nashville-based Thirty Tigers independent labels — also happens to be a literally electric 12-song foray that might well launch him into the musical stratosphere.
Millsap, who has lived in Nashville for the past three years, will mark the new record's release with homecoming shows 8 p.m. May 4-5 at The Sooner Theatre, 101 E. Main St., in Norman. The first Sooner Theatre date is sold out, but tickets are still available for Millsap's second night. A third show May 6 at The Old Church in Perkins is also sold out.
The Very Last Day, Millsap's 2016 gloriously apocalyptic Americana record, was peppered with accenting hints of electric guitar but still carried an appropriately vintage acoustic feel. Other Arrangements, on the other hand, is plugged in almost all the way through, further amplifying Millsap's natural exuberance.
Millsap said the transition was logical, but that doesn't make it feel any less stark. Other Arrangements might prompt comparisons to Bob Dylan's turn to electric sound in the '60s, but Millsap is not expecting any cries of betrayal from his fan base.
"Dylan went electric a long time ago," he said. "It's not a radical move, you know? My past two records have had electric guitar all over them; it's just that this record is a little more electric guitar-heavy than previous ones. ... It feels like a natural progression."
Mountain peaks
Other Arrangements was primarily recorded in fall 2017 during a two-week session at Echo Mountain Recording in Asheville, North Carolina. They added overdubs and mixed the record that winter in Nashville, Tennessee. Millsap enunciates with care as he distinguishes between the rhyming cities.
"I always try to be really clear," he said, "because it's always like, 'Wait, wait, wait; which one was which?'"
Asheville's Echo Mountain is a state-of-the-art studio located in an old church building. Its stained glass windows are still intact. The control room features a vintage Neve 8068 recording console. The studio has full analog and digital capabilities.
Millsap never set out to make Other Arrangements his electric record. The sound developed as a natural extension of his band's live show, which began consistently incorporating electric guitars when Millsap started touring with a drummer several years ago.
The album's first single "Fine Line," which also functions as Other Arrangements' firecracker opener, was recorded on a 5-watt amplifier. Much of the album was recorded on smaller amps, with none measuring more than 12 watts. That was done to replicate the sound of his live show, where Millsap's band seeks to reduce its overall stage volume and minimize microphone feedback that could overshadow the fiddle.
But Millsap can make 12 watts sound as impactful as 50 or more. That dynamism comes, in part, from a searing singing voice with the potential to reach otherworldly howls. Millsap first cultivated that voice as a young child while singing in the Pentecostal church his family attended. He builds a lot of his songs around key dramatic moments, spending a lot of time on optimizing his impact.
"If anything is really going to make it dramatic," he said, "it's going to be the voice."
provided
Other Arrangements
Building up
Millsap and his band had a lot of fun recording at Echo Mountain, but not just because of their fine studio equipment. In the old church basement, there is a lounge area stocked with arcade machines and pool tables. Of particular interest to the band was a Golden Tee Golf virtual golf game.
"We definitely put some hours into that Golden Tee," said bassist Michael Rose. "I mean, you can't just wear yourself out recording."
Rose and Millsap became friends as teenagers in Purcell. He has been playing bass with Millsap's band for the past 10 years.
Fiddler Daniel Foulks is also a longtime Millsap bandmate, playing with him for the past six years. Though Millsap, Foulks and Rose have been known as an acoustic trio in the past, those who have closely followed the band should not be surprised by Other Arrangements' sound.
"We never had any intention in the beginning to stay acoustic," Foulks said. "I don't think any of us are sticklers in any way to one sound."
Rose sees Other Arrangements as a natural progression from The Very Last Day to even bluesier sounds they enjoy from personal favorites like Muddy Waters and The Rolling Stones.
"Each record we make, we try to make a better one than the last," he said. "On this one, I think we did that."
Easy stroll
Aside from its amped-up sound, Other Arrangements might be making history as the first rock 'n' roll record to clearly advocate for defensive driving habits.
On "Some People," Millsap sings about highway drivers intent on zipping past every car in front of them, no matter how fast those other cars might be going.
"I'm going 63 [mph]," the lyrics go. "I think that's plenty fast."
Millsap uses highway rage as a metaphor for the win-at-all-costs lifestyle that is so far removed from the songwriter's usual, levelheaded nature. But while the song might have symbolic meaning, it does accurately sum Millsap's general road philosophy.
"When I'm driving, my method is like, 'Stick with the truckers in the right lane unless they're exiting or trying to maneuver or something.'" he said. "You can get around them, but just chill the hell out, yo!"
Tour life is often associated with wild nights of partying and substance use. Rose said Millsap's crew most often partakes in little more than a nightcap.
"After the show, our normal night is just heading straight for the hotel, catching Z's," he said.
Most conversations with Millsap involve at least one good laugh. Rose said he has never encountered anyone as jovial.
"He has a golden heart," he said. "Everybody in our group just kind of rubs off on each other."
Nashville, like the rest of the world, has its fair share of supremely talented creatives and even-tempered souls. But to find pure forms of both in the same person is generationally rare.
"[Millsap] is absolutely doing something that he loves to do," Foulks said. "I think he was meant to do it."