Garett Fisbeck
Beet and green bean salad at Stella, Tuesday, May 9, 2017.
The plot of Green Eggs and Ham might seem to be about an obstinate crank who refuses to even try the food Sam-I-Am is offering, but it's also a story about the importance of ambiance.
Maybe you have a different tolerance level for mammalian company during meals, but I'm hesitant to eat a meal in a box with a fox or in a house with a mouse. And while some foods are better suited to being eaten in a car or in a tree, eating at a table is a far superior experience.
That brings us to the newly installed patio at Stella Modern Italian Cuisine, 1201 N. Walker Ave., which I believe is one of the finest places to enjoy a meal in all of Oklahoma City.
On a mild May afternoon, as a gentle breeze rustled the trees in Midtown, I sat with a glass of wine and a jar full of fish and we all three had a grand time.
The wine was a red blend that was highly recommended by a friendly server who seemed to relish her time outdoors as much as I did. The fish was Stella's smoked salmon rillette ($14), which came with house-pickled vegetables, a lightly dressed mizuna salad and a pile of toast points.
Rillette is similar to pâté in that the meat is poached in fat. Once it's cooled, it's run through a sieve to create a spreadable paste. In this case, the salmon rillette was mixed with capers and bits of diced onion and put in a whimsical little jar.
The salmon had a gently piquant flavor — enough to tease the taste buds. Spread on toast points, it was a festive afternoon snack. The pickled vegetables were wonderful. The red onion, carrots and green beans had a seasonally appropriate sharp tartness and a fresh crunch. Add in the mizuna (a Japanese mustard green similar to arugula) and it's like being served a plate of spring.
For another seasonal delight, I recommend the beet and green bean salad ($13). The base is a blend of arugula, mizuna and kale tossed with a charred orange vinaigrette, but the "meat" of the salad is comprised of wine-braised red and golden beets. Wine draws away some of the earthiness of the beets, and creamy goat cheese adds a light tanginess to each bite. The salad has surprising heft courtesy of the fresh green beans and pickled red onion. It's an ample lunch with tons of crunch.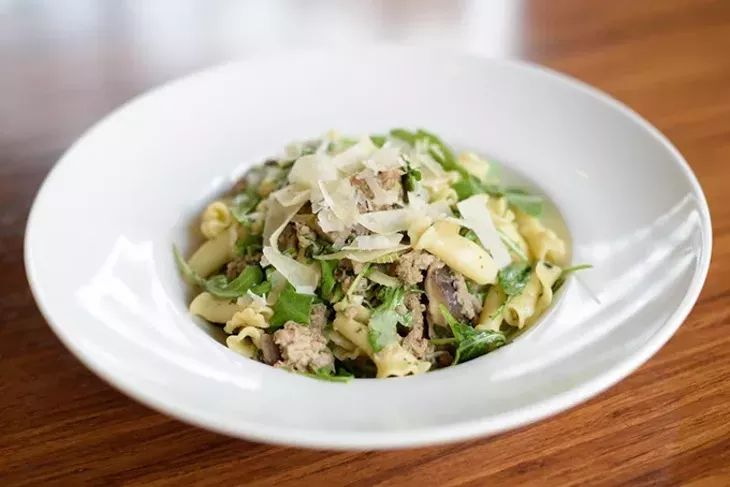 Garett Fisbeck
Sausage pasta at Stella, Tuesday, May 9, 2017.
That said, I would be remiss if I didn't steer pasta lovers toward the sausage pasta ($12) during lunch. The elements sound so heavy, but the dish is nimble.
Much as I love long pastas like spaghetti and linguine, the campanella is a perfect complement to the sausage. Italian for "little bell," campanella is cone-shaped with a little ruffle at the bottom that welcomes sauce while the dual walls make it ideal for spearing with a fork. Stella gives the sausage more shape and texture, and it is not broken down as much as it might be in a bolognese.
Fat from the meat and a white wine butter sauce provide the flavor base while bits of fennel, mushroom and Parmesan cheese contribute aromatic nuttiness. Add some fresh cracked black pepper on top for texture and spice and you have a meal that sates hunger without weighing you down for the rest of the day.
If Stella is your dinnertime destination, and it should be, the dish to get is lamb T-bone chops with a spring vegetable risotto ($34).
I love risotto's creaminess and unobtrusive nature. At Stella, it is a foundation on which flavor is built. The mix of peas, asparagus and spinach provide a gentle green touch.
A little salt might be necessary to bring those flavors to the fore, but the main event is the lamb. Rubbed in herbs and spices and grilled over fire, the chops were lean and tender. The char of the grill came through in the crust.
It tasted of fire and weekend barbecues, but the meat inside was much juicier than lamb that meets my backyard Weber grill.
Lamb is the kind of dish that requires fingers to eat, even at Stella. So after cutting away as much as I could with a knife and fork, I picked up the chops and turned them over and around, stripping every little bit of meat I could from the bone. If anyone passed judgment on me, I don't care.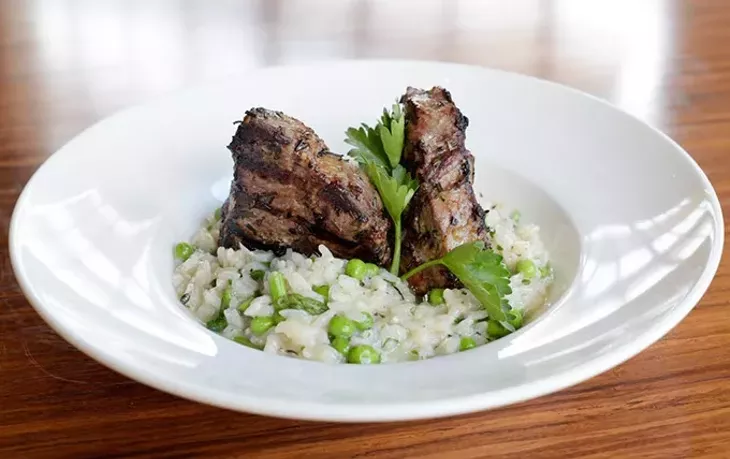 Garett Fisbeck
Lamb T-bone at Stella, Tuesday, May 9, 2017.
A knife is provided but wholly unnecessary if you order smoked short rib and roasted red pepper polenta ($24). This boneless cut of beef was smoked into submission before arriving at my table, so all I needed was a twist of the fork to dislodge my next bite. The polenta was creamy and soaked up the red wine pan jus beautifully. The flavors were rich and dark, like viewing the sky from Stella's patio as the sun set, and both left me feeling full and happy.
Yes, I would eat them in the dark. And I would eat them near a park. I'd eat Stella's food here or there. I'd chew on those lamb chops anywhere.
Print headline: Stellaaaaaa! Outdoor ambiance enhances Stella Modern Italian Cuisine's seasonal charms.