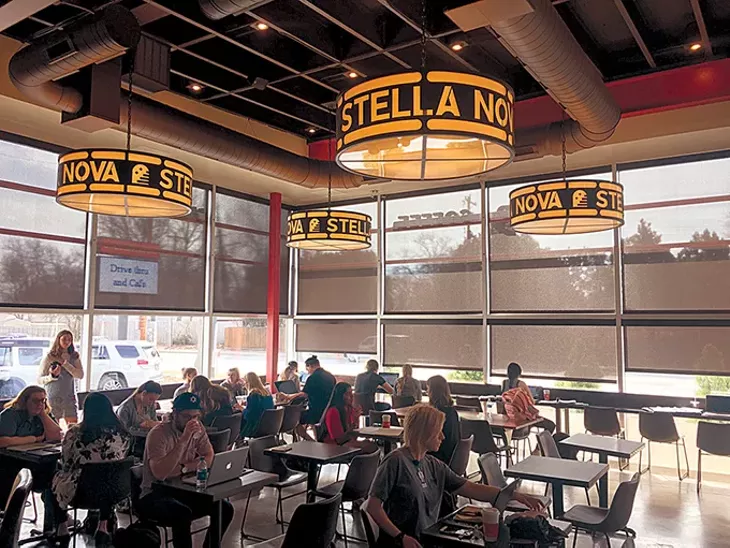 Photo Jacob Threadgill
Stella Nova features light fixtures made with antique metal.
With four locations opening in 2018, Stella Nova is using a model of local products, high-quality coffee and unique architecture that owners hope will service the Oklahoma City area and beyond.
Business partners John Kennedy and Kelli Lay have worked together at Kennedy Consulting Team for the last 16 years, and with the help of a small group of investors, they're using their building and management background to recreate the local coffee scene.
Stella Nova's first location opened at 1415 W. Main St. in Norman in early January 2018, and its second location at 4716 N. Western Ave. in Oklahoma City will have a soft opening March 12. Stella Nova has secured building permits near the intersections of 63rd Street and May Avenue and 110th Street and Western Avenue.
Seated in the Norman location under a painting by his son, Buck, Kennedy is excited for the outlook of his new business. The Norman location also features the art of Michi Susan, Stephen Grounds and Linda Warren.
"Wherever we go in the future, it will all be locally roasted and it will all be filled with local art," Kennedy said. "We will source as many local products as possible. … We feel like what we are doing is scalable. It's a simple concept: getting good locations, developing iconic buildings and using local suppliers of food and art."
While Kennedy enjoys designing buildings, curating art and buying furnishings, Lay uses her graduate degree in human relations to hire the staff and manage the menu.
Stella Nova secured a deal with Roxy's Ice Cream Social to sell single servings for the first time in that company's history.
"We sold out of our first order of ice cream within a week," Kennedy said. "We were pleasantly surprised because we didn't know if people would eat ice cream in January or not."
Photo Jacob Threadgill
from left Co-owner Kelli Lay, supervisor Lydia Rice and co-owner John Kennedy stand outside the first Stella Nova in Norman.
Local markets supply the ingredients for breakfast sandwiches and wraps at Stella Nova, and they stock energy bars from Oklahoma City's Kize Concepts, Lay said.
"We will adjust the menu based on customer feedback," Lay said. "For example, customers have asked for coconut milk. We found coconut milk and added it to the menu, and some customers enjoy sugar-free beverages, so we increased the sugar-free offerings from more than one."
Stella Nova will feature a specialty drink each month. In honor of February, they are selling either a chocolate frappe with house-made strawberry whipped cream or a strawberry frappe with chocolate whipped cream.
Lay and the investment group worked with Oklahoma City-based Leap Coffee Roasters to develop a special espresso blend, tasting 42 samples before settling on the right mix. Leap co-owner Kari Hirst Starkey said it's only the second time her company has developed a new blend.
"Most cafes that come to us just want wholesale pricing; they're not interested in the whole process," Starkey said. "They were the first to get involved through the whole process, tasting things along the way."
Starkey said Leap hired an assistant roaster for her husband Eric Starkey, to help with the demand that comes with Stella Nova's new stores.
"We want to be able to grow with them," Starkey said.
The Western Avenue Stella Nova will be located across the street from The Wedge Pizzeria, which was home to Starkey's Yippee Yi Yo Cafe.
"It's great karma because that was one of the first great early local coffee shops in Oklahoma City," Kennedy said.
At one point in Kennedy's career, his company owned what is now First National Center, which he said is the pinnacle of antique architecture in the city.
"I love blending antique materials," he said, referencing a series of ornate lights hanging from the ceiling, which repurposed antique materials into a design that includes Stella Nova's name and logo.
Kennedy enlisted Tulsa-based architect James Boswell, who designed The Jones Assembly, to work on Stella Nova's building. Kennedy said it's important that each building fit into the neighborhood and be different from each other. He wants the brand to be a high-quality product, art showcase and commitment to local purveyors.
"The building itself should be a work of art," Kennedy said. "The one thing that will be consistent is the quality of the coffee, the fact that it is small-batch and locally roasted. Nothing in our bakery case has been frozen before you eat them."
Each Stella Nova is outfitted with a drive-thru service, something Kennedy said he expects to account for 50 percent of its business. The 63rd and May location is reducing the existing building from 5,000 square feet to 2,200 in order to accommodate the drive-thru.
"We are challenging the idea that if you are convenient, you can't be local," Kennedy said. "We believe you can be convenient, local and have great quality all at the same time."
The expansion of Stella Nova comes at a busy time for Kennedy, who also owns Irish Realty Corp., and Lay, who was elected to the Deer Creek Schools Board of Education on Feb. 13.
"My secret is that I still use a paper calendar," Lay said with a laugh about maintaining a busy schedule.
Kennedy and Lay have been business partners for more than a decade, and Kennedy said their personalities do well to fill in for each other's strengths and weaknesses.
"I would've never had the patience to go through 42 blends of coffee, and I'm sure she wouldn't have the patience to sit in 140 chairs before we found the one," Kennedy said.
Stella Nova is hiring for its Western Avenue location. Email your resume to hr@stellanova.com to apply.
Print headline: Local commitment; Stella Nova aims to be the chain coffee store that thinks local first.