When you're craving flavors that Tex Mex can't fix, Oklahoma City is home to a number of locally and nationally beloved Latin-American establishments that offer a variety of authentic dishes from areas across the map. Here are seven places serving a myriad of dishes from countries south (and east) of the border.
Cafe Kacao
405-602-2883 • 3325 N Classen Blvd.
cafekacao.com
Cafe Kacao has developed a national reputation for its homestyle Latin cuisine, and for many, it's considered both a culinary embassy and a starting point for novice diners. This family-owned restaurant has managed to stay at the top of its game for more than a decade, still serving lines that stretch out the door each week. The menu is loaded with traditional Guatemalan classics plus an assortment of gourmet pancakes.


Photo provided
Cafe Kacao
Carican Flavors
405-424-0456 • 2701 N Martin Luther King Ave.
caricanflavors.com
A Caribbean soul food spot on the city's northeast side has solidified itself as a popular go-to, offering explosive tropical flavors in dishes like oxtail, goat, lamb and chicken prepared curried or jerk style. Each dish is served cafeteria style alongside traditional sides like rice and beans and fried plantains. For an extra dose of Caribbean flair, diners can chill out with their choice of freshly squeezed fruit juices and smoothies or an imported soda.


Photo provided
Carican Flavors
Cafe DO Brasil
405-525-9779 • 440 NW 11th St #100
cafedobrazilokc.com
Oklahoma City isn't exactly overflowing with Brazilian restaurants but Cafe DO Brasil more than makes up for the shortcoming. Whether you stop in for lunch or dinner, the menu is packed with authentic dishes labeled with their area of origin, including the Feijoada Brasileira, the national dish of Brazil. This rich stew of black beans, roasted pork and calabresa sausage, with rice, collard greens, orange slices and a pork belly farofa will become your new favorite comfort food.


Photo provided
Cafe DO Brasil
Cafe Antigua
405-602-8984 • 1903 N Classen Ave.
cafeantiguaok.com
Cafe Antigua, the colorful Guatemalan restaurant located in the Victoria building along Classen Boulevard since 2007, offers a traditional menu for breakfast and lunch alongside selections of perfectly roasted coffee. It's one of the best places in town to find traditional dishes like huevos motuleños, a handmade corn tortilla with refried black beans, eggs any way you like them and your choice of proteins like chicken, asada, chorizo and longaniza.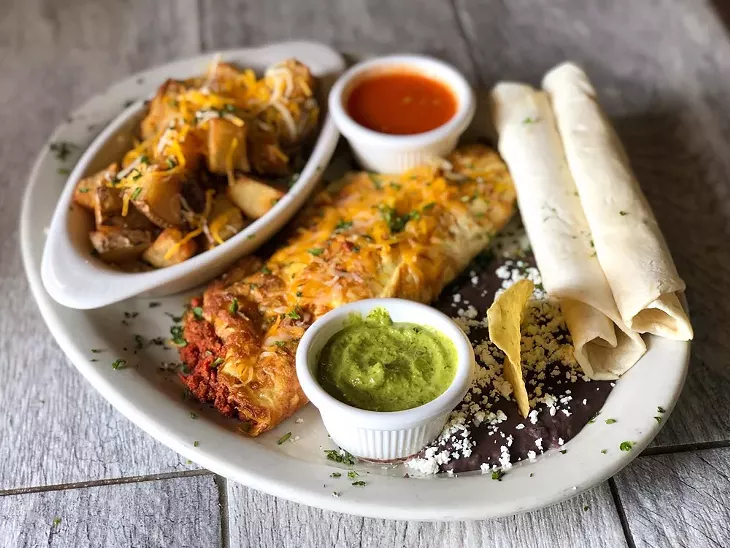 Photo provided
Cafe Antigua
La Brasa
405-524-2251 • 1310 NW 25th St.
labrasaokc.com
To dine at La Brasa is not only to enjoy Peruvian-style cuisine, but a full sensory experience. The decor is anything but casual with its thick floral accents and vibrant pops color and the food is meticulously constructed. The menu showcases piquant ceviches, flavorful sea bass and the lomo saltado — a traditional Chinese-Peruvian dish of stir-fried beef, tomatoes, and french fries — gets a major upgrade with diced filet mignon, smoked cherry tomatoes and crispy potato strings.
El Fogón de Edgar
405-602-6497 • 7220 S. Western Ave.
facebook.com/ElFogonDeEdgar
One of Oklahoma City's only Colombian restaurants, El Fogón de Edgar offers a traditional menu that will take you on a journey. Break out the stretchy pants for Bandeja Paisa, the national dish of Colombia, a big platter full of grilled sirloin steak, chicharron, Colombian sausage, sweet plantains, arepa, avocado and rice and beans, then topped with a fried egg. If you're not quite up for such an elaborate spread, try the mouthwatering empanadas.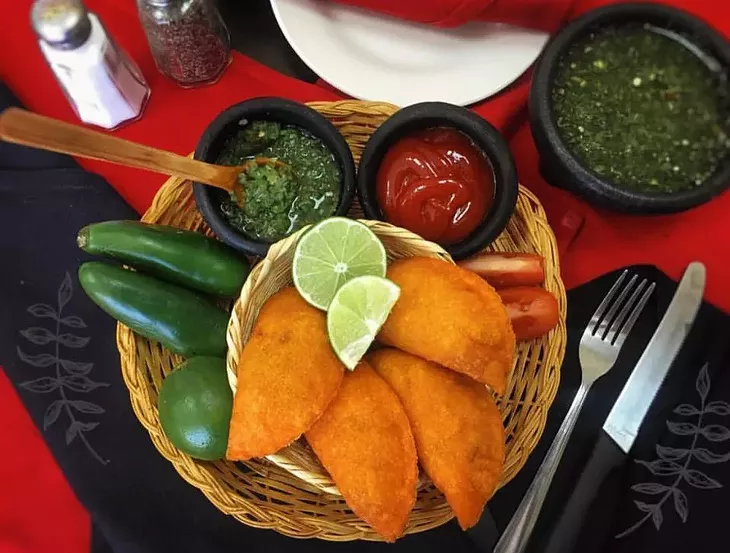 Photo provided
El Fogón de Edgar
Naylamp Peruvian Restaurant South
405-676-0836 • 2106 SW 44th St.
facebook.com/naylamprestaurante
Whether you're craving a seafood packed dish like Arroz con Mariscos, the Peruvian version of jambalaya or the Papa Rellena, a giant deep-fried potato and meat bomb, this traditional Peruvian restaurant has it covered, but the real sleeper hit is the tender and flavorful rotisserie chicken smothered in Peruvian spices that pairs perfectly with a housemade chicha morada, a spiced purple corn drink.