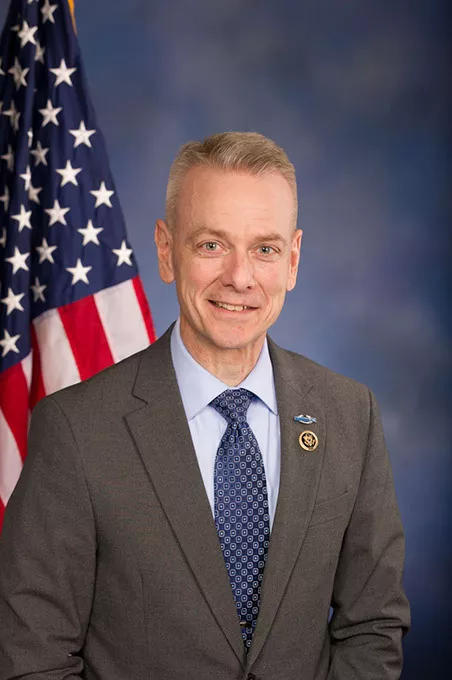 U.S. House Office of Photography
Congressman Steve Russell points to an elderly woman with her hand raised, signaling he is ready to take her question. Following a 20-minute, off-the-cuff speech on foreign trade agreements and federal budget deals, Russell is asked about a topic he is fully aware of but has no interest in giving any attention.
"This Jade Helm stuff is just the most insane, crazy stuff I have ever seen," Russell said to the woman's question about a military training exercise this summer that has ignited conspiracy theories from conservative bloggers and cable news pundits.
Called Jade Helm 15, the training exercise has drawn concern from some that the military is planning a hostile takeover of Texas, and Gov. Greg Abbott recently directed the Texas State Guard to keep a lookout for any military advancement into Texas.
"As a soldier, it is a bucket of nonsense," said Russell, who is a veteran of the U.S. Army and served several tours in combat zones, including Tikrit, Iraq.
Russell wears his deep conservative beliefs on his sleeve and will openly criticize the president for what he views as unconstitutional practices. But during an Oklahoma City town hall meeting last month while on congressional recess, Russell demonstrated an unwillingness to cater to extreme right-wing viewpoints or fuel the small crowd with vitriolic speech towards the president. He has his complaints about President Barack Obama, but his town hall speech centered more on foreign trade agreements, military funding and other topics that don't always attract large attention in a sound bite media culture.
Following that town hall, Oklahoma Gazette caught up with the freshman congressman to discuss a few topics, including immigration reform.
Russell believes border security must improve prior to any type of immigration reform legislation. While he said a giant wall is not the answer, he believes increased border security personnel and improved technology for tracking illegal immigrants can work.
Russell referenced a bill from Rep. Michael McCaul, R-Texas, as one that has some potential for bipartisan support later this year. It would spend an additional $10 billion for border security in the form of agents and equipment.
"Border security has to be improved before any type of immigration reform," Russell said. "Before you can deal with a puddle on the floor, you've got to stop the leak."
However, Russell does see a need to make changes to the nation's immigration process, including a possible increase in the number of visas that are issued.
"I think our numbers — in terms of legal worker permits, permanent residency and permanent asylum — I think we have to reexamine them and ask, 'Do we have enough?'" Russell said. "Should we have more of the worker's visas? Should we have more of permanent residencies? And as we do, I think we should have a system that gets us to the point where if a Nigerian is coming here and wants to work in the Bakken oil fields, then let that guy in. Who cares that we have capped this draconian number? If we've got people who want to work in our economy and do good things, I think we've got to reexamine the number totals."
Russell also stated that people who enter the U.S. illegally should not be given the same treatment as someone who entered legally.
"People who have done it lawfully should always have priority," he said.
When asked about granting citizenship to undocumented residents currently in the country, Russell said he is strongly against amnesty. But he also doesn't see mass deportation as an answer.
"I do not ever see a day that we would put any immigrants on trains and cart them to the border," Russell said. "I don't believe that is ever a reality for the United States to see."
But before Russell is willing to consider any changes to current immigration laws, he is adamant that the border has to be secured first.
"Let's stop the flow," Russell said. "After we stop the flow, then let's have these discussions of what to do with those who are here."
The topic of rescheduling the federal classification of marijuana has also been discussed in Congress over the past year, including some attempts to open the door to medical marijuana in limited uses. Russell said he is opposed to any legalization of marijuana for any use.
"It is a slippery slope," he said. "I know people will cite this drug treatment study or this cannabis oil study; you get it from all different angles. But the Oklahoma delegation has been very, very consistent with this. We have seen a lot of problems with the Colorado laws and a lot of problems that I don't think we need in Oklahoma."
Print headline: Tough talk, The representative of Oklahoma's 5th District discusses immigration and marijuana.