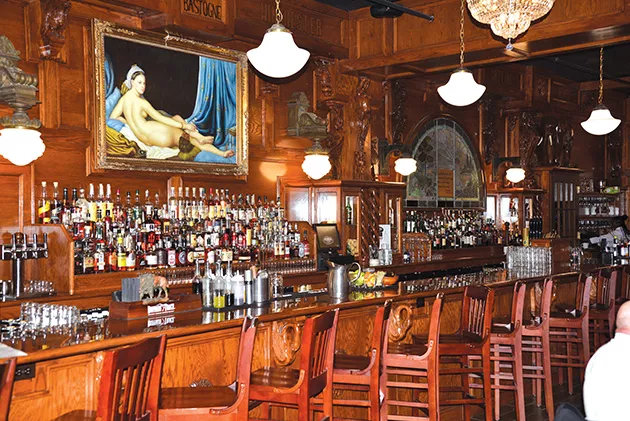 Gazette / file
The bar at McClintock features more than 200 kinds of whiskey.
McClintock Saloon & Chop House
2227 Exchange Ave.
mcclintocksaloon.com
405-232-0151
What works: The fresh sauce with shrimp cocktail and gravy with chicken-fried steak are highlights.
What needs work: The steak is cooked to-order but benefits from sauce additions.
Tip: Don't ring the bell unless you're in a giving mood.
The 50-foot solid oak bar underneath ornate wood carvings and opulent oil portraits are among the first indications that McClintock Saloon & Chop House in Oklahoma City's Stockyards City isn't a dusty watering hole where patrons might see a gun duel break out.
Instead, McClintock is the kind of place where bankers, attorneys and business people might've hung out, had it existed in post-land run Oklahoma. The bar is also a mechanism for bringing strangers together, beyond the whiskey-soaked introductions that it normally does.
Behind a velvet rope and a set of stairs and just beyond a stained-glass Coca-Cola sign originally from a Chicago building hangs a brass bell where enthusiasts can make friends for life (or the night) by ringing the bell. Every patron touching the bar when the bell rings get a mixed whiskey shot courtesy of the bell ringer's tab.
The "I rang the bell at McClintock" T-shirts for sale are one of the few modern conventions at this bar and eatery that does an excellent job transporting guests to a bygone era despite the fact that it's not even three years old.
McClintock Saloon & Chop House, 2227 Exchange Ave., is the result of a partnership between veteran restaurateur Michel Buthion (La Baguette Bistro), storeowner Lindsay Ocker and business partner Alan Green. Ocker ran McClintock (named after the 1963 John Wayne movie) as a boot store since 2000, but Buthion — who grew up in France watching American Westerns — had other ideas for Ocker's store.
While on a trip to Nashville, touring a few Western saloons, Buthion wondered why there wasn't something similar in Oklahoma City. He burst into Ocker's store with a bottle of whiskey and laid the groundwork for what has become a unique and much-needed watering hole and eatery in the heart of the largest national stockyard and the only one within a historic district in the world.
"The design of the bar started that night," Ocker told me in 2018. "It's a good thing we ran out of whiskey because there is no telling what we would've come up with."
Jacob Threadgill
Lunch sirloin with dauphinois potatoes
Impressive taxidermy like a 16-point buck and a longhorn hang near the bar while the second half of the restaurant gets a little more fancy with huge booths lined with leather and crushed red velvet underneath chandeliers.
Even the bar and wait staff are in on the time-warp atmosphere. When I stopped in for lunch last week, the bartender was dressed in an outfit I'd expect to find in old-timey photos. The whiskey selection is absolutely huge; there are more than 200 offerings, and Buthion is a fan of Woodford Reserve, bringing in rare varieties, which include bottles stamped with his southside "Stockyards Mitch" nickname.
McClintock's position as a chophouse in addition to a saloon might seem a little odd since it's only a stone's throw from Cattlemen's Steakhouse, which is the city's most venerable and well-established steakhouse. There is room enough for both of them to thrive and survive without needing to duel on Exchange Avenue.
The steak offerings at McClintock range from the 16-ounce bone-in rib-eye ($65) to the $20 filet. They cooked over an open flame with grill marks for extra charred flavor. In addition to steak, it also has pork chops, racks of lamb and a variety of other entrees like chicken pot pie ($12), fried chicken ($16), chicken-fried steak ($16), fried quail and spaghetti with Bolognese and meatballs.
Sandwiches like Monte Cristo and meatloaf ($10-$14) and burgers ($10-$13) round out the lunch and dinner offerings.
Appetizers include crispy chicken livers ($9), crab cake ($16) deep-fried frog legs and braised-steak nachos ($12). There's also an oyster bar (six for $14, 12 for $27) and a jumbo shrimp cocktail.
From friends, I've heard McClintock's brunch menu offers an excellent chicken and waffle ($15) while the rest of its menu is filled with multiple takes on Benedict, biscuits and other offerings on both Saturday and Sunday.
I've eaten at McClintock on multiple occasions and received good service. The bartender is ready to answer any alcohol questions that might arise, and the kitchen turnaround times won't leave you hungry.
My first trip featured a meal of Buthion's Mitch Burger with mushrooms, caramelized onions and Swiss cheese that wasn't a mind-blowing experience but very much hit the spot.
Jacob Threadgill
Shrimp cocktail with a side salad at McClintock
A recent visit for lunch provided a budget-friendly way to experience its steak menu. A 5-ounce sirloin steak with a side and salad will set you back only $14. The steak arrived medium-rare, just as I ordered. It was coated with seasoning salt and perhaps some chile power for a slight kick and crunchy spice coating. I should've requested some cracked pepper brandy cream ($5) or blue cheese butter ($4) to add some contrast to the dish.
The dauphinois potatoes were well-executed, but my favorite bites of the meal were the jumbo shrimp cocktail and the balsamic vinaigrette on the side salad. The three huge shrimp were enhanced by fresh cocktail sauce, and the balsamic vinaigrette was made in-house and balanced sweetness with acidity.
A lunch portion of the chicken-fried steak ($11) was plenty large enough. It wasn't my favorite breading, but it had plenty of seasoning and the steak was pounded so thin that it melted in my mouth. The accompanying white pepper gravy was an excellent interpretation that should also be ordered on its brunch menu with biscuits.
McClintock is the kind of place visitors to Oklahoma City would expect to find here but didn't until a few years ago. The food is better than it needs to be for a restaurant with a unique setting and atmosphere. Combine McClintock with Rodeo Cinema becoming a true destination for independent cinema, breakfast tacos at Los Comales and Cattlemen's wide-ranging appeal, and Stockyards City is a must-visit for anyone who thinks of it as only a place to buy Western wear.