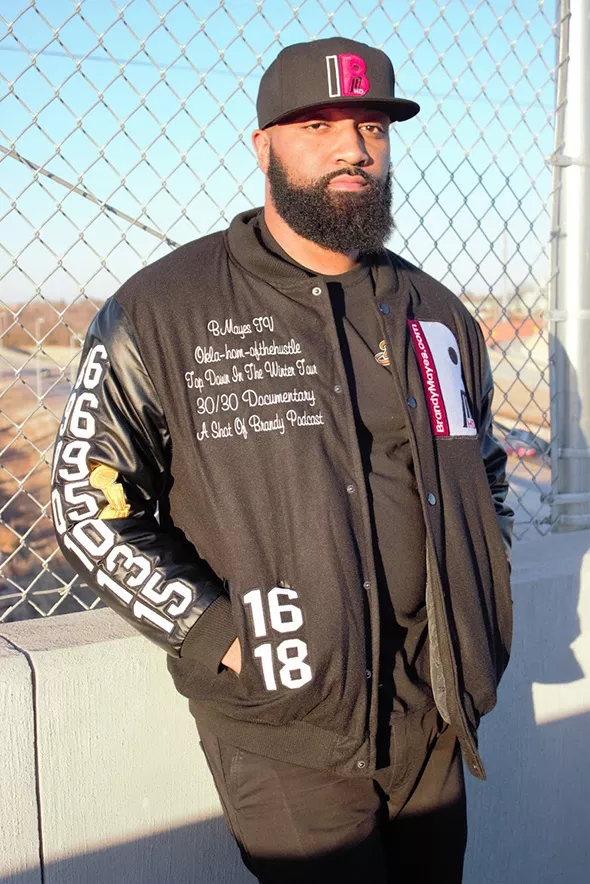 Ziggie Olerv / provided
Brandy Mayes started his podcast A Shot of Brandy in 2017 and has released more than 100 episodes since.
Brandy Mayes discovered podcasts three years ago, and he was immediately impressed.
"I just started listening and I just took a liking to it," Mayes said. "The radio plays the same songs all day, so it's kind of refreshing to drive around and just learn some stuff."
On July 24, 2017, Mayes released the first episode of his own podcast, A Shot of Brandy.
"We're going to have guests," Mayes told listeners. "We're going to vibe out. We're going to drink. We're going to smoke a little bit. We're going to do us at all times."
The podcast, which released its 120th episode in December, features interviews from local artists and entrepreneurs. Past guests include hip-hop artists Jabee, J. Poe and Jacobi Ryan, Class Matters founder Darron Lamkin and All City Plug dispensary co-owner Brian Tucker.
"The uniting theme is just showing people that hard work pays off," Mayes said. "If you want to really get to the next level, all you have to do is work for it. So I'll try to bring guests on to show people the steps that they took toward being a successful and show people it's possible."
In these interviews, Mayes hopes to discover what drives his guests to succeed in an era when focus and determination seem difficult to maintain.
"I want to kind of get their background and their upbringing, how they turned into the person that they are today, because it takes willpower in this day and age," Mayes said. "There's a lot of distractions from all the social media, so it really takes mind power to buckle down and say, 'Hey, I'm going to do this, no matter what. Nothing's going to stop me.' I wanted to get the story on that willpower. What mindset did you have to make you want to say, 'I'm going to open this restaurant, no matter what,' and then it comes into fruition? I just wanted to get the story so people can say, 'If if he did it, then it's possible.'"
The most common recurring theme in all of these stories, Mayes said, is finding the discipline to forgo immediate gratification for the possibility of longer-term success.
"A lot of people say they sacrificed their time," Mayes said. "They sacrificed going out with friends. Man, I had some people say they sacrificed two years just to get where they are, and that's really what it takes. How bad do you want to get to the next level with your life? You're going to have to put up something and sacrifice something for a little bit to get where you want to be in the future."
Mayes, who previously studied criminal justice at Oklahoma State University and now works as a sheet metal mechanic, also found inspiration for his own life in the process of recording the podcast.
"Three years ago, when I started the podcast, I was actually going to trade school during the day, and I would try to book a guest during the night," Mayes said. "That's kind of where my motivation came from. … Getting guests for the show was kind of a challenge to me."
Creators Create
Devin Houston / provided
Mayes' Creators Create Podcast Studio will rent space and equipment for others to create podcasts of their own.
On Saturday, Mayes opens Creators Create Podcast Studio to help aspiring podcasters pursue their own dreams. Mayes, who learned how to record and distribute his podcast by watching YouTube videos, said podcasts are "still fresh" to many in Oklahoma City and some of the people who might be interested in starting one of their own are unsure of how to begin.
"People are still trying to get used to them," Mayes said. "I wanted to bring that to OKC, to offer that service to people. You can start your podcast, too. You don't have to just listen to me or listen to somebody else. Whatever you're interested in, there is a market where somebody will listen to you and take a liking to you."
The studio provides space and equipment to record up to four podcasters at one time for $50 an hour and offers editing services for $100 per episode.
"We've been working real hard to give people quality sound and quality equipment so they can be satisfied with the service," Mayes said.
With his podcast and his studio, Mayes hopes to change people's perception of OKC and its residents. He said the guests he features on A Shot of Brandy deserve more recognition for their efforts.
"They're doing all this stuff in Oklahoma City, and not a lot of people know about it," Mayes said. "If I give them my platform, maybe they can talk, because there's a lot of people who come up to me and say, 'Hey, I didn't even know that these people were in Oklahoma City doing this type of stuff.' They feel like there's nothing to do here, but actually there's a lot of stuff if you just get out of the house."
OKC itself also deserves more recognition.
"The city is coming up," Mayes said. "I try to tell people, in three to five years, Oklahoma City's going to be the place to be. … I just want people to know that Oklahoma City is a great place to stay. … I'm from here, and I love my city. I love where I'm from, and I love the people in it."
Visit brandymayes.com.