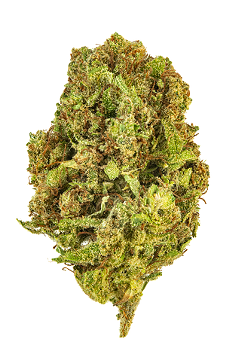 Strain name: Violet Delight
Grown by: Budwise
Acquired from: The Herbin' Joint (Sand Springs)
Date acquired: Oct. 30
Physical traits: light green and orange
Bouquet: floral and earthy
Review: Almost arriving at your relaxation destination and realizing that you forgot to bring a pre-roll or two induces a crestfallen feeling. Three years ago, it would have been a major letdown. Fortunately, no matter where you are in the state, you're never far from a dispo and that's what prompted a visit to The Herbin' Joint. All of the flower on the shelf was from the same grower, Budwise, and all of it was very reasonably priced, with pre-rolls available of most of the strains lining the shelves as well. The Violet Delight was the standout here, with Grenadine the close runner-up (but don't sleep on the Love Band either). The color doesn't match the name, but the nose does, making this relaxing yet energizing strain a perfect pick for an autumnal day hike (speaking from experience). The extra energy this one gives isn't jolting though, so it always pairs well with the post-hike evening sprawl as well.