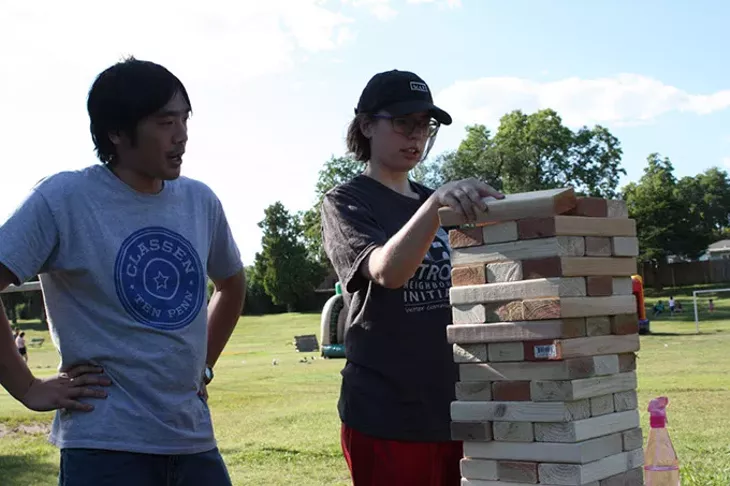 From left Matt Fong and Lacy Kelly set up a Jenga set during the recent Classen Ten Penn Community Festival at McKinley Park. | Photo Laura Eastes
Children raced inside a bounce obstacle course and were cheered on by their peers June 4 at McKinley Park as the Classen Ten Penn Community Festival came to an end.
For event organizers at Classen Ten Penn Neighborhood Association, the cluster of smiling, red-cheeked children served as evidence of a successful event. Their parents and older residents sat comfortably in lawn chairs and listened to live music or discussed the pending public art planned for the urban park and hinted at an effective community gathering.
Hundreds attended the annual celebration, which began four years ago as an ice cream social with neighbors gathered around picnic tables, discussing the historic Oklahoma City neighborhood's needs and potential to rebuild its reputation as a strong middle-class neighborhood. Established in the 1900s along the streetcar lines, Classen Ten Penn stretches from NW 10th to NW 16th streets and from Classen Boulevard to Pennsylvania Avenue. Today, the community is nestled next to the flourishing Plaza District and arts and commercial districts such as the Paseo Arts District, Midtown, Uptown 23rd and downtown that have exploded in growth and popularity over the past decade.
"Classen Ten Penn is a great location," said Matt Fong, a California native who moved to the area three years ago. "We are surrounded by all these great things happening in our city, but we can be our own close-knit community."
Strong initiative
Some of the city's urban neighborhoods have been slower to revitalize than commercial and business districts. After years of little or no incremental improvement, city leaders pushed for a comprehensive and coordinated approach to neighborhood revitalization.
Three years ago, Classen Ten Penn, along with Culbertson's East Highland and Classen's North Highland Parked Neighborhood joined the city's newly created Strong Neighborhoods Initiative (SNI). Through partnerships and federal grants, the city dedicated funding to infrastructure for the three urban communities. New blocks of sidewalks, removal of hazardous trees, new signs, park improvements, afterschool programs and housing rehab and repairs are the new realities of urban communities that suffered from the effects of urban sprawl.
However, before those investments began, a group of neighbors devoted to making their communities better committed themselves to the new initiative, said Shannon Entz, the lead planner overseeing the SNI program.
"If the neighbors don't care, it doesn't matter how hard we work or how many partnerships we have," Entz said. "If they don't show up, it is not going to work. All three neighborhoods have embraced the process. … What we see on the ground turns out in the data."
Last week, the city issued SNI's 2013-2015 Progress Report, which highlighted impressive progress toward the city's goal "to holistically improve neighborhoods through physical, social and economic investments that will tip the neighborhoods towards self-sufficiency."
All three neighborhoods' average household income is below $40,000, which is lower than the national average household income of $51,939, according to the U.S. Census Bureau.
While work continues in all three neighborhoods, city planners concluded the program to clean up homes and fix infrastructure builds stronger communities and benefits residents. According to the report, the average home price increased in the three neighborhoods over a four-year period. In Classen's North Highland Parked, home prices per square foot increased by more than 300 percent. The neighborhood near 13th Street and Lincoln Boulevard now lists an average sale price at $137,194.
As home values have risen, the number of reported crimes has fallen in two of the neighborhoods: Classen Ten Penn and Culbertson's East Highland, located between N. Lottie and N. Martin Luther King avenues. Classen Ten Penn saw a 33 percent decline in crime over the four-year period.
Part of SNI's appeal to neighborhood associations is their ability to decide how to inject $10,000 into their community. For residents in Classen's North Highland Parked, the lack of safe places for children to play was troublesome, as the closest park was over a mile away. They pushed for a city park as one of the first big improvement projects. Fremont Harn Gardens, which features benches and a playground, opened this spring.
Classen Ten Penn residents recently voted on three mural designs for a public art exhibit on a park building in McKinley Park. Culbertson's East Highland plans to build a new marquee in front of its neighborhood school, F.D. Moon Elementary.
"It has been a learning curve for all of us," Entz said. "There were some things we tried that work, and there were some things that didn't work. There were ideas that popped up, which I never would of thought of as a planner."
Federal programs, such as the Community Development Block Grant and HOME Investment Partnerships Program, pay for SNI projects. Community Action Agency of Oklahoma City and Oklahoma/Canadian Counties; Metropolitan Fair Housing Council of Oklahoma, Inc.; Legal Aid Services of Oklahoma; Neighborhood Housing Services Oklahoma City; Rebuilding Together OKC; Positively Paseo; and Neighborhood Alliance of Central Oklahoma partner with the SNI program to provide services and programs to neighborhoods.
Neighbor reactions
"It has the perfect name," explained Liz Stevens, North Highland Parked association secretary. "It is building strong neighbors. It is not only making aesthetic changes, but it forces neighbors to get together and talk about what they want. When you have a $10,000 grant for the neighborhood, people have to sit down and talk about what needs are not being met or what dreams they have."
Stevens became involved in the neighborhood association after attending a meeting. SNI and upcoming projects were discussed at the second meeting she attended.
"Of course you always see the potential for greatness in your neighborhood," Stevens said. "We are not far from Mesta Park, and we are right across from Heritage Hills East. There is no reason why our neighborhood can't become that in time."
For Stevens, the change she wanted to see came after the city finished installing 15 blocks of new sidewalks. Neighbors began walking and kids began riding their bikes along the new stretches of pavement.
A Classen Ten Penn resident, Fong also became involved in the neighborhood association after attending a meeting. He volunteers regularly for the association and attends community gatherings, including annual Easter egg hunts and Christmas parties. The neighborhood includes 864 residential units.
Fong said the association's role is to advocate for neighbors. In Classen Ten Penn, members must serve the low- and middle-class residents who lived there before revitalization efforts began as well as newer residents. The festival and other events bring everyone together, increasing opportunities to create a community that looks out for its residents. Part of being a good neighbor is sharing the resources coming into the area.
"The point is to get people together and let them know about the resources SNI provides," Fong said. "Maybe they don't know about the city's hazardous tree removal service."
SNI's future
Classen's North Highland Parked is expected to complete the SNI program next year. The two other neighborhoods follow with expected completion dates listed for June 2018.
This coming fiscal year, city planners will create the process for determining the next three SNI neighborhoods. Ultimately, SNI requires the support and the approval of the Oklahoma City Council to continue.
Based on the calls Entz regularly receives, she knows neighborhoods are interested in SNI.
"We want to see people excited about it," Entz said. "That means if we do bring SNI to their neighborhoods it will be successful."
In Classen's North Highland Parked, Stevens and her children walk along new sidewalks to the new park, a neighborhood amenity absent just a few years ago. She said there was some resentment from older neighbors when city planners first approached the area about the SNI program.
"The city had said they were going to do something and it never came through," Stevens said. "That was something our neighborhood really struggled with."
Stevens advises the next round of SNI neighborhoods to embrace the program and not be afraid of change.
"My hope is that with looking at the statistics of our neighborhood and others," Stevens said, "they will see this is a program they can trust and get behind."
Print headline: Recorded growth, OKC releases its first Strong Neighborhoods Initiative progress report, which highlights gains in three urban areas.