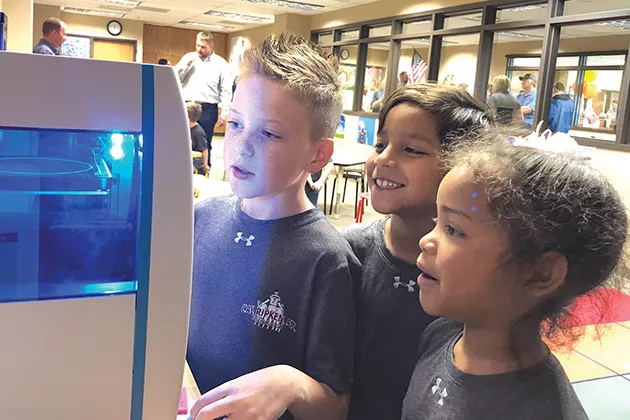 Cal Ripken, Sr. Foundation / provided
The Foundation for Oklahoma City Public Schools hopes to install STEM centers in all 33 elementary schools, providing students access to technology like 3D printers.
The Foundation for Oklahoma City Public Schools (FOKCPS) is seeking community partners to help place science, technology, engineering and mathematics (STEM) centers in all of the district's elementary schools before classes start Aug. 14. Though foundation partners have contributed more than half the money needed, there is still a significant gap to fill.
The initiative is part of Pathway to Greatness, a plan to consolidate and reorganize the district's schools to provide more educational equity.
"It also started when the foundation worked to connect employers and funders who are really interested in STEM education with Oklahoma City Public Schools (OKCPS) and trying to figure out how to connect our partners with what the district's greatest priorities are," said FOKCPS president Mary Mélon. "Oklahoma City Public Schools said to us, 'STEM education is critically important to start in elementary school because we need to give our kids early and consistent and frequent exposure to STEM education to get them passionate and interested as they get older.'"
Initially, the foundation planned to take on the project and acquire or develop anything needed to set up the STEM centers, but then they found out about Cal Ripken, Sr. Foundation, a Maryland-based nonprofit with various programs to help at-risk youth throughout the country.
"Our mission is to help provide opportunities to at-risk kids to help enable them to become successful, productive, contributing, healthy adults," said Steve Salem, Ripken Foundation president. "In today's world, STEM is, especially for young people, a key component of that. Included in that is helping to provide opportunities for careers, to make a living and to have skills necessary to do so. STEM is important, just as nutrition is important and fitness, which are some other initiatives we have."
Ripken Foundation developed an initiative that provides everything needed for a STEM center, and in partnership with Devon Energy, already placed a center at Mark Twain Elementary. Through that connection, Mélon and OKCPS superintendent Sean McDaniel formed a partnership with Ripken.
"It was exactly what we needed, and so we formed a partnership. They provide not only all of the materials and furniture and storage and all of the product that's needed for the STEM centers, they have developed curriculums and they have developed professional development that's for our teachers. So it's just the perfect solution," Mélon said. "It fits with Pathway to Greatness because it's a trade-up for all of our schools, and it fits with their focus on equity, which is making sure that all of our kids have equitable opportunities because every school will have the same thing. There won't be one side of town that has something different than the other side of the district, which is really important."
FOKCPS and the school district committed to pay $30,000 for each of the 33 elementary schools to Ripken Foundation. As of last week, they raised $540,000, so they want to close the $450,000 gap as soon as possible.
"They're not the funder; they're the solution provider, but they're giving us so much value added. So really, it's probably closer to $50,000 worth of value that we're getting [per school], but the cost to us is $30,000," Mélon said. "We really wanted to push out the exciting announcement about this partnership in hopes of hitting some people to say, 'Oh we want to help with that.'"
So far, Tinker Air Force Base, Chesapeake Energy, Devon Energy, Inasmuch Foundation and Boeing, among others, have made "generous commitments." Mélon said some of those partners will have naming rights for the centers.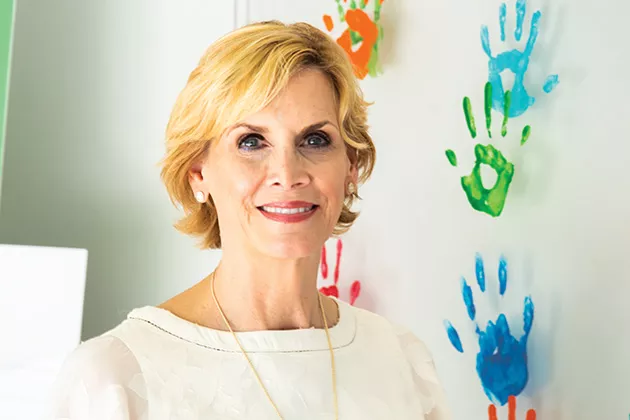 Miguel Rios
Mary Mélon hopes to close the gap on fundraising as soon as possible to have STEM centers in every elementary school by the first day of classes.
Future workforce
Before the partnership with FOKCPS, Salem said Ripken placed about 20 STEM centers throughout the country in places like Maryland, Virginia and Texas. However, this partnership will mark the first time Ripken places STEM centers in an entire school district. Salem said this was always the foundation's STEM initiative goal and hopes other school districts can emulate the model.
"Our goal is to positively impact as many kids as we can help to make their lives a little better, and these are kids who come from some tough circumstances. In too many areas, these kids have been left behind. Whether it's access to STEM or nutrition, these kids aren't given the same opportunities," Salem said. "That's what we're trying to provide. We're not trying to do it as a one-off or a two-off, but that's sometimes what it takes. … We're just trying to help these kids the best we can while we can, and we hope the Oklahoma City model will lead to other school systems."
Ripken Foundation has cultivated its STEM initiative throughout its inception, so Salem said it is able to handle everything necessary.
"We're able to, from soup to nuts, put in a STEM center with all the necessary training, with 3D printers, furniture … including travel, installation, training, all the hardware and software," he said. "We do it all, so it's a nice service we're able to provide. In Oklahoma City, I think what attracted them to us was not just the pricing … but that we take care of everything. We work will all the vendors. We oversee the shipping and the delivery. Everything is covered."
OKCPS elementary schools' STEM centers will be furnished with a workbench, several tables and colorful stools and chairs. They will also each receive six Chromebooks, a 3D printer and various robotics like circuits, several kinds of programmable robots, programmable computer chips and electronic building blocks. Additionally, each school will get a $100 Home Depot gift card to purchase storage that best suits each center.
"Anyone that has employers that work in those kinds of fields — science, technology, engineering or math — they care about the workforce of the future, and Oklahoma City Public School is huge — 46,000 kids. We need to be doing everything we can to make sure that they have every opportunity to be successful," Mélon said. "Even if they don't choose science, technology, engineering or math, being part of the STEM centers crosses all curriculum. It helps kids learn to read better, it's really important for kids to use as a creative outlet, it very much develops their ability to work as a team and collaborate because a lot of the projects are team-based, and it also develops their critical thinking skills. … It doesn't matter what workforce you're developing; you want people that can think critically and be independent thinkers."
Visit okckids.com/donate.