Sarah Zubair
Shawnee's Shoulda Been Blonde headlines this year's AMP Festival.
Film Row is about to get even more artsy than usual.
The third annual AMP Festival returns this Saturday, showcasing female musicians, artists and vendors in a celebration of creativity and community. This year, the fest will be held for the first time in the Film Row district in downtown Oklahoma City.
Organizer Tobi Coleman at Revolve Productions worked in nonprofits for over twenty years. From 2000 to 2008, she and her family held a homegrown music fest on her land near Yukon. A move to Texas put a hold on her festival ambitions, but after moving back and volunteering with Rock and Roll Camp for Girls OKC in 2015, Coleman was inspired to do an all-female event.
"I want to show little girls all the things they can do and be," Coleman said.
The first two AMP Festivals, held in 2016 and 2017, were staged on Ninth Street in Automobile Alley, but Coleman said the fest quickly outgrew that space. They had over 4,000 visitors last year.

With their production offices moving into The Paramount OKC, she said Film Row quickly felt like home, and it made sense for the fest to move too. Oklahoma City Girls Art School, for which the festival raises money, also happens to be near The Paramount.
The goal of the festival, Coleman said, is to showcase a range of artists. Music genres represented this year include country, blues, rock and hip-hop.
"We try to get as many diverse music acts as we can, as far as different genres and different skill levels, even," Coleman said.
AMPed up
The festival headliner this year is Shoulda Been Blonde, an all-female band from Shawnee. The band members are between the ages of 13 and 19, but lead singer Peyton Wilson's vocals have a mature resonance, lending weight to the group's energetic alt-rock sound.
"One major thing that I think is amazing and unique about AMP is its driving factor of celebrating female artists and businesswomen," said the band's guitarist and co-songwriter Brenna Grein. "It's very rare to find other all-female bands or even a band with more than one female member, and AMP Fest does a fabulous job of promoting these women and celebrating girl power."
Another musician performing a set on Saturday evening is local hip-hop artist Odessa I Reign. She has been rapping in the Oklahoma City music scene for about two and a half years but pursued music from a very young age. She started writing songs in third grade.
She described her music as old-school hip-hop with a nostalgic '90s feel. Her commanding rap verses are often layered over smooth, R&B beats. For example, her song "Mic's Demise, I Reign's Revenge" utilizes familiar hooks from Natalie Cole's "This Will Be."
Odessa performed at 2017's AMP Fest, impressing Coleman and festivalgoers.
"Her style and her flow is just awesome," Coleman said. "And I think she's got the ability to really go places."
Odessa called the festival a "welcoming environment" and said the focus on female performers is important to her.
"There's so many different things, like different artists, different vendors, different genres of music," she said. "And it's really exciting to see everybody come dressed up and have a good time."
Odessa and her DJ create a themed introduction each time she raps live, choosing a song that sets the tone for her performance. She teased that her AMP Fest performance will likely reflect the feminine focus of the festival and the feminist lean of many of her lyrics.
She said she wants to inspire members of her audience and connect with them during her performance.
"If you see me, don't be afraid to come up to me because I like to give people stuff," she said. (Last year, she gave out fans with her face on them.) "I go and talk to as many people as I can after I perform. My rule is everybody gets something. I want everyone to remember me or get something to remember me by."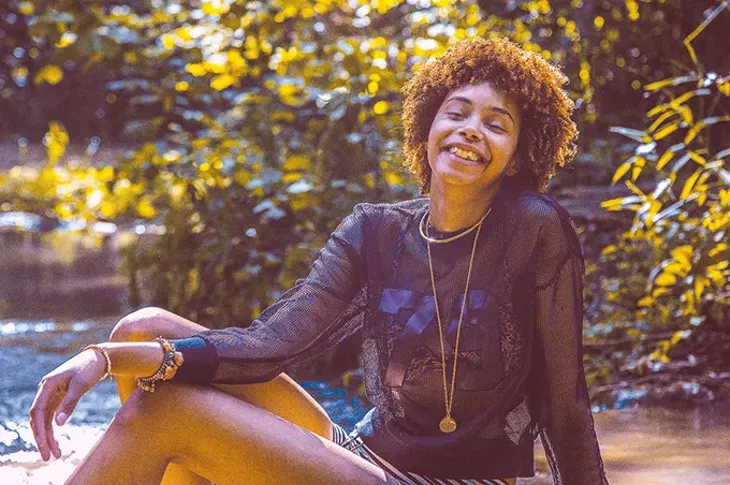 provided
Hip-hop artist Odessa I Reign is a featured performer at Saturday's AMP Festival.
Words and action
Music and art aren't the only elements of the festival. Coleman said she tries to round out the lineup with performance artists other festivals might not include. One exclusive offering this year is spoken-word poetry by Dawn Terrell.
"Her spoken word was so impactful and powerful and so pro-feminine," Coleman said.
She invited Terrell to the fest after they met at an International Women's Day open mic.
The festival also provides other forms of family entertainment. Coleman said they have planned lawn games, face painting and art activities for guests. Two yoga sessions will be held in The Paramount Room, and food trucks will be on-site. Festival sponsor Fowler Automotive will also be doing a giveaway. Coleman called them "huge advocates" within the local artistic community.
Oklahoma City Girls Art School will have a booth to raise awareness and sell art from girls in its program, which provides after-school art classes to underserved girls in the Oklahoma City Public Schools district.
In addition, this year, the festival will hold its first after-party, starting 8 p.m. in The Paramount Room. Female DJ Afistaface from Tulsa will provide entertainment. Admission is free, although the party is for guests age 21 and up.
Coleman said she hopes the festival will continue to grow, and she is already making plans for next year to expand its creative offerings. She wants to someday involve deadCenter Film Festival and female filmmakers as well as members of The Chickasaw Nation.
AMP Festival is 12-8 p.m. Aug. 25 on Film Row.
Visit ampfestokc.com.