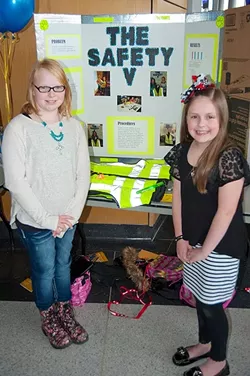 Ken Beachler
Last year's winners of the Oklahoma Student Inventors Exposition, Kylie Thompson, left, and Jadyn Waddle, both from Heritage Trails Elementary in Moore, are shown with their project. They created a tornado safety vest featuring a colored strobe light, alert whistle, glow sticks, identification holders and other useful implements which could be worn during severe weather.
In the current educational and legislative atmosphere, where there is a struggle to agree on the next step of teaching, one event continues to foster creativity and critical thinking in a unique way.
The 26th Annual Oklahoma Student Inventors Exposition (OSIE) challenges students to find original solutions to everyday problems. The event is free to enter and is open to private, parochial, public and home-school students statewide in kindergarten through 12th grade.
The Rose State College Performing Arts Center hosts the exposition 8 a.m. to 2 p.m. Tuesday. The event was originally scheduled for Feb. 24 but was canceled due to weather.
Inventor Julian Taylor and Oklahoma Educators Hall of Fame Inductee Betty J.C. Wright founded the event in 1988.
Taylor, president of OSIE, said students must ask themselves multiple questions when brainstorming ideas for inventions.
"They must contemplate, 'Does this solve a problem? Is this the best, cheapest way of doing it? Would I buy it?'" he said.
The problem-solving aspect of the competition and the idea of inventing itself is key. Creating a device for the sake of creating will not fly in the exposition or the real world. The idea must address situations that everyday people often confront.
Along with a critical eye, participants use science, technology, engineering and mathematics skills — also known as STEM — in the planning and creation of their project. Students must explain and demonstrate how their invention works and solves a problem.
"The students must know how to speak and present," Wright said. "They must use models and pictures to demonstrate their project."
A hierarchical prize system rewards the best inventors. Kindergarten-12th-grade entries are organized into five age-specific categories. The top five inventions win trophies and cash prizes, with first place receiving $50. Next, those winners are promoted into Division One, Kindergarten-5th grade, and Division Two, sixth-12th grade. The two divisional champions are awarded $100, and an overall grand prize winner receives $150. All winners and their schools win trophies, while all participants take home a medal.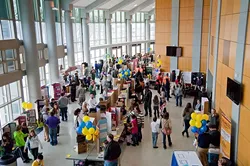 Recent grand prize winners took inspiration from school tragedy. In 2013, Nichols Hills Elementary fourth-grader Genesis Franks unveiled the anti-bullying smartphone app Qwik Response, allowing students to immediately notify school officials about a bullying or emergency situation. The Sandy Hook Elementary School Shootings motivated Franks to invent the app, hoping faster communication will save more lives in dangerous circumstances.
Heritage Trails Elementary School fourth-graders Jadyn Waddle and Kylie Thompson presented the Safety V at last year's exposition. It's a brightly colored, padded and hooded vest worn by school children during stormy weather. Inspired by the destruction of Plaza Towers Elementary School during the May 2013 tornado, its attachments include a colored strobe light, an alert whistle, glow sticks and ID holders.
Taylor said he is proud of the students and inventions he has seen in the last 25 years and looks forward to the next event.
Print headline: Critical solutions, The Oklahoma Student Inventors Exposition awards imaginative students.