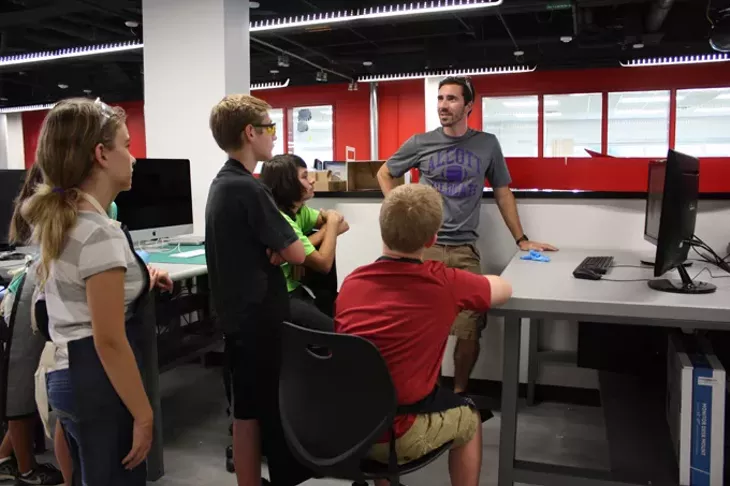 Jocelyn Kent and five other Norman middle school students are creating an outdoor charging station for mobile devices using renewable energy.
Kent never expected aspects of her marker-drawn design would be fabricated into a real-world engineering project for community use, especially before she attended college.
The students and two Norman Public Schools teachers are piloting the Engage Learning program. Launched this summer, the education nonprofit provides small teams of middle school students the opportunity to generate, test and implement solutions to real-world problems through a project-based learning methodology. Teachers serve as coaches to facilitate students as they set and achieve their own goals.
"When you think about what we are doing, you don't think about middle school students," Kent said.
The students are treated as colleagues. The Innovation Hub at the University of Oklahoma hosts the program, and the preteens work out of a state-of-the-art fabrication lab designed for college students. CAD software, 3-D printers and metal fabrication equipment are at the students' fingertips.
"All they said was 'The charging station needs to have a solar panel and two batteries. Go,'" explained Hudson Frikken, who begins eighth grade this month. "They didn't say, 'Make sure it has chairs, a bench or looks like this.' We got to design and build all of it."
After the charging station is complete, the student-created mechanism will look similar to a gazebo with a slanted roof for the solar panel. Inside, visitors can sit on the circular bench and plug in phones, laptops and tablets to recharge their devices with stored solar energy.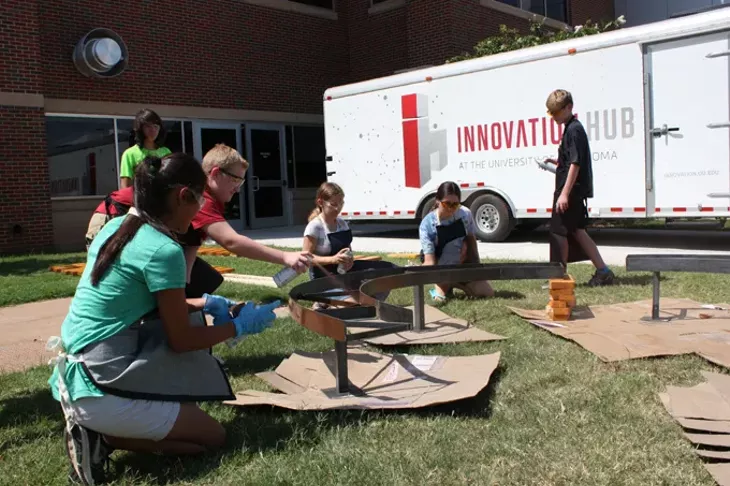 "Every possible design criteria that we could put in their hands, we did as much as possible," said Bart Keeton, Engage Learning founder. "They chose a pretty complicated design, which was awesome. They were up to the challenge, and they put us up to the challenge."
Engage's impetus
Oklahoma's challenging educational landscape fueled the formation of Engage Learning, explained Keeton, who relocated from northern Virginia to Norman for his wife's career a year ago. As a father of two young children, Keeton was instantly interested in public education in his new community and state.
News stories illustrated an education funding crisis pressuring district leaders to make cost-saving concessions, such as switching to four-day school weeks, paring down staff or eliminating extracurricular activities. All of this comes at a time when teachers are leaving Oklahoma for better pay or abandoning the career altogether.
Keeton realized there were many passionate Oklahoma teachers and students thirsting for hands-on learning experiences. He believed if the two populations connected and were provided the right resources, they could work together to improve educational outcomes in trying times.
Tapping into his experience from teaching at Duke University Talent Identification Program (TIP) — a North Carolina nonprofit that provides gifted students with resources unavailable in traditional schools via a summer learning program — Keeton set out to produce something similar in Oklahoma. Engage Learning is a two-week summer program designed to foster passion, curiosity and discovery among middle school students. Real-world projects push the students to solve community needs.
Designing the charging station engaged students' algebra and geometry skills. Group conversations illustrated that they understood the engineering concepts and environmental science issues involved in using renewable energy sources.
"We didn't invent project-based learning, but it can be really hard to do project-based learning well," Keeton said as he watched participants spray-paint parts of the charging station's steel structure. "It is incredibly hard to do in the public school system when you have so many constraints. We are opening it up, providing the resources, the outside expertise and taking care of the logistics."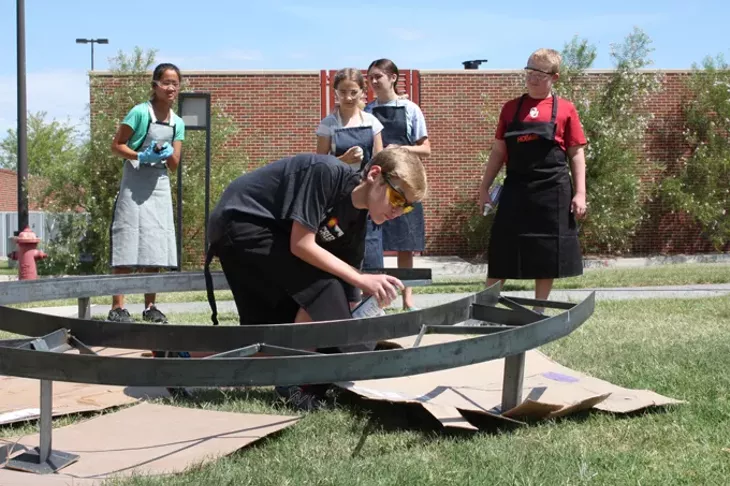 The pilot Engage Learning summer program launched Aug. 1 with support from numerous sponsorships and partnerships developed over the last few months. Engage advocates include community and school leaders, college administrators and philanthropists as well as the middle school students' parents.
When Keeton explains the Engage concept, he said he often hears comments like, "Why didn't we have this sooner?"
Student perspective
What students learn expands past algebraic equations. Amelia Backus recounted staining the wood and avoiding drippage when she described the most challenging piece of work.
"Even though we haven't been sitting in a classroom and talking about how something works, we are learning," Backus said. "We get to learn by experience."
Engage differs greatly from middle school, Hailey Parker said.
"With school, it is memorizing from the textbook," she said. "This is plugging in what we've learned."
The pilot program confirms the future for Engage Learning. Keeton said the program specializes in STEAM, adding the letter A for "arts" in the well-known education acronym for science, technology, engineering and mathematics. Thus, Engage Learning isn't limited to engineering projects but will tackle public policy or local issues.
Over time, the program will offer specialized sessions in communities across the state, further opening the opportunity for collaboration between teachers and middle school students, Keeton said. Partnerships with schools, colleges, businesses or career technology centers pave the way for the program to be offered in urban and rural communities alike.
The program aspires to reach teachers and students who would otherwise not have a real-world, project-based learning in their curricula. Engage also aims to inspire investment and the creation of education-based programs to increase competitiveness and life-long learning during the state's education crisis.
"We hope it will be part of many different responses from outside of the school system in this state," Keeton said.
Public use
The middle school students will bring their cell phones, tablets and laptops with little battery charge to the final Engage Learning meeting set for Aug. 27. They will test their creation, which will be placed on OU's campus. In the future, the station can be relocated to a Norman park or elsewhere in the community.
Station visitors will find a plaque including participant names and a list of sponsors and supporters. Visitors can scan a QR code to learn more about Engage Learning and the students responsible for the design.
"It is going to be bittersweet to see the project finished and ready for use because that means it's over," Frikken said. "Three, four, or five years from now, I can go to it and think, 'I helped build that.'"
Print headline: By design, Engage Learning offers middle school students and public school educators unique opportunities to tackle real-world challenges.