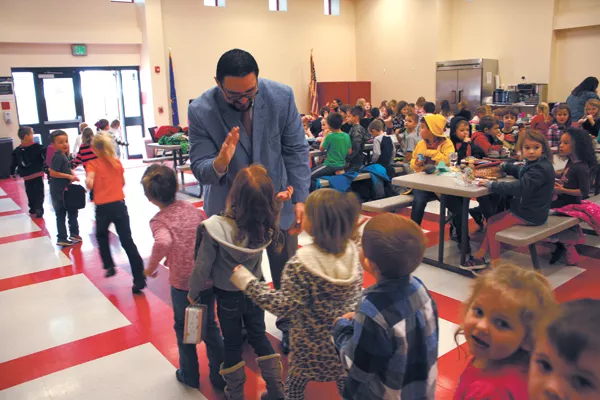 Superintendent Brandon Voss stands at the entrance of Robin Hill Public Schools each morning and greets students by name as he shares hugs and fist-bumps. Parents roll down their windows and wave to the administrator as they chat about a recent ball game or a successful deer hunt.
The northern Cleveland County community around Robin Hill is a small and proud one, and its relationships are important. When Voss arrived at the one-story school three years ago, he was determined to deliver a quality education to its close to 300 students. Building connections with students, their families and the rural community was a close second on his list of priorities for the elementary school district.
"I am the superintendent, the principal, the counselor," Voss said as he strolled through the cafeteria at lunchtime. "I am in it with these kids. They know me, and I know them."
Located in Norman, Robin Hill district covers 18 square miles. The district educates youths in prekindergarten through eighth grades and is one of 96 small elementary-only districts across Oklahoma. Those districts, also called dependent or K-8 districts, often go unnoticed by the public except for the four months of Oklahoma's legislative session.
For decades, some lawmakers have labeled those districts as expensive, inefficient or underperformers as they endorse school consolidation to reduce Oklahoma's number of school districts.
Elementary districts and their supporters are known for fighting for their schools. Last February, parents and educators packed a House committee room and spilled into the hallway as lawmakers debated a bill calling for merging dependent schools into area school districts. The bill failed.
The victory was not easily forgotten in a community just 23 miles south of the Capitol. Robin Hill residents are aware of the latest media reports of state budget woes. At Norman's annual Legislative Lunch earlier this month, Sen. Rob Standridge, who represents the Robin Hill community, said consolidation plans need to be examined this session, which begins next month.
Oklahoma is home to 513 public school districts and 1,787 schools, which includes 13 charter schools not sponsored by districts. In 2016, those schools enrolled 693,710 students, an increase of 1,040 students from the previous school year, according to numbers released last week by the Oklahoma State Department of Education.
"I think it is easy for lawmakers to say there are so many districts and we don't need that many schools," Voss said. "I would say talk to the 300 sets of parents at this school and you will hear this school is needed. … There are those that want a smaller community school feel."
Student needs
The K-8 school model dominated the nation's public education landscape up until the middle of the 20th century, when reform mandated adding middle or junior high schools before students entered high school.
In recent years, the K-8 model has recaptured the attention as some districts — urban, suburban and rural — scrap middle schools in favor of K-8s. Proponents believe the model increases academic achievement and creates an atmosphere more conducive to learning.
As the superintendent of Peggs Public Schools, an elementary district in Cherokee County, John Cox has spent the last 12 years demonstrating the benefits of those districts to educators, lawmakers and the public.
He also is president of Oklahoma's Organization of Rural Elementary Schools.
"I think what we do is what you are supposed to do in education, which is focusing on the individual needs of students. We are really good at that," Cox said. "Our message is that our K-8s are effective academically and we are efficient financially. It seems like we are the ones looked at as the first that can go. We are the targets."
Cox has heard the criticism before and says comments like "waste of taxpayer dollars" or "low-performing" are inaccurate.
A look at Robin Hill's recent academic performance shows 95 percent of the district's third-graders scored proficient in reading two years ago. That same year, 100 percent of the school's eighth-graders were proficient in reading.
Other small districts also report impressive results. At Oklahoma City's Oakdale Public Schools, 92 percent of third-graders scored proficient in math and 97 percent were proficient in reading. Oakdale is considered an affluent district.
High-poverty rural schools like Zaneis Public School in Carter County also are successful. Nearly 80 percent of its students qualify for free or reduced-price lunches. In 2015, 100 percent of seventh-graders scored proficient in reading.
However, not all schools achieve such success, and similar to larger and some urban districts, some elementary districts also score average or below average on state exams.
When Cox is asked about the state's large number of school districts, he presents a unique perspective.
"We don't have enough school districts," Cox said. "The more schools you can have, the more individualized attention you can provide for students."
Cox said individualized student attention is central to the school choice and charter school debates, which have been hot-button issues at the Capitol the last two years.
Robin Hill
When the school board hired Voss the summer before the 2014-15 school year, Voss interacted first with staff in the weeks leading up to the start of the school year. Since Robin Hill employs one maintenance/custodial worker, the district's 20 teachers dropped by and offered to mop floors, paint hallways and weed flowerbeds.
Many staff members, including Voss, hold multiple titles. Teachers often volunteer in the school's concession stand during basketball games and add advisor duties to their workloads. The physical education teacher also coaches boys and girls archery and basketball and drives a bus route each morning.
With no grants administrator, teachers find and write their own proposals for learning materials and educational field trips. Others log on to GoFundMe.com and list classroom needs, like the wobble chairs and bouncy balls used in one classroom so students can safely fidget as they focus on coursework.
"Everyone is in it for the kids and to build a quality school," Voss said.
When it comes to academics, human resources, finances, federal programs and more, Voss encompasses all administrative duties as the district's superintendent and principal. His philosophy is to make the school the best it can be, no matter the obstacle.
Some emerged last year as the State Department of Education absorbed large budget cuts, meaning fewer dollars funded state schools, including Robin Hill. Purchases and projects were postponed as Voss and hundreds of school leaders learned to do more with even less.
Robin Hill's growing student population helped the district weather state budget cuts. Five years ago, it enrolled 254 pupils. Currently, 320 students are enrolled, and 84 more are on a waiting list. More than 70 percent of the students live outside the school boundaries in neighborhoods in Moore, Norman and south Oklahoma City.
"If we had the infrastructure and room, we could probably grow as fast as we wanted to," Voss said. "The delicate balance is keeping what we are while also surviving."
The small-school atmosphere mixed with strong academics lures families to Robin Hill. Unlike the average state public school, the district records about a third less students who qualify for free or reduced-price lunches and a mobility rate in the single digits.
Parental and community support plays a big role in Robin Hill's success, Voss said. It can be nearly impossible to find a parking spot during the school's annual carnival or on basketball game nights, which are the community's primary entertainment events.
Voss said only a few instances of misbehavior have ever earned a handful of students a seat in his office. He said students know him well and don't want to disappoint him.
"I tell people all the time I wish every kid could experience this," Voss said. "I think it is an outstanding place, and I wish I could share it with everyone."
Print headline: Small and proud, Elementary districts are successes in state education and in the communities they serve.