Sara Kate Huff, owner of Sara Kate Studios in Automobile Alley, works with her inventory at the new shop. mh
For many independent retailers, the annual Holiday Pop-Up Shops in Midtown offer a chance to test products and experiment with a retail store.
Each weekend through Christmas, dozens of businesses will set up inside geodesic domes at the corner of 10th Street and Hudson Avenue, giving shoppers a chance to support small and local businesses.
"The Pop-Up Shop gave us a lot of confidence [to open an actual store]," said Carrie Parker, owner of Always Greener, 7316 N. Western Ave., which sells synthetic grass for yards, mats and other products.
Parker said she did without a physical storefront during her first few years as a business, but she always thought a brick-and-mortar shop would be beneficial.
"There came a point where we were running all over and we thought we were losing out on business because we didn't have a store that customers could visit," Parker said. "We did the Pop-Up Shops last year, and it went so well for us that it gave us the confidence to open an actual store."
Sara Kate Huff, owner of Sara Kate Studios, is another business owner who decided to open a physical location after experimenting with the Pop-Up Shops.
"Participating [in the Pop-Up Shops] for two years allowed me to grow slowly and test my pieces," Huff said. "The first year, I was curious if someone in Oklahoma City would be interested in what I had to sell, and people were."
Huff said the Pop-Up Shops also allowed her to learn point-of-sale systems and how to track inventory. This summer, she opened her own studio in Automobile Alley.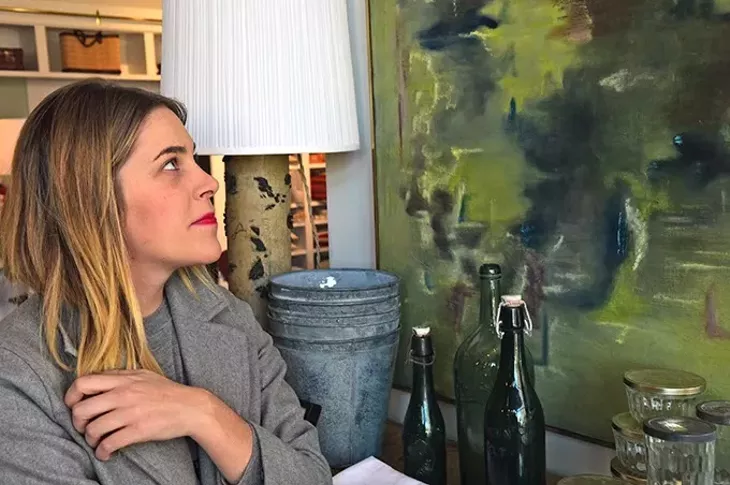 Sara Kate Huff, owner of Sara Kate Studios in Automobile Alley, with artwork and other home decor items at the new shop. mh
"I think that it's a good experience for any start-up retailer to participate in," said Pop-Up Shop organizer Allison Bailey. "Due to the limited space, shops have to focus their products for the audience that will be visiting the event, something they should be constantly considering even in a larger, more permanent space."
Bailey also works as a consultant for local independent retailers and believes the Pop-Up Shops give prospective retail owners the chance to see what it takes to operate a regular storefront.
"Working a retail shop can be hard work, [and] participating as a pop-up might help make a decision on whether a shop concept should be a permanent establishment or something that is done on an occasional basis for events," Bailey said.
In the few years that the Pop-Up Shops have operated, several businesses have either launched physical stores or expanded after participating. In addition to Sara Kate Studios and Always Greener, Urbane Home & Lifestyle and Chirps & Cheers are other participants who have moved to larger locations.
Business owners also say the Pop-Up Shops allow them to interact with customers who are interested in shopping local and appreciate unique items.
"I think the cool people of Oklahoma City come to this," Parker said.
Print headline: Pop to shop, Holiday Pop-Up Shops give business owners opportunities to experiment.