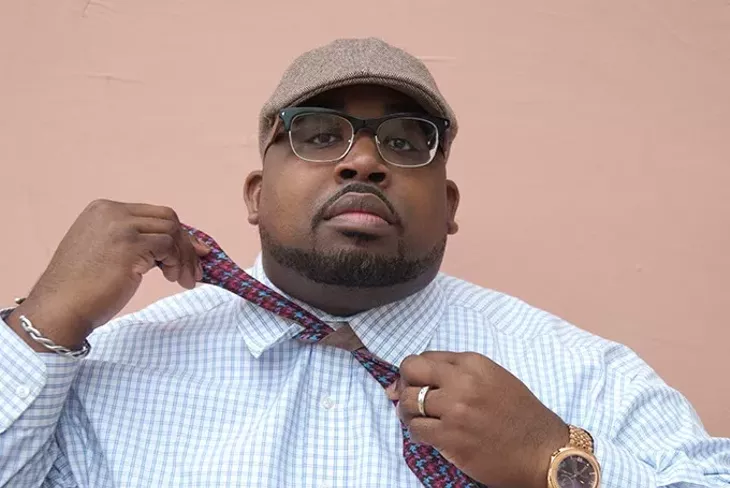 Ronald D. Jordan II knows how to make an entrance. No one would ever accuse him of trying to blend in and go with the flow. That's why we found ourselves talking outside a neighborhood 7-Eleven for nearly half an hour. It was his tie that started it. It was red plaid and stood out like a holiday light bulb.
Jordan makes them by hand in his house. And for a very reasonable price, he'll make you one, too.
"I got my start because what I was seeing, everything was really plain. I couldn't find it, it wouldn't fit and they were very general, very plain. And that's not me. I don't walk the line," he said.
He hatched a plan to make his own and primarily help other big and tall men as well. He didn't know how to sew, but most of his family was handy around a sewing machine and he figured it couldn't be too hard.
"It just clicked, and I figured it was something I could do and help out the community. What I've learned is that more average or normal size men order bow ties, but big and tall is still something that is a passion of mine," he said.
It started when people started complimenting him on them. Then they would ask where he got it. So he called it Knotted Bow Ties and printed up business cards, and then the custom orders started rolling in. Now that the holidays are here, his orders have increased.
He also has an Internet storefront, and just about everything you see is ready to ship. You can shop there, or you can get ideas about what you want. He also makes a women's and a children's line of bow ties. When it comes to seeking out the fabric, he's all over the map. He seeks out home interior fabric and sweater knits along with other unexpected patterns and colors.
"I go to fabric shows, and I've picked up some unique pieces that people wouldn't think would make a good bow tie, but it just works," he said.
The quality of workmanship is immediately noticeable, which is something that has also become very cool to appreciate.
"Everybody has gotten back into the notion of being an individual — people are absolutely loving, that they can contact me and say they like this but can they get it like that," he said.
Jordan is also working on a stock of ready-made ties. However, everything is in limited quantities because there is so much that he wants to do and he still wants to provide a unique product for his customers. For custom orders, there is typically a seven- to 10-day turnaround. How does he find the time for this labor of love? He just does.
"Outside of being my day job, my job of being a coach, being a father, being a husband, it takes up all the other hours in my day, but my girls are my cheerleaders," he said.
He has a larger clientele outside of OKC right now, so he ships the majority of them, but when it's possible, he likes to deliver them. He has had recent hotbeds of orders in Atlanta, Dallas, Michigan, Ohio and Albany, New York.
"I also just shipped my first international piece to China, and they found out about me on Instagram," he said.
For a custom piece, the easiest way to start the conversation is to email knottedbowties@gmail.com. To visit the storefront, go to knottedbowties.storeenvy.com.
Print headline: Sharply dressed, Local bow tie maker Ronald D. Jordan makes wearable conversation pieces.