Men's fashion in Oklahoma City has undergone a renaissance. Overnight, men have turned from scruffy bohemians into sophisticated gentlemen. Yesterday's wadded-up cargo short/tank ensembles have been thrown to the wayside. Instead, men are opting for well-tailored suits, jackets and properly fitting pants.
"It's just simply a more dapper look these days for men," said Taylor Hanna, local designer and co-founder of The Clad Stache located in The Shop on 8th and thecladstache.com. "Women like men who look good and look like they take care of themselves."
With sophisticated digs come sophisticated accouterments — like classic bow ties, neckties or pocket squares in a playful floral or camouflage pattern. However, one item that is gaining popularity is the dress sock. But these aren't your dad's dress socks; these socks come in luxurious cashmere or a brightly patterned hue.
"From simply throwing on a pair of socks that compliment our suit or outfit, it lets us look different than our fellow co-workers and friends," said Hanna.
"Socks, for example, used to be a mundane men's accessory that have gotten an incredible boost in style lately. No longer is it just enough to wear a pair of plaid or solid black socks. Companies like Richer Poorer and Happy Socks have shown us that we can put anything on them ... and that our feet can look just as good as the rest of our bodies."
Hanna specializes in unique, custom-made bow ties, neckties and pocket squares. But he said he has a couple of sock orders in the works for the shop.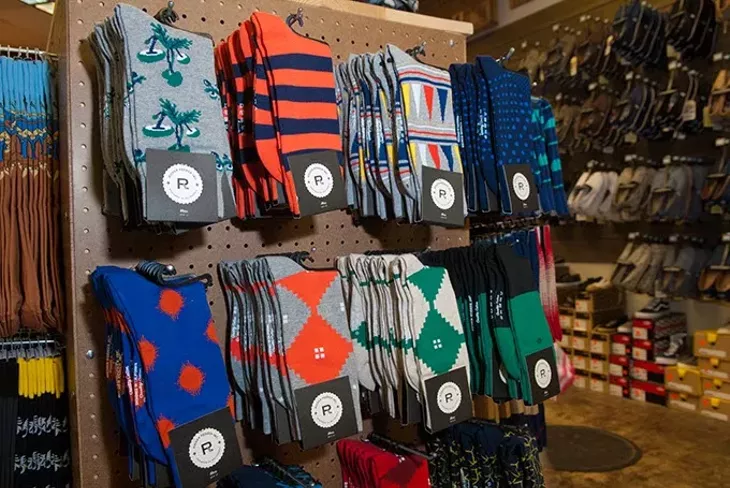 He realized the need existed for more unique accessories after he first started getting into the dapper look several years ago.
Now, it's 2014, and things have changed. Shops like Spencer Stone Company, 6492 Avondale Drive, or Steven Giles, 5850 N. Classen Blvd., have a wide selection of brightly colored socks and other accessories, as do many stores around the metro.
Inside OKC's Blue Seven and Local OK boutique, 7518 N. May Ave., socks occupy their own stand-alone rack between the denim room and the women's section. It's not an easy area to miss with each side displaying a sock in every possible color or pattern.
"Right now, we carry close to 300 different styles of socks," said Jacob Peregrin, Blue Seven's menswear and denim buyer. "The majority of sock sales do come from men."
Peregrin said the trend has steadily increased over the last three years. For every 10 pairs of men's socks sold, he estimates they sell one pair of women's.
This explained the mini women's sock wall situated toward the back. Although there were several designs and colors to choose from, it is no question that socks are not a priority for women like they have become for men.
Peregrin said the fan favorite is the timeless cashmere, sold for around $35.
"They are like a massage for your feet," he said.
Print headline: Make a statement, With a burgeoning reawakening in men's fashion across OKC, an unlikely necessity might reign as king of the wardrobe.