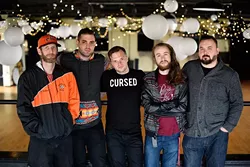 Garett Fisbeck
Dusty Phillips, Sebastian Madsen (Dropshop), Travis Tester (Travis Traps), Garrett Sellars (Gurt), and Waylon Clark of Elite Productions pose for a photo at the OKC Farmer's Market, Thursday, April 14, 2016.
Elite Productions hosted its first Subsonix electronic dance night in March 2015 for 75 people. One year later, Subsonix draws party crowds of as many as 800.
Semi-regular Subsonix events at OKC Farmers Public Market, 311 S. Klein Ave., offer a club atmosphere with an emphasis on die-hard electronic dance music (EDM) culture and growing the local DJ scene.
Elite, a promoter and event planner, also puts on Subsonix nights up the turnpike at IDL Ballroom, 230 E. First St., in Tulsa.
In its year of existence, Subsonix has also attracted big EDM and DJ names like Oliver Heldens, Pegboard Nerds, Paper Diamond and Herobust.
Waylon Clark co-founded Elite Productions with partner Dusty Phillips. Elite puts on a wide range of events — from weddings to MMA fights — but Clark always envisioned making a significant contribution to the Oklahoma City dance scene.
"When I was younger, I did raves and warehouse parties in Dallas and some around here in armories and stuff like that," he said. "It lit a spark in me. I got nostalgic and I was like, 'Man, I'd love to create a regular EDM event that's going to be on a bigger scale but still have that very relaxed vibe.'"
Filling a void
Robotic Wednesdays at Kamps, 10 NE 10th St., used to be one of few regional EDM events that didn't involve driving across state lines. Garrett Sellars, known onstage as Gurt, is one of three resident Subsonix DJs at OKC Farmers Public Market events. He said the addition pushes the local market forward with friendly competition.
Exactly what it means to be competitive is something Subsonix DJ Travis Tester (also known as Travis Traps) said had to be developed over time.
"There was a time and place when we did try to do something similar and go head-to-head," Tester said. "Then we realized we have the bigger venue, maybe we should just do the bigger shows."
Similarly, Clark said he felt like Oklahoma City's ability to attract bigger names and bigger shows was handcuffed in the past by small venue options. A sold-out EDM show at OKC Farmers Public Market holds about 1,300 people.
"We want to make it possible for those bigger artists to come through regularly, where every month we can have a big show," Clark said.
Early on, Subsonix relied on a solid street team to promote shows and usher newer and larger crowds into the spacious venue. Sebastian Madsen, known on the Subsonix stage by his DJ name Dropshop, said the team started at around 10 people but at one point grew as large as 30.
"The hardest thing to do was to just get people in the door, but once they come in, they realize that we have something big going and they come back," he said.
Electric experience
Clark said Elite Productions recently signed a deal with Disco Donnie Presents, an EDM promoter that will help them bring acts into Subsonix that were unavailable in the local market before.
Subsonix also has heavily invested in creating an exciting party backdrop. With almost every show, Elite Productions adds to its collection of lasers and LED walls. Clark said there's an emphasis on putting up unique stages and always changing up the way the event looks from night to night.
It's at a value price too, for the most part. Event tickets are usually $15-$20, though admission into larger shows might go for as much as $35.
"We try to keep it fun," Clark said. "It's like a family that just keeps growing."
Clark has friends from outside the EDM scene who come out to Subsonix just to support him. Those friends usually come in expecting a dark and smoky room but always leave surprised and excited by the electric atmosphere inside.
"I don't see it as a rave or a concert," Sellars said. "I see it as a party. In my day-to-day life, I don't just constantly listen to EDM. But whenever I go to these shows, electronic music, it's party music."
Loving local
The goal of Subsonix isn't only to bring in big EDM names. It's also to help cultivate a local DJ scene.
Subsonix is built off the work of its three in-house DJs. The idea, Clark explained, is to use the platform to help local talent gain exposure. Once those artists outgrow Subsonix, it opens up an opportunity for a new batch of local DJs.
"They helped us in the beginning. Now, hopefully we can help them," Clark said. "It's kind of a give-and-take partnership. They're just as much a part of it as we are."
Madsen said he loves that local fans are willing to travel elsewhere for shows but if the local scene wants to continue to grow, people also need to attend more shows here.
"I feel like people here have gotten so used to traveling to the bigger shows and for music festivals because it wasn't something that was always offered here," he said.
Heavily attended local events would help lure bigger performers to OKC.
"Don't sleep on what's happening in your own city because it's just as cool and it's down the street," Madsen said. "It's something you can support, and if they support that kind of stuff, we're more likely to grow and do even better shows."
Going further
Madsen said Subsonix hopes to sell out its EDM venue in its second year.
"If we sold out the Farmers Market at full capacity, that would mean we're throwing some substantial stuff," he said.
Though Subsonix takes pride in creating a more competitive local EDM market, Clark said he hopes for the best for all DJ-centered events in the city. If a solid subculture is going to be built, local artists and promoters can't focus on dragging others down.
"I feel like if an event going on is more successful, that's going to help us become more successful," he said. "More artists that are coming into the city and having a good experience, that word travels to the booking agencies. It's so important that we get out and support each other."
Print headline: Embracing EDM, Subsonix hopes to help push Oklahoma City onto a new platform in the electronic music community.