Garett Fisbeck
Tsukemen ramen in Oklahoma City, Monday, Dec. 7, 2015.
Project Slurp held nine ramen pop-up dinners. Project Slurp sold out nine ramen pop-up dinners.
"The fastest one sold out in 15 minutes," chef Jeff Chanchaleune said. "That was the vegan one. So, we will cater to vegans."
"To an extent," Rachel Cope said.
After taking Oklahoma City by storm with its high-end ramen and top-shelf cocktail dinners, Project Slurp has become something new: a permanent Plaza District resident. Gor? Ramen + Izakaya, 1634 NW 16th Street, is slated for a March opening if all goes well, Chanchaleune said. The path to opening a restaurant with his friend Cope has been an evolution, and the resulting product will be a blend of their styles.
The Izakaya concept is that of a relaxed place for after-work drinks and late-night dining, and Cope's vision is for a comfortable, warm, sexy place to hang out.
"Kind of like Empire (Slice House, her other restaurant) at night," she said.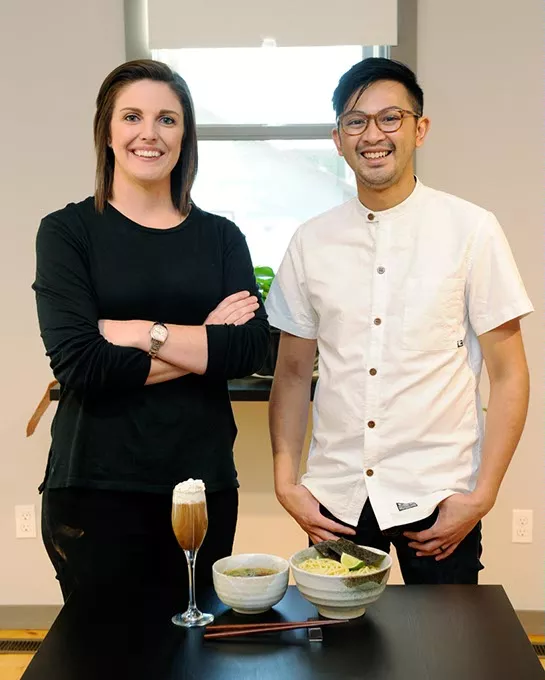 Garett Fisbeck
Rachel Cope and Jeff Chanchaleune of Gor? Ramen + Izakaya
Ramen team
The food is pure Chanchaleune, with a focus on bringing Japanese flavors and styles to Oklahoma City. As a former co-owner of Kaiteki Ramen, he helped create a demand for ramen locally. With Gor?, they get to see their ideas writ large on their own venture.
Cope and Chanchaleune are consummate perfectionists in their own arenas, and their partnership is all about pushing the other to new heights.
"One of our rules is that we have to be able to tell each other no," Cope said. "The only way this works is with open communication. That's what's great about knowing each other for so long."
In Cope, Chanchaleune has a front-of-house expert who is dedicated to making the service and atmosphere every bit as on-point as the food.
"We make the perfect team," he said.
For those who love ramen, Gor? makes a perfect bowl. Its house broth will be a chicken paitan, but the intensely flavorful tsukemen dipping ramen is sure to be a hit.
If Chanchaleune and Cope are the perfect team, Gor? is a perfect fit for the area, helping cement the Plaza District as the late-night food and drink center of the city — Gor?'s neighbors include The Mule, Oak & Ore and Saints.
Those who can't wait until opening day for a bowl will be happy to hear that Project Slurp is planning a few more pop-ups between now and March, so you won't have to wait all winter to try its ramen again.
Print headline: Project ramen, A successful pop-up restaurant cements its place in OKC with a permanent location.