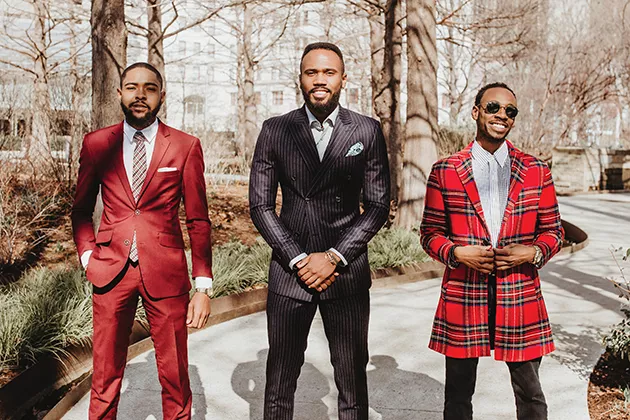 Alexa Ace
from left John Traylor III, Korey Eakers and DeQuan Cooper of Grand Gentlemen help position high school students for success.
A business suit cannot stop a bullet, it will not make you invisible to racial profiling and it will not grant you mystical superpowers to overcome institutional racism.
Korey Eakers did not co-found the lifestyle brand and mentorship program Grand Gentlemen because he believed that fashion could extinguish centuries of institutional racism, but he hoped it might give young African American men more confidence to diffuse and disrupt prejudice.
"If a police officer feels threatened by a black guy, there's nothing we can do about that; that's on the police," Eakers said. "We can't control if they are threatened or how they are trained. We can only control how we present ourselves. We look at our photo shoots as positive propaganda; it means a lot to young black men to see a young man in a suit, being articulate, professional and happy."
Grand Gentlemen began as a fashion blog in 2014, founded by Eakers and John (Jontrae) Traylor III that paired lifestyle coverage with positive messaging. A wave of high-profile shootings of African American men by police officers soon shifted their focus as they felt an urgency to help prepare young men for the dangerous world beyond high school.
"I wanted to do something with youth to get our community moving in a better direction," Eakers said. "Whatever we put out on our blog, whether fashion or aesthetic, we wanted to add a positive, uplifting message towards our peers and those younger than us."
At the time the blog began, Eakers was a student athlete working full-time at a clothing store with Traylor, trying to fit Grand Gentlemen into their busy lives. As the blog's following grew, so did the opportunities to engage in the African American community by teaching youth how to tie a proper tie, how to act and dress professionally and how to use their outward projection to open doors to better careers.
Eakers described the mission as caring for a neighborhood in which every house is a different issue that the African American community faces. Though Grand Gentlemen wants to address all these issues, he believes its focus needs to be on male high school seniors because "you've got one house on fire and you are going to take care of that fire before you can take care of anything else on that block."
It is where Eakers feels the most connection because, despite all he has done to become a community leader, he still tenses up every time he sees a police car.
"Just a couple weeks ago, I swerved to miss a pothole and got pulled over," Eakers said. "The police officer came out, flashing his flashlight in my eyes, his hand on his gun. Look, I'm not a particularly threatening black guy. I was wearing a topcoat with some Chelsea boots. Statistically, this happens more to African Americans, and you can't really change how someone else sees you. If there is a cop that doesn't like black guys, he just won't like black guys. He might be more threatened by you, which might mean he'll also be more aggressive with you."
A young man with confidence, Eakers said, is better equipped to diffuse the tension and keep the moment from spiraling into violence. This is why Grand Gentlemen focuses on introducing young men to culture, art, music and a wider world beyond what they grew up around. It will make it easier for them to not only handle themselves in potentially dangerous moments, but also advance in the professional world and empathize with whomever they might come across in the course of their lives.
"When you take men who've come from our environment, take them to see some art, teach them to start dressing better, respect themselves, then that hyper-aggression some black men have will start to go down," Eakers said. "That hyper-aggression stems from, 'You don't like me, so I don't like you.'"
This contributes to another problem Eakers sees within the community: toxic masculinity. Eakers said that misogyny, homophobia and other symptoms of toxic masculinity cannot be changed overnight, but presenting positive role models for young men will help change the culture.
Raising awareness
Grand Gentlemen started the Man of the Year Awards in 2018 and presented the first awards to high school seniors Leon Fields and Day'Quann Ervin.
"They filled out the app, wrote an essay, had a certain GPA and extracurriculars," Eakers said. "They showed a lot of initiative; it was like a job interview, and they were contacting us to see what they could do to stand out more. They each got $500 and a new suit because they are going to college; they'll be going on job interviews and maybe have to give a speech. We want them looking nice when they do."
Eakers said that Fields is now at Langston University studying biology while Ervin studies psychology at University of Central Oklahoma. Both graduated from Frederick A. Douglass Mid-High School, where Grand Gentlemen had focused its energy to find candidates.
"We wanted to work with Douglass because it is the pride of the east side," Eakers said. "If you can make a big impact at Douglass, it'll catch on everywhere else."
Grand Gentlemen now wants to extend its reach to more high schools. It supplemented a GoFundMe campaign with its own money for the first year and is now looking for partnerships to raise $10,000 for three scholarships. Donations can also be made at gofundme.com/grandgents.
Grand Gentlemen has far surpassed what Eakers and Traylor envisioned almost five years ago thanks to a growing staff of mentors. They have begun making short films through Mad Dreams Cinema with cinematographer DeQuan Cooper and producing events like Valentine's Day-themed Art of Romance in partnership with OkSessions.
"People want to talk about what's wrong with the east side and why aren't there more black-owned businesses, but there needs to be investment in these communities and investment in these young men," Eakers said. "With Man of the Year, we get to see these kids compete to see who can be the best young gentleman. It's wild."
Eakers said there is a growing trend of young, black professionals sculpting the future of the community. Though Eakers wants Grand Gentlemen to remain focused on high school seniors, he also hopes to help other organizations to reach out to all aspects of the African American community while remaining clear-eyed about the problems faced by young black men and women.
"A suit cannot protect you from racism," Eakers said. "Martin Luther King and Malcolm X were wearing suits when they were shot. But if you can present yourself in a more thoughtful and respectful way, think more and trust that when you talk to a police officer, you can project yourself as a kind and thoughtful person; you mean him no harm. It might just save your life."
Visit grandgentlemen.com.