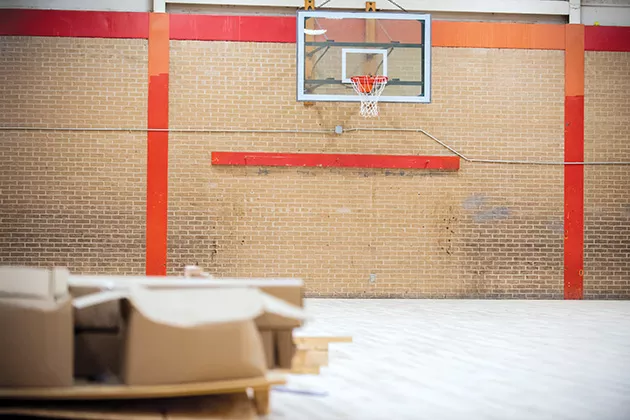 Miguel Rios
The district is about 96 percent complete with transitional work, but athletic fields and facilities still need work.
When classes begin Aug. 12, thousands of students and employees will attend new schools with new faculty under a new district brand. Pathway to Greatness, an ambitious consolidation and reorganization of Oklahoma City Public Schools (OKCPS), led to 15 school closures and the reorganization of feeder patterns, grade bands and faculty.
The district's employees gathered for a convocation July 30 at Cox Convention Center, where officials supplemented the many changes by launching the district's new brand. The new OKCPS logo, which draws its color scheme from the state's sunrises and sunsets, features a scissortail flycatcher with its extended wings designed as the pages of a book. Along with new imagery, which can be seen on the district's updated website, new slogans have been adopted: "Believe" and "Ignite Passion. Instill Pride."
"It's not just a bird that happens to be our state bird, but it's the bird that is so closely related to Oklahoma City's renaissance," district superintendent Sean McDaniel said. "As we look forward to [Scissortail Park], as we continue to draw from the light that radiates from the sculpture on the [Skydance Bridge], all signs of a new time in Oklahoma City. … It's a bird that is in motion — on the rise, in fact, just like we are."
Closed schools
Fifteen schools closed under Pathway to Greatness (P2G), but McDaniel said 13 of the buildings will be occupied or leased by Sept. 1.
The district will repurpose five of the buildings for various functions like student services, school overflow, administration and child care.
Harding Charter Preparatory High School and KIPP Charter School will be relocated to the former Centennial and North Highland school buildings respectively. Harding Fine Arts Academy is going through the process to buy the building it has always been in. Additionally, due to Seeworth Academy officials' recent decision not to give up the former location's lease, the school will move into the former Putnam Heights building.
Oklahoma City-County Health Department will repurpose the former Sequoyah and Oakridge school buildings for learning and wellness academies. Sunbeam Family Services will repurpose the former Pierce Elementary School building. Trinity School, a religious private school, will move into the former Edgemere school building.
Officials continue to look for community partners interested in taking over the former Telstar and Green Pastures school buildings, as there are no current lease negotiations.
Ongoing work
While McDaniel boasts officials are 95-97 percent complete with transitional work, there are still things left to do.
Every school's principal has been placed, but district officials are still looking for more teachers — particularly special education teachers — and bus drivers.
"We're 96 percent staffed from a teacher standpoint, which in a big district like this, 4 percent is a lot. So there are 95 teachers that we are still looking for, and that runs the gamut from fifth- and sixth-grade teachers to special ed teachers to those upper-level math teachers," McDaniel said. "We would like to think that we can land certified teachers there, but the reality is we may need to lean on some of those [emergency-certified] teachers."
The district had granted about 250 emergency teacher certifications as of last week. While the number is on par with last year's number at this time, McDaniel expects the number to climb. However, State Department of Education does not grant emergency certifications for special education teachers, so McDaniel is encouraging qualified educators to apply.
Officials are also still actively recruiting bus drivers for the estimated 120 routes, which it offers training for.
Some of the biggest improvements still in the works are for indoor and outdoor athletic facilities. Community partners like Fields & Futures are working with the district to help improve athletic fields of elementary schools that transitioned into middle schools.
"We're able to put in futsal courts, basketball courts and then redo our fields as both practice and competition fields. Competition fields are done. Seven of our 10 futsal, basketball courts are done, so we got three remaining," McDaniel said. "There's a number of [school gyms] where we have to complete a basketball court."
Trade-ups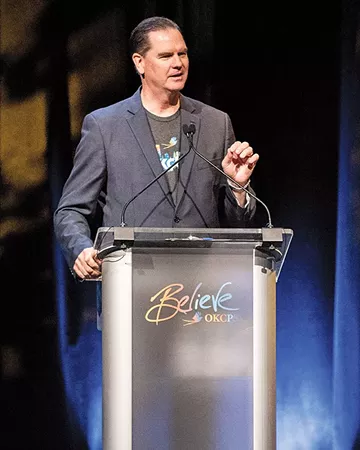 Miguel Rios
OKCPS superintendent Sean McDaniel encourages district employees to make the first year under Pathway to Greatness the best it can be.
Some of the biggest trade-ups from Pathway to Greatness were for elementary schools, with all 33 in the district having a full-time art teacher, music teacher and counselor.
"We have elementaries in our district where it's been years since they've had full-time art or music teacher," McDaniel said. "When we expose routine art, routine music and counseling services for our kids, especially in an early age, it shows up in their math scores, their reading scores."
Every elementary school will also have a dedicated STEM center. The Foundation for Oklahoma City Public Schools is working with Cal Ripken, Sr. Foundation to raise the funds needed to install equipment and furnish the centers. Mary Mélon, The Foundation for Oklahoma City Public Schools president, told Oklahoma Gazette that they only need to raise about $168,000 more.
The July 30 convocation marked the first time in four years that all OKCPS staff members gathered to kick off the new school year. McDaniel said the district added five instructional leadership directors (ILD), who will help the five already in place provide mentoring and coaching to school leaders.
"You need more support. You need more resources. Our commitment is to bring those things to you," McDaniel said. "We're invested in this new ILD structure to allow for that additional instructional support. Our new consistent grade bands will provide support, collaboration opportunities. New feeder patterns will allow our students to stay together longer and feel more connected as they move through high school. … We're even creating more strategic community partnerships to bring additional resources your way."
'Good to great'
OKCPS teacher of the year Christina Kirk, who made the move from Rogers Middle School to Star Spencer Mid-High School, spoke at the convocation and encouraged her colleagues to embrace change.
"On our path to greatness, we're heading to new buildings. We're headed to buildings full of opportunities for collaboration. ... We have to reinvent ourselves to keep our students competitive 'cause we need them to take care of us eventually. I know I need mine to," she said. "So as we move along this path and we're moving from good to great, I challenge each of us, including myself, to take a lesson and reinvent it. Be more engaging with it so that your students will be engaged. … OKCPS, I need you guys to get excited with me because you're way too quiet. So why should you get excited? Because this is our moment."
McDaniel also encouraged the district's employees to make the first year under Pathway to Greatness special.
"This cannot just be another year. This cannot just be my 34th year. This has got to be my best year, my best effort ever. What I'm asking of you is to commit to that very thing," he said. "Do whatever it takes to make this your very best year ever. … The stakes are high. This has got to be our year."
OKCPS hosts Love OKC One Day, an event offering free resources like groceries, health services and haircuts for families, 9 a.m.-2 p.m. Aug. 17 in Oklahoma Expo Hall at State Fair Park, 3213 Wichita Walk.
Visit okcps.org.