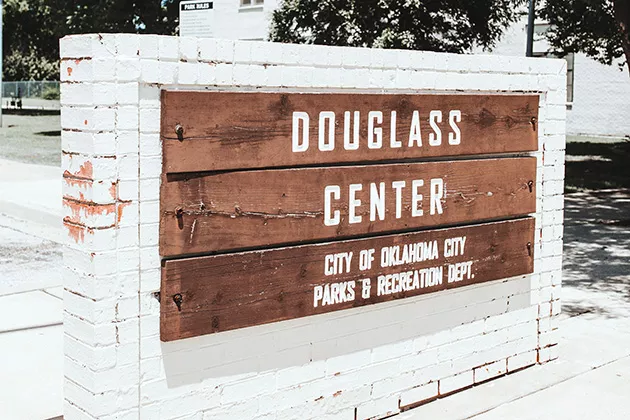 Alexa Ace
Douglass Recreation Center is free and open to the public 12:30-6 p.m. weekdays this summer, but some programming has a fee.
We Got This: A Fundraiser for Kids at the Douglass Center
7 p.m. Sunday
Tower Theatre
425 NW 23rd St.
towertheatreokc.com
405-708-6937
Free with donation
Jabee Williams feels called to use his platform to stand up for issues when others might not be able to speak out. That is why he hosts a fundraising concert Sunday to help cover the cost of recreational programming for children in northeast Oklahoma City.
Jabee spoke with Ward 7 councilwoman Nikki Nice about summer programs at Douglass Recreation Center that went from free to $5-$10 per month. Though Parks & Recreation officials told Oklahoma Gazette that prices did not increase this year, community members still worry about families, particularly those with multiple children, being able to pay for summer programs.
"I went over to Douglass Center and talked to the director there and got more information on the programs and what was needed. And I was like, 'Why do we need to sit down and get upset? Let's just get the money so kids can go,'" Jabee said. "They work really hard, and I just want them to be able to stay focused on providing and getting those programs for those kids and not stressing over if they have the resources to do it."
Jabee talked with other members in the community and scheduled We Got This: A Fundraiser for Kids at the Douglass Center.
Starting at 7 p.m. at Tower Theatre, the concert features Jabee, Poetry & Chill, Tony Foster Jr., L.T.Z., Trip G, NO_DNA, Malorey Rose, K 2 E U C E and various DJ sets. Grand Gentlemen is one of the sponsors, Malcolm Tubbs and J Poe will host and mayor David Holt and councilwoman Nice will also make appearances.
"Those are all people in the community who are doing stuff, and so the sponsorship is more or less just everybody getting together and pooling resources where we need it," Jabee said. "It just makes sense to pool our resources together and do it together. One of the guys from the Grand Gents, he actually works at Douglass Center, so that was just a perfect fit to get them on board to get help with spreading the word."
Admission to the concert is free with any donation, and Jabee is hopeful the event will reach his goal of $5,000.
Recreation programs
Jabee remembers going to recreation centers "all the time during the summer."
"It's just important for kids to have things to do in the summertime, and a lot of activities that they have are really state of the art," Jabee said. "They have a film class where they teach kids how to make short films, they have art class, creative writing classes — all these things that, if they had whenever I was around, I might be a whole lot further by now. I just think it's a great opportunity for these kids to get plugged in to something that's really productive and be around people who care about them and love them and have a lot of great things for them to do because that's what they got over there."
Alexa Ace
Jabee Williams hosts a concert to raise money for an OKC recreation center.
The city's 14 recreation centers provide programs throughout the year, but Stacey Hamm, Parks & Recreation marketing and public information manager, said prices have not increased. She said recreation centers are free and open to the public during their specific business hours, but structured programming has always had a cost per month.
"We actually have a summer program called Kidz Rock, and yes, it is $10 a month for kids to participate," she said. "They have organized activities, structured activities for the kids to do while they're there. We do have parents fill out paperwork to go along with this program because we provide lunch and a snack, so we need to know if the kids are allergic to anything. … The kids are checked in when they come in every day, and they also check out when they leave at the end of the day with their parent and/or guardian. So that $10 basically guarantees the parent a little bit more security."
Children who attend recreation centers and are not enrolled in programming are free to come and go and are allowed to use the facility. However, children enrolled in a program follow structured activities and must be checked in or out by a parent or guardian.
Hamm is unsure why people think the prices were increased but thinks there was some miscommunication with community members. However, she said the department is excited to work with Jabee to ensure the money raised is used in the best way.
"It would be wonderful for Douglass Recreational Center and the community. We always welcome any individuals who would like to make donations toward programming for kids at any recreation center," she said. "Let's say Jabee wants that $5,000 to go towards the Kidz Rock program only. It's $10 a month, so that is 500 kids. … We would work with Jabee to determine specifically how he would like to see those monies be used."
Hamm said the Parks & Recreation fall activities guide will be available online Aug. 5 with a hard copy available Aug. 12 at all recreation centers. It will include listings of all free programs and activities as well as programming with fees.
Visit okc.gov/parks.
Standing up
An outspoken activist for racial and social justice, Jabee said his platform allows him to advocate for things he believes in.
"There's just so much going on and there's so many people sitting back not doing anything or saying anything. And if I have a platform or a voice or if I'm able to say something, then I'm going to say it," he said. "The cool thing is I don't really have to answer to anybody. I don't have to worry about, 'Well, if I say this or I tweet this, then my job could be in jeopardy.' I don't have that problem, so I can really speak my mind and really stand up for some things that a lot of people aren't able to stand up to even if they want to."
He said he sees things happening throughout the city that he just cannot ignore. Recently, Jabee has been outspoken about the killing of Isaiah Lewis, an unarmed black teenager shot by an Edmond police officer. He criticized Edmond police again for being able to arrest a white man who was shooting at them while on LSD.
"There are things ... going on in our city with schools and racism and just so much crap. It's like, how can you ignore it? How can you not say something? How can you not be somebody who wants to see things change and wants to see things be better for the kids in your community? It's so important," he said. "That's the only way I know to be; that's how my mama raised me."
Despite his community activism, Jabee does not see a future in politics. He would much rather bring people together to educate them on the importance of voting than campaign for their vote.
"People always ask me that, but I don't think that's my lane. I can't tell the future, but … I want to be able to say what I want to say and not worry about losing my job," he said. "I just feel like where I'm at right now is a good place to be. I am getting older and those things can come up, but today, nah, not at all."
To make a donation, visit towertheatreokc.com.