Here are just a few of the many Oklahoma beers that you'll find this season to accompany you around campfires, in the water or in the backyard with friends this blistering summer.
American Solera — Solerican
To be completely honest, it's damn difficult to put an American Solera beer on a list like this because there's absolutely a chance that it'll already be impossible to find and you likely won't ever see it appear again. Chase Healey is a legendary Oklahoma brewer, so you can really just pick any of their beers and put it at the top. There are no core beers and basically everything is a one-off, so if you try something you love, rush back and stock up before your chance is gone forever.
Angry Scotsman — Pints of Persia
The summer seasonal from Angry Scotsman is making a late appearance this year, with the latest batch expected to be available in early August, but it'll be worth the wait. The saffron in this witbier is its most distinguishing characteristic, with the orange and hibiscus providing a level of sweetness without being too sweet and a floral finish without being overly flowery. The Factor 50 and Gateway to Helles are good alternatives if you prefer your brews less earthy.
Anthem — Blackberry Lager
Fruited sours are the norm, so to see a fruit lager is definitely attention-getting. This one is new to the packaged scene and is exactly what it promises. Definitely lager-forward with a subtle hint of berry, this is the perfect complement to Anthem's Phone Home (their blackberry sour, which is currently available on draft at their taproom).
COOP Ale Works — Peach Pageant
This one is making a repeat appearance on an Oklahoma Gazette list because it's earned its place. A Berliner weisse with subtle peach flavor and the lowest alcohol content on this slate at 4.1 percent ABV, celebrate National Peach Month (August) early with this session beer or keep your eyes open for the lager "discovery pack" that's just arriving in stores with its selection of blue corn, bock, cerveza and Italian varieties.


Elk Valley Brewing Co. — Cucumber Saison
Elk Valley has been going gangbusters with its limited releases lately — including an excellent pair of meads if you're curious about dipping your toes into the world of fermented honey — but their cucumber saison might be the lightest, most crushable summer beer on the market. Pretty of saisons come in strong, but this one registers at just 4.3 percent ABV and the cucumber is noticeable without being overbearing (if it's even possible for cucumber to be so). This one is perfectly suited for the hottest of days.
Fair-Weather Friend and Stonecloud Brewing Co. — Farm House Friends
Adrienne and Reed Jaskula, the founders of Fair-Weather Friend, relocated from Ohio to continue their careers in Oklahoma beer. While Reed went to work crafting some notable selections that are still available from Prairie, Adrienne opened Stonecloud's taproom, so it's only fitting that the two breweries (which aren't more than a stone's throw or so apart from each other) collaborated on this hoppy farmhouse ale that showcases the strengths of both.
Prairie Artisan Ales — Tiny Esses
I'm not saying there's Skittles in this, but it totally tastes like Prairie Artisan Ales just dumped a palmful of them straight from the bag onto your tongue. A taproom favorite, Prairie finally decided to make this one available in its line of packaged sours and its definitely going to pick up plenty of new fans, even if only for its novelty value (though if you're a fan of dessert beers, you're going to love this one).
Roughtail Brewing Co. — Nada Nada
Roughtail put themselves on the map with Everything Rhymes with Orange IPA (did you notice it on the cover?), but the taproom menu sours always shine, so it's nice to get a taste of that at home. The Nada Nada Pink Limonada is a well-balanced ale brewed with lemon and strawberry. Neither too sweet nor too sour, it's a welcome excursion but nothing beats getting a draft of it from the "sour power" offerings on the packed taproom board.
Skydance Brewing — Rez Dog
Another easy day drinker, the Rez Dog ("easily identifiable by the limp in his step or the battle wounds from a tough life on the rez") is an American blonde ale made with pilsner malt, so it's the most "beer-flavored" beer on the list. Skydance is among the newer Oklahoma City breweries though it's definitely already earned its credentials. While the Rez Dog is definitely a sessionable summer beer, don't sleep on their more challenging creations.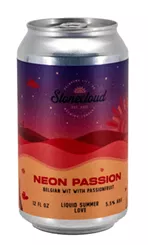 Stonecloud Brewing Co. — Neon Passion
Stonecloud bills this one as "liquid summer love" and it's hard to disagree. A Belgian witbier brewed with passionfruit, it doesn't get much more summery than this but has a 5.5 percent ABV, which means it can take its toll if you pound one after another (and you'll want to) in the sun's strongest rays. If that's the route you want to go, you'd probably better favor the Lite or the Havana Affair, but for the flavor, a well-paced number of these will take you calmly into the sunset.