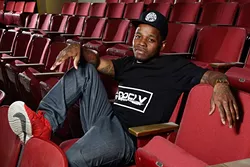 Garett Fisbeck
Jabee poses for a photo at the Tower Theatre, Tuesday, May 31, 2016.
Ah, summer — a season whose prerequisites are good tunes, long nights on the lawn and plenty of food. Sunday Twilight Concert Series, produced by Arts Council Oklahoma City (ACOC), simultaneously ticks all those boxes.
Dylan Hammett, who performs under her first name, takes Myriad Botanical Gardens' Great Lawn stage with Stephen Salewon 7:30-9 p.m. Sunday at 301 W. Reno Ave. Admission is free. The Sunday concerts run through Aug. 27 with a different lineup each week.
As they whet their musical appetites, guests also can satisfy their food cravings. JStew's BBQ and More, a local food truck, will offer up summer fare such as turkey legs, nachos, hot dogs and snow cones.
Over the course of its 37-year run, Sunday Twilight Concert has taken place at venues across Oklahoma City, said ACOC projects director Katelyn Carter.
While the former model allowed people to see shows at multiple locations, a few years ago, ACOC consolidated shows into one venue — with good results.
"There was consistency and people always knew where to show up," Carter said. "It generated a great relationship."
Homegrown relationships have contributed to the event's continuing success, she said. ACOC has built trust with attendees, Myriad Botanical Gardens and local and regional performers.
Sunday Twilight series planning is a monthslong endeavor. Performers contact ACOC year-round, and a schedule is finalized in February and March.
"A majority of our acts are local, and we like that because we want to support the local music industry," Carter said.
This summer's lineup also includes veteran and first-time Sunday Twilight performers. While most are based in Oklahoma and surrounding states, their musical styles can vary widely from one another, spanning from Latin rock to Americana at any given Sunday event.
Diversity is a key element of the series, and it brings generations of guests together through music. By offering high-quality, varied genres, Carter said the series draws people to music they might not normally seek out otherwise.
"We just want to create a fun environment for audience members of all ages: families, millennials older folks," Carter said.
The July 16 concert features spoken-word and hip-hop act Original Flow with hip-hop band The Fervent Route during the first half and pianist and musician Adam Ledbetter (of Adam & Kizzie) with rapper Jabee during the second half.
"They bridge the gap between popular music and rap and hip-hop," said Lindsey Pendleton, ACOC communications director.
Among this summer's series performers are The Lunar Laugh, a group that recalls the '50s and '60s music vibe with a modern twist; pop-rock Latino group Tequila Azul; and indie punk-rock Americana act Willow Way. Each concert draws around 600 attendees, Pendleton said.
"When they come out, they know it's going to be a good show," she said.
Guests are welcome to bring their own chairs and blankets. Visit artscouncilokc.com.
Print headline: Singin' summer, Well into its third decade, the Sunday Twilight music series is fresher than ever for audiences of any age.