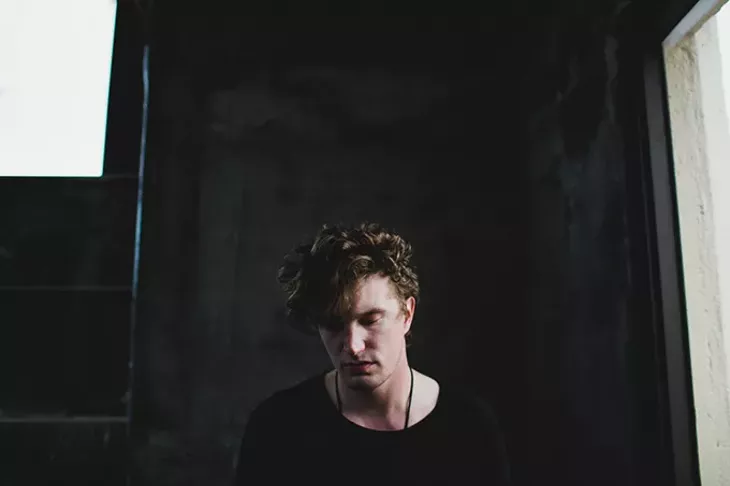 Anna Lee Media / provided
Saint Loretto
Oklahoma is not necessarily the best place beach goths could select to spend their summer vacation. For one, there is no beach. Aside from that, it gets too darn hot outside to wear all that black.
So what is a summer-savoring emo enthusiast to do when temperatures rocket into the triple digits with no relief in sight? Move the beach party inside, of course.
Oklahoma City-founded and Austin-based alt-pop soloist Saint Loretto, whose birth name is Evan Crowley, returns to his home city Friday for the Saint Loretto Summer Bummer Beach Party at 51st Street Speakeasy, 1114 NW 51st St. The free show also features local bands Swim Fan and Cavern Company. The bands will be decked out in their own beach gear, and all attendees are encouraged to do the same.
Crowley might also be known by local fans for his contributions to the band Paperscissor. He released DEPTH/S, his '80s-influenced debut EP as Saint Loretto, in April 2017.
Though he has been living in Austin since September, Crowley frequently returns to his home state for Saint Loretto shows. He held his DEPTH/S release show last year at IAO Gallery. Saint Loretto played both this year's Norman Music Festival and the Uptown Getdown New Year's Eve celebration at Tower Theatre.
Crowley has always had a love for shows based around a particular event or theme. Likewise, Speakeasy has grown a reputation for hosting concerts and art shows with obscure themes. It felt like a natural marriage.
"We're known for doing these things, so that it's more like an experience than just a band playing," Crowley said. "As I was thinking about it, this idea just became more and more fascinating to me."
Though Crowley recorded DEPTH/S almost entirely on his own, his new single, "Aisles," due out later this year, features more contributions from his live band, which includes drummer Clay Vaughan, bassist Reed Hoppe and Marcus Jackson on guitar. Bassist Clayton Stroup will stand in for Hoppe during the Summer Bummer show.
Summer sensations
Crowley's impression of summer depends a lot on location. During his time in Oklahoma, summer usually meant near oppressive heat bearing down on patches of dry, yellow grass.
Those trademark summer scorchers are exactly why he sought an indoor location for his Summer Bummer party.
"I thought it would be a great time to book an indoor show where everybody could come, dress beachy and still enjoy the vibe of that aesthetic without going out into the heat or actually being at the beach," he said."
But growing up in Florida, where his parents still live, Crowley said summer usually meant feeling the cool ocean breeze and enjoying a general sense of freedom.
"To me," he said, "I think of the beach and sometimes just late-night, dreamy music you're listening to in the car driving to the bar to hang out with your friends, windows down and just a fun overall vibe."
Having moved to Austin in September, this is Crowley's first full summer in his new city. So far, the season has been spent floating the San Marcos River and cookouts with friends.
Though he still frequently plays in Oklahoma, Crowley's move to Austin was motivated primarily by a desire to focus in on becoming a career musician. Though there is a high level of talent in OKC, he felt there was more opportunity in the Texas capital.
"[Austin] is known for its live music scene, and there's just so many venues and things going on here," he said. "That was part of it."
Still, Crowley's relocation represented more than a career move. It was the result of some self-reflection.
New home
About a year before his move to Austin, Crowley was going through a divorce. It was a life-altering moment that forced him to sit down and put a lot of thought into how his future should look.
"I found myself reevaluating my plan and what I wanted to do," he said. "All of these things came together to push me in the direction of, 'OK, now is a great time to look at what my options are.'"
Prior to his move, Crowley had formed a close relationship with guitarist/bassist Matt Novesky of the Texas-based alternative rock band Blue October after opening for them several times in OKC. Novesky always used to tell Crowley that if he was ever looking to move to Austin, he should let him know.
After Crowley's divorce, he considered moving to a few other cities, but taking Novesky up on his offer to help set him up in the new city always seemed like it made the most sense.
Despite the invitation from Novesky, moving was still a risky move. He did not have any employment lined up and didn't have many connections. But settling in a place where he did not have substantial ties forced him to make music his top priority.
"Before I moved down here, music was definitely a big part of my life, but I wasn't pursuing it full-time," he said. "When I moved down here, I basically decided I was going to move down here without a job or any kind of in."
Crowley said he has been meeting a lot of new people and cultivated a lot of connections within the Austin music scene. He has also held a number of different music-related jobs and experiences — studio recording, producing, making music for film, hosting his own shows and playing guitar for some friends at South by Southwest.
Novesky is one of the owners of Austin's Orb Recording Studios, and Crowley said he owed a lot of his experience in the city to working closely with the studio.
"I don't know where I would be without those guys," he said. "That's helped me out a lot."
Billy Muschinske / provided
Saint Loretto
Forward glide
Crowley might be Austin-based now, but tributes to Oklahoma still pop up in Saint Loretto's music. His newly released music video "Head Over Heels" was gorgeously filmed in Norman's Star Skate roller rink. Children skate to the electronic pop vibes of Crowley's band through most of the video, but the Saint Loretto crew goes mobile at the conclusion of the song, showing impressive skating chops as they circle around the rink mid-song.
The video felt like a healthy bit of nostalgia for Crowley, who was inspired to film the video inside Star Skate after attending an adult friend's birthday party there a few years ago.
"I'm not a young teenager anymore going out on a Friday night to the roller skating rink," he said, "but it takes you immediately back to that feeling."
A new music video for the single "Aisles" should be released around the time of the Summer Bummer party. Crowley hopes to release a second Saint Loretto EP sometime later this year.
"We're just picking it up a notch every time we can," he said. "We're trying to involve as many of our friends as possible."
Visit saintloretto.com.