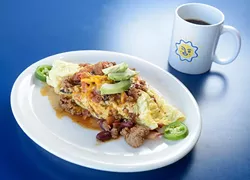 Garett Fisbeck
Omelet with bacon, avocado, jalapeno and cheddar covered in chili, at Sunnyside Diner, Tuesday, Jan. 17, 2017.
Quick! Name the first three things that come to mind when you think of diners.
I'm guessing at least one of them was pancakes or gravy. Whatever your choices, it's a safe bet that "quality ingredients" isn't at the top of the list. But it should be if you're thinking of new favorite breakfast and lunch destination Sunnyside Diner, 916 NW Sixth St.
The restaurant has a solid local lineage including owners Shannon Roper (the S of S&B's Burger Joint) and Aly Branstetter, who co-owns the S&B's on May Avenue and Hillbilly's, which recently closed. Anyone who thinks ownership doesn't matter needs only to look at the success of local restaurant groups A Good Egg Dining Group (Cheever's Cafe, The Drake Seafood and Oysterette), Western Concepts (The Hutch on Avondale, Sushi Neko) and new 84 Hospitality Group (Empire Slice House, Gor? Ramen + Izakaya and Sunnyside's next door neighbor Revolución Taqueria & Cantina).
Experience counts, especially when it impacts diners' experience.
Roper and Branstetter know that ingredients matter, which is why the restaurant serves food made in-house, fresh and locally available, when possible. That includes farm-fresh eggs and locally made bread. It's a difference that comes across in the food.
Garett Fisbeck
Blueberry pancakes at Sunnyside Diner, Tuesday, Jan. 17, 2017.
Bountiful breakfasts
Sometimes it seems high-quality ingredients and big portions are mutually exclusive. That has not been my experience at Sunnyside.
Take chicken-fried steak and eggs ($10.99). Actually, get your own. I'm not giving this one up.
I've seen bigger chicken-fried steaks, but none of them have tasted half this good. Every time one of these is delivered to a table, I hear the tiniest gasp. Either the person who ordered it is thinking, "Wow! Am I going to be able to put a dent in that?" or the people around them are worried they ordered wrong.
Having dined at Sunnyside a few times, I can happily report that no order is wrong. But not getting a chicken-fried steak is, technically, incorrect. Everything is amped up at Sunnyside. The crust has a dose of pepper that is sure to get taste buds tingling, and the beef is so tender that using a knife to cut it is a mere formality.
The cooks are also egg-sperts at the ova arts. I don't care how punny that is; it's true. Fried, poached or scrambled, I've yet to have an egg at Sunnyside that wasn't cooked just how I ordered it. Scrambled eggs are lush and soft. Fried eggs come with a solid white and a thick, viscous yolk just begging to have toast dipped in it. Order a Benedict and you'll find the poached eggs are patiently waiting for you to slide a fork into their sides and release a torrent of yolk to coat everything beneath them.
For even more customization, check out the selection of omelets.
Sunnyside's Western omelet ($8.99 with one side) is an upgrade from the usual blend of onion, pepper, ham and cheese. The three-egg omelet is filled with sauteed bell peppers, onions, and tomatoes; spicy chorizo sausage; and pepperjack cheese and covered in pico de gallo, sour cream and avocado.
Much like Pee-Wee Herman, I'm a loner, Dottie; a rebel. I had to make my own omelet ($9.99 for three ingredients, plus $1 for each additional ingredient).
The fun thing about a scratch kitchen is that cooks can work on the fly. So when I ordered an omelet stuffed with bacon, avocado, jalapeño and cheddar cheese and asked them to top it with their house-made chili, they obliged. It was spicy, filling and delightful.
If breakfast isn't breakfast without pancakes, then Sunnyside won't disappoint. My favorite so far are blueberry pancakes ($7.99), but choosing my favorite part of the dish is more difficult. The pancakes themselves are the textbook definition of a great pancake: golden brown on both sides, airy, fluffy and rich. Then there's the mountain of blueberries inside, between and over the cakes. But the coup de grace is lemon-blueberry compote and fresh whipped cream on top.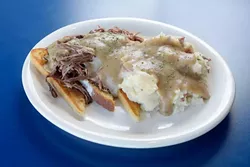 Garett Fisbeck
Hot beef sandwich at Sunnyside Diner, Tuesday, Jan. 17, 2017.
Lavish lunches
Breakfast is served from open to close at Sunnyside Diner. It's hard not to indulge in a pile of biscuits and gravy or Hillbilly Hash ($8.99) — a plate of roasted potatoes, eggs and barbecue pork — every time you sit down.
But please, for all our sakes, try the hot beef sandwich ($10.99).
Sunnyside's lunch selections are, like its breakfasts, the best possible version of diner classics. Both the All-American Burger ($8.99) and French dip-like Stockyard Sandwich ($9.99) are worth getting. And if you've never had a meatloaf sandwich ($9.99), then this version stuffed with bacon and cheddar is a must.
But the hot beef sandwich, served open-faced with mashed potatoes and brown gravy, is almost irresistible. The roast beef is dreamy, offering little resistance when cut with the side of a fork. The gravy is so packed with umami flavor it could probably be served as soup if it weren't so thick. And the bread, which is so often an afterthought in a dish like this, is buttery and toasted to perfection. Add in those hearty, homestyle mashed potatoes and it's a meal that very nearly demands a nap.
The lines outside Sunnyside Diner have slowly dwindled, but I'd still happily wait 20-30 minutes for a table. Food this good takes time to cook and time to eat. We shouldn't mind taking the time to anticipate the next diner masterpiece that will show up at the table.
Print headline: Diner details, Sunnyside Diner uses high-end attention to detail to create diner dishes better than the ones we remember.