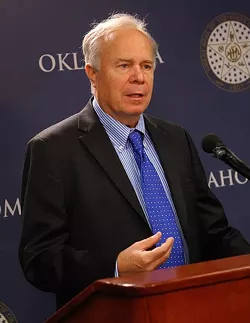 Garett Fisbeck
Mark Hammons, State Democratic Party Chairman, speaks at the Oklahoma State Capitol in Oklahoma City, Monday, Nov. 16, 2015.
When Oklahoma's GOP voters went to the polls during 2012's Super Tuesday, they voted in favor of former U.S Sen. Rick Santorum.
The last time state Democrats took to voting booths to cast ballots in a primary, U.S. Sen. Hillary Clinton won the Sooner State in the 2008 presidential primary. The primary election before that, state Democrats gave Gen. Wesley Clark his first primary and only wins during the 2004 election season.
While some view Super Tuesday as similar to the general election, as a dozen states open voting stations and poll candidates, others believe the well-known day of the election season is more of a test to see how candidates play across a broad spectrum of voters in different regions.
On March 1, Oklahoma Democrats, Independents and Republicans will cast ballots. They join voters in 14 other states and American Samoa with primary elections or caucuses during Super Tuesday, a term used to describe the day the greatest number of states hold primary elections.
Oklahoma's role in Super Tuesday is hard to pinpoint, said Tyler Johnson, a University of Oklahoma political science professor. The state's role in determining presidential nominees depends on outcomes from earlier primaries and caucuses in states like Iowa, New Hampshire and South Carolina.
"If you see instances in which one candidate runs the table, wins a majority of the states and looks like they have momentum, then I think some of the middle to lower delegate count states on Super Tuesday might not be seen as that big of a prize," he said. "If we see a mixed bag coming out of the first few primaries and caucuses, then perhaps it elevates our importance. Winning Oklahoma might allow someone to stay in the game longer."
Independent voters
Unlike prior presidential primaries, Independents can cast votes in this Democratic primary. In 2015, the Oklahoma Democratic Party amended its constitution and bylaws to permit Independents to vote in primary and runoff primary elections.
"It will draw a lot of people that have not been active in politics before by opening the doors of primaries," said Mark Hammons, party chairman, in November. "We are going to get a lot of people that take that first step in a very important, very critical historic primary election."
Last month, the state election board reported there were 266,605 registered Independent voters in the state. Independents are "the fastest-growing segment of the state's electorate," said Paul Ziriax, board secretary.
As Independent electorate numbers grow, so do the number of registered Republicans. There are 880,130 registered GOP voters, a 3-percent increase over 2014. Republicans now constitute 44.5 percent of the state electorate, while Democrats are 42 percent of those registered.
February elections
Before Super Tuesday, many Oklahoma County voters will go to the polls for school board races and a Midwest City mayoral race on Feb. 9.
In the Metro Technology Centers Board of Education race, Matt Latham faces incumbent E. Elaine Schuster for district 4. Schuster was first elected to the seat in 1982.
Carrie Coppernoll Jacobs and Adam Zodrow vie for the Oklahoma City Public Schools Board of Education's vacant Seat 3. Phil Horning, who is not seeking a third term, now occupies the seat.
A recall election is set in Midwest City for the mayor's post. Candidates Matt Dukes, Charles Thompson and Mark DeShazo face incumbent Mayor Jay Dee Collins in that election.
Print Headline: Election time, Super Tuesday could get interesting in Oklahoma.