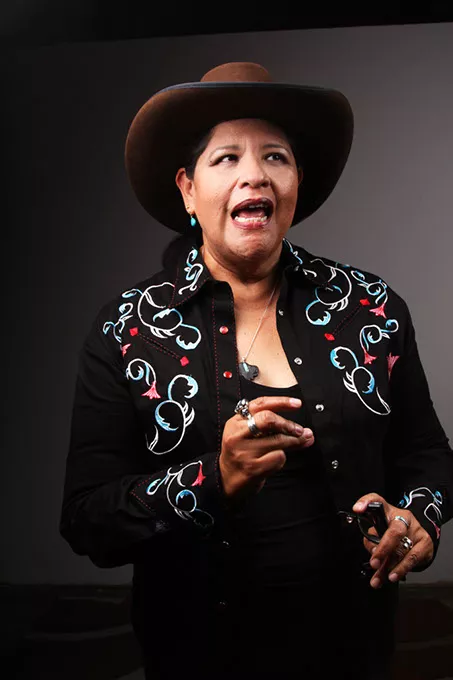 As a boy, mild-mannered reservation bingo hall janitor Hubert Logan ate tainted commodity cheese that was laced with Rezium, an experimental element designed to solve world hunger. The substance gave him enormous strength, subsonic hearing, fire breath, a super sense of smell and even the ability to understand the barks of his pet dog.
More powers continue to emerge for Super Indian as his adventures unfold on the Web and in his paperback anthologies written, drawn and published by Arigon Starr.
Starr is something of a force of nature in the Native American art world.
Punk spirit
When she entered the Native music scene in the late 1990s — dominated at the time by new-age flute players, sanctimonious folk singers and a nonstop line of blues guitarists — Starr screaming over punk music on "Salmon Song" was a much needed injection of inspiration from the contemporary world.
Such moments confused people looking for "traditional" Native music, and punks were taken aback at her Yoko-Ono-meets-Dale-Evans persona. Due to that personality, there's a certain poetic beauty in the fact that much of her career was launched at the Autry Theater in Los Angeles, named after America's favorite singing cowboy.
She won a Native American Music Award for her first CD, 1997's Meet the Diva. Since that time, Starr has established herself in both theater and music, including a one-woman show, The Red Road, in which she played 11 characters from Sapulpa. Like all of her music, it is streaming on Spotify.
She has also continued to rack up accolades, including a recent award for Super Indian, which won Best Trade Paperback from the Wordcraft Circle of Native Writers and Storytellers organization in Albuquerque.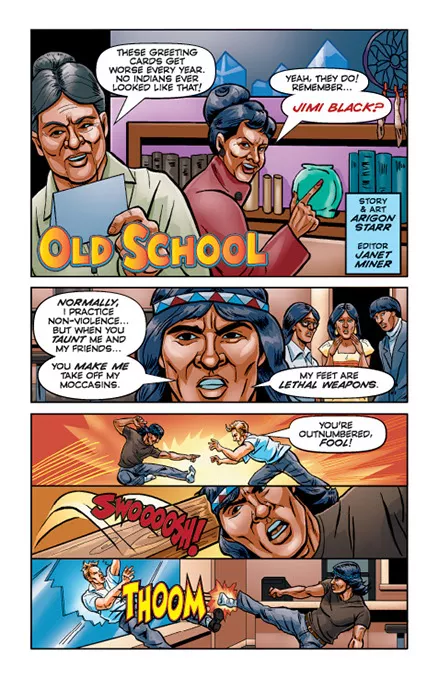 Arigon Starr / Provided
After eating tainted food, Hubert Logan gains superhuman abilities as Super Indian.
Drawing inspiration
Starr is a member of the Kickapoo Tribe of Oklahoma. Though she comes from a military family that moved around a lot, Oklahoma has always been her family's home base. It's that base that became the foundation of Super Indian — much like Stan Lee's Amazing Spider-Man, Super Indian spends as much time dealing with the character's day-to-day problems as it spends on actual superhero concerns. But in Starr's stories, Logan is on "The Rez" and she satirizes the Native world.
"Drawing was something I always did for fun; I used to do comics like The Beatles and Queen and imagine that they were doing all of this crazy stuff. I would just amuse my friends and show them what I did that week. I never saw it as something where I could be successful or make money at it," she recently told Oklahoma Gazette. "I had skills as a musician, and an actor and a writer; I thought that would be more immediate than trying to make it as a comic book artist, but I never stopped drawing."
Super Indian came about during a bus ride with other Native theater participants in Brisbane, Australia, as they headed to a conference about indigenous theater.
"I knew Jon Proudstar had Tribal Force out there, but that was really all I had ever seen," Starr said, noting the first Native American-produced superhero comic book.
"All of the other stuff I had seen was not written by us, not drawn by us and was so full of stereotypes that it made you want to tear your hair out. It was full of the Hollywood stuff — just leather, feathers, here we are again. 'Oh my god! He's a natural shaman!'" she said.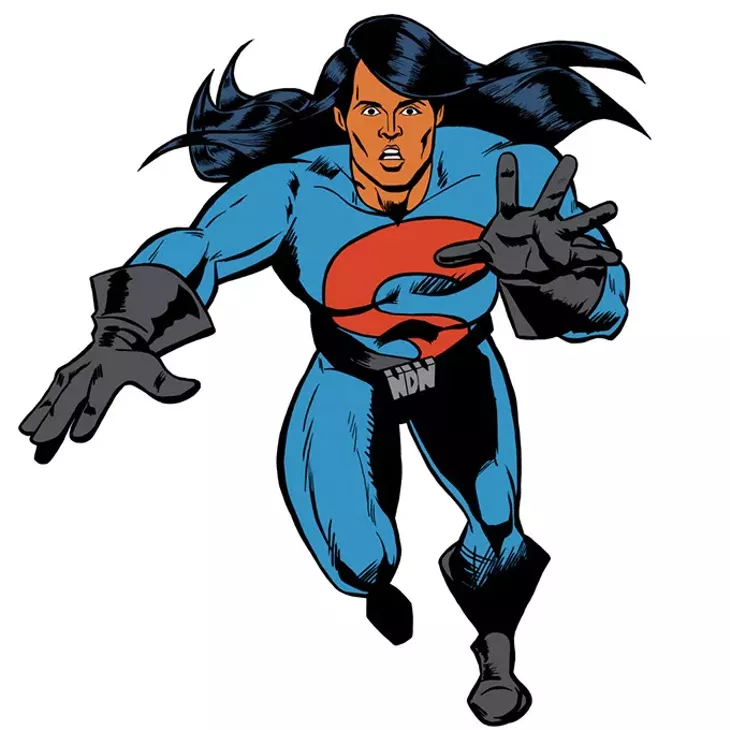 Arigon Starr / Provided
After eating tainted food, Hubert Logan gains superhuman abilities as Super Indian.
Radio show
Super Indian first came to the public as a radio piece. Starr was working with the Autry National Center in Los Angeles when it received a grant to do radio theater.
"They were looking at doing Native stories for radio theater, and I always thought of Super Indian as being like the Batman TV show of the 1960s: It was very cheeky and funny, and all of these little things could be thrown is as humor that could be very pointed and right on, especially in the community," she said. "Indians laugh about stuff; humor is a way to not annoy people by being on your soapbox. I have seen that in our community and in our art, and I didn't want to be that person because then you have to keep doing it and living in that space and being angry all of the time. No thanks, man!"
The scripts were "heightened silliness" about what Indians talk about all the time, she said: "'Oh, you're not Indian because blah, blah, blah' or 'I'm more Indian than you.'"
The theater ran out of money before it ran out of shows. Starr had Super Indian scripts left over that had not been produced, so she started going to comic conventions and talking to creators about how to make a comic book in the modern world.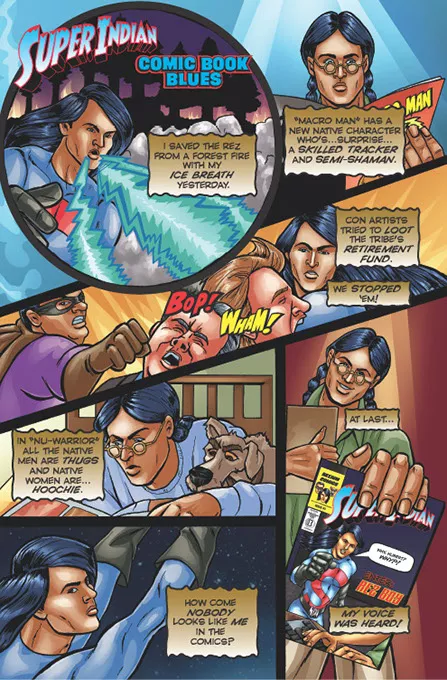 Arigon Starr / Provided
After eating tainted food, Hubert Logan gains superhuman abilities as Super Indian.
Modern age
It was recommended that she start it as a Web comic, so in 2011, Starr released the first half page of Super Indian. She continued to create a half page each week, which led to two trade paperbacks of the comic, and she is putting finishing touches on a third volume, due out this spring.
"There are a lot of resources out there; you don't have to reinvent the wheel," she said. "There are books; there's How to Draw [Comics] the Marvel Way — there is all kinds of stuff."
Technology helps, too.
"With Photoshop, it is much easier," she said. "Twenty years ago, there was no way to do this, but now, we have the power to do this stuff, and there's really no reason we shouldn't be doing it."
Fifteen years later, we have Indian punk and rap, and Starr even participated in Eureka Productions' 2013 anthology Native American Classics, which featured multiple Native cartoonists and writers. Starr is one of the original voices to emerge from the left field of Oklahoma's Native American community at a crucial time (the explosion of the Internet) and has taken the community's art in bold new directions.
Print headline: Native artistry, Arigon Starr draws inspiration for her award-winning superhero comics from life, punk music, singing cowboys and "The Rez."