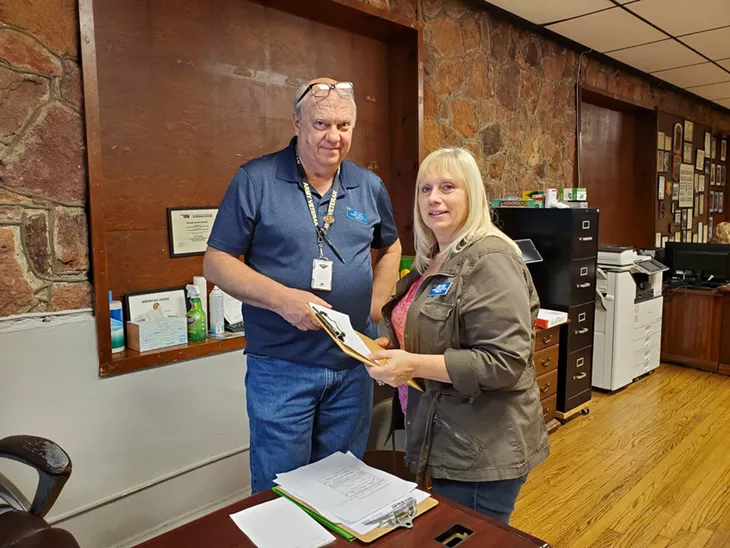 Provided by Norman American Legion Post #88
Carl Ellison, senior veterans service officer for the Norman American Legion Post #88, consults with fellow VSO Tammie Richard.
For over four years, Air Force veteran Keith C. had struggled in vain to obtain the military benefits he earned during his time serving in Afghanistan and Qatar. His service left Keith with numerous health issues, including the after-effects of a traumatic brain injury. He and his wife sought help from a local veterans' organization, only to find themselves spending thousands of dollars on unnecessary doctors' visits and reports, working with volunteers who processed paperwork incorrectly, refused to return phone calls and told them they "just had to be patient."
Provided by Norman American Legion Post #88
Frustrated and near despair, Keith took the advice of a friend and turned to Norman's American Legion Post #88 and its dedicated team of accredited veterans service officers (VSOs), who quickly resolved the situation.
At the Norman Post, VSOs are available to help veterans and their dependents with applying and processing claims for financial compensation, pension and death benefits, temporary financial assistance, and additional government programs.
More importantly, it's the only local organization which has remained open and available to assist veterans and their family members throughout the Covid-19 pandemic, said Senior VSO Carl Ellison. There are never any fees charged, and walk-ins are welcome. Since the pandemic began in March 2020, the Post
has obtained more than $1.8 million in benefits for its clients, he said.
For Keith, the Norman American Legion's VSO team was a godsend.
"We waited for years. It was frustrating and drawn out, and it put a huge emotional and financial toll on our family," Keith said. "The first time we went to the Norman American Legion Post they went over the huge stack of paperwork and guided us through our next steps. Then they went with us to the VA hospital the next day to get me enrolled in the system, and I've already gotten x-rays and other consults scheduled. They have taken a huge burden off my shoulders, and the other place we went to never even told us we could see doctors and get tests and actual help free of charge."
Provided by Norman American Legion Post #88
Members of the Norman American Legion Post 88, assisting one of their fellow vets. From left are: Post 88 Senior Veterans Service Officer Carl Ellison, and VSOs Coy Hensley, Harley McPeek and Tammie Richard.
Success stories like Keith's are common, and they mean the world to the Norman American Legion team. "We are doing great things for the veterans, and that is a wonderful feeling," said VSO Tammie Richard. "Each veteran has their own story, and we are there to listen and help to the best of our ability to get the issues resolved that are invading their life and minds."
What makes the difference is that unlike many veterans' organizations, Post 88's service officers are accredited by the U.S. Veteran's Administration and work directly with VA personnel. This typically makes it easier and faster to navigate the benefits application process and receive approval.
The Norman Post's VSO team is led by Ellison, who has more than 30 years' experience and in July was named the
American Legion's "Veterans Service Officer of the Year." A veteran of both the U.S. Army and the Oklahoma Air National Guard, Ellison has trained many service officers over the years, and he monitors every active claim at the Post on a daily basis, with clients coming in from across the nation and as far away as Europe.
"Giving back to those who served our country is incredibly important to me and to our team," Ellison said. "These people answered the call when our country was in need, and now they and their families deserve to be helped when they need medical care and other support."
In March of 2020, he and fellow VSO Cheryl Cooper implemented the complex software program VETPRO, which allows them to interface and communicate directly with the VA, further speeding up the claims process.
Cooper, who's been a VSO for five years, said that vets frequently struggle for years or even decades without realizing they have a qualifying health issue, or after having been denied in the past. "I get a lot of people who come in here for something else and then they start to talk, and my goal is to catch them as early as possible," she said.
In addition to processing benefits, like all American Legion Posts, Norman's Post #88 works with the local community in various ways. Covid has put many programs on hold, but typically members visit area schools and work extensively with local Scout troops, among other activities. During the pandemic, they've also done drive-by birthday parties and other distanced events in support of their members.
Officially founded in 1919, the American Legion is the oldest military service agency in the country, and it's had an enormous influence on the care and treatment of veterans. The group is responsible for many programs initiated during the past century that assist veterans, including the G.I. bill, which covers the cost of a college education post-service. Norman's Post #88 was among the first to be established in the country. It celebrated its centennial birthday in 2019, and has been named the top American Legion Post in Oklahoma multiple times in recent years.
Most people don't realize that American Legion posts are nonprofits, and receive no financial support. To help meet the demand – which is expected to grow in the wake of the recent military withdrawal from Afghanistan — Norman's Post is actively seeking financial and other donations for its veteran support services and community service outreach programs. Tax-deductible donations may be sent to: American Legion Post 88, P.O. Box 11, Norman, OK 73070.
"We do a myriad of things people have no idea about, said Norman Post Commander Ernest Martin. "There's a huge number of vets in central Oklahoma, and we do whatever we can to further vets' causes and to help them get the help they deserve."