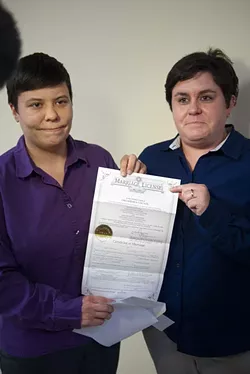 First gay couple to get their marriage license at the Ok. County Courthouse, Sara Yarbrough, left, and Lauren Tidwell, display their Marriage License at the Coutny Courthouse Monday, 10-6-14. mh
A decision by the U.S. Supreme Court not to hear a case concerning Oklahoma's same-sex marriage ban resulted in the legalization of same-sex marriage in the Sooner State.
Today, however, the Court announced it will hear same-sex marriage cases from four other states, which could potentially result in a nationwide ruling.
"Until that hearing [goes before the Supreme Court], marriage equality is the law of the land in the 10th circuit, which includes Oklahoma," said Ryan Kiesel, executive director for the American Civil Liberties Union of Oklahoma. "The Supreme Court's decision to hear a case this year ... has absolutely zero impact in the 10th circuit."
A decision by the Supreme Court later this year to outlaw same-sex marriage could apply to Oklahoma, but Kiesel finds that highly unlikely.
"We are going to have a decision that has consequences for the entire nation and I think the most likely outcome of this case is that we see marriage equality nationwide," Kiesel said. "I think any other result would be an unprecedented [move] by the court to strip the right of marriage from the thousands of loving couples who have participated in marriage ceremonies since marriage equality become legal in many other states."
Troy Stevenson, executive director of The Equality Network, said he is pleased the court will take up the issue and that even a negative ruling would not have an impact in Oklahoma.
"They have already sent back the 10th circuit decision," said Stevenson, referring to the Supreme Court's decision not to hear any of the appeals to same-sex marriage in the regional court that includes Oklahoma. "They could make marriage legal nationwide, and that's exactly what we think they are going to do."
The Supreme Court will hear oral arguments in April on same-sex marriage bans in Kentucky, Michigan, Ohio and Tennessee. A decision is expected over the summer.