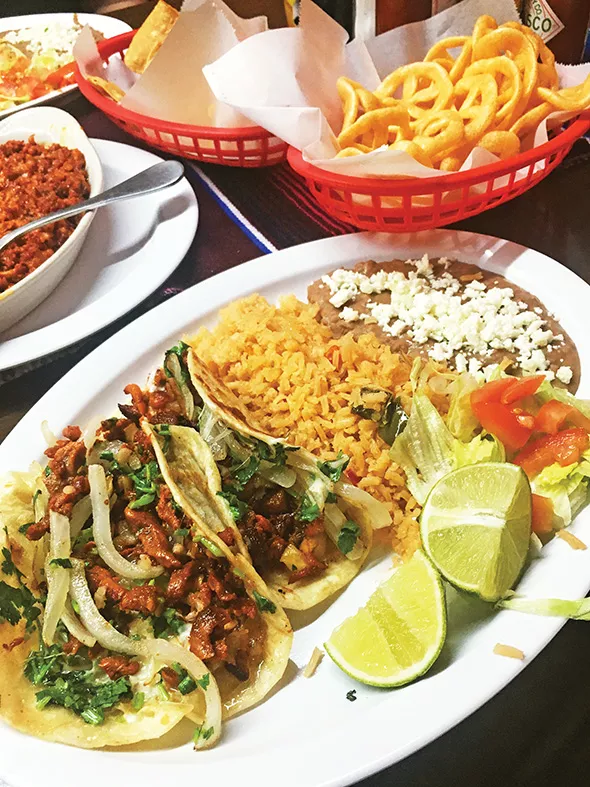 Jacob Threadgill
Tacos arabes filled with al pastor and cheese
Perez Truck Mexican Restaurant
2416 NW 23rd St.
facebook.com/pereztruckmexicanrestaurant1
405-889-1314
What works:
The verde sauce for enchiladas packs a punch, and the al pastor is flavorful and spit-roasted.
What needs work:
The choriqueso became a solidified mass.
Tip:
Find parking behind the building.
For Oklahoma Gazette's annual summer guide, I set out on the delicious but arduous task of trying to document taco trucks with permanent or semi-permanent locations in the metro area.
It is easy to forget that Oklahoma City, in terms of square miles, is one of the largest cities in the country, especially since we do not spend a lot of time in traffic. There is nothing like traversing the metro area, looking for taco trucks, that really puts the sheer size of the city into perspective. Luckily, I had plenty of tasty food to help power me along the journey.
As you might expect, SW 29th Street is home to a ton of brick-and-mortar taquerias as well as food trucks. Many often consider Taqueria Sanchez, 4011 NW 10th St., the best taco truck in the city — and for good reason — but the true surprise of my adventure was Perez Truck, located at 4400 S. Western Ave., across from Integris Southwest Medical Center.
It was not so much of a surprise that Perez Truck serves great tacos — there are a lot of great tacos to be found in the metro — but I found the sheer size of its truck menu to be a pleasant surprise. The truck serves 10 types of taco and 26 varieties of torta along with standard offerings of quesadilla, burritos, mulitas, sopes, tostadas and less ubiquitous choices like sincronizadas.
I ordered a cochinitia pibil torta ($6), and it was enough for two meals. I was delighted to see cochinita pibil offered on the menu because it is not on a lot of menus in the area, especially as a taco, torta or burrito offering. The marinated and braised pork dish heavy on citrus is on the menu as a composed dish at Cafe Kacao, 3325 N. Classen Blvd., and at Hugo's Taquizas, 5920 NW 23rd St. Cochinita pibil is a similar marinade to al pastor but is heavier on citrus juice and slow-cooked rather than spit-roasted.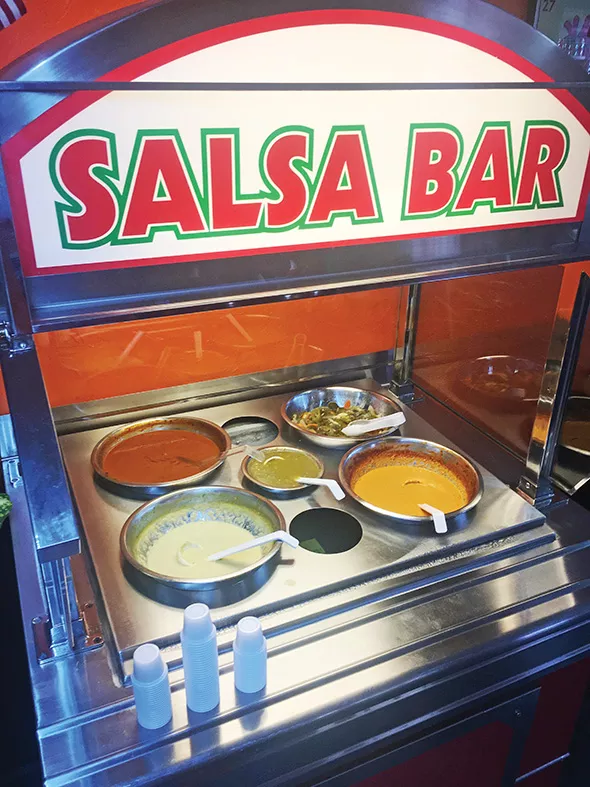 Jacob Threadgill
Perez Truck Restaurant's salsa bar
The memory of the torta layered with plenty of the slow-cooked pork, beans, mayonnaise, lettuce and other ingredients stuck with me long after our taco truck map went to press.
A few weeks later, while driving west on NW 23rd Street, I noticed that Perez Truck had opened a brick-and-mortar location at 2416 NW 23rd St., across from Shepherd Mall, in a blue-and-orange building (to match its truck) in a former Mexican seafood location.
I know I had driven by a few times, but I was a little confused by the name because it keeps the name Perez Truck for the restaurant location. I think I drove by once and thought it could have been a spot to house the truck. It also only offers a slim entryway to a parking lot behind the building; it is a tight squeeze and easy to miss.
According to Perez Truck restaurant's Facebook page, the owners opened the permanent location around late January this year. As someone who lives in nearby Military Park, I am always looking for more Mexican options. The Taco Loco truck at Pennsylvania Avenue and 39th Street is definitely one of the best in the city (order a burrito in addition to dollar tacos), but sometimes you crave more than what a taco truck can offer.
Perez Truck Mexican Restaurant is a small restaurant, but like its truck, it offers a ton of options on its menu, some of which I have not seen on any other menus in the city. Everything for which the truck is known remains on the menu. There are plenty of torta offerings, but it offers an extensive seafood menu (which might be a vestige of the location's former life), and all of its seafood is served 50 percent off on Mondays. The restaurant, which opens 10 a.m. daily, offers breakfast platters like huevos rancheros and revueltos and omelets.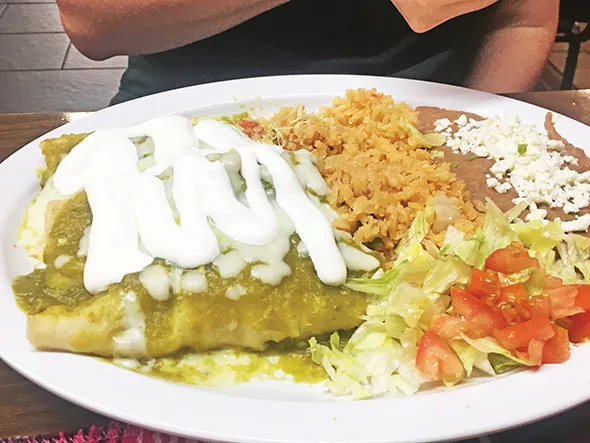 Jacob Threadgill
Chicken enchilada verde
Entrée additions at the restaurant include alambre, a pair of stews, enchiladas, garnachas and chilaquiles. It also offers a pair of soups and menudo on the weekend. It has a menu so vast and extensive that it might make Perez Truck Mexican Restaurant the Cheesecake Factory of local Mexican restaurants, but with much better executed food than the corporate establishment. Give me a restaurant with a salsa bar over a cheesecake case any day of the week.
On a recent trip to the restaurant, my wife and I began a meal hoping to get chips and guacamole but were told the kitchen did not have any avocados. We opted for the choriqueso ($7.99) as an appetizer and wished that the kitchen had avocados instead. The mixture seemed to be about 70 percent chorizo, which is great in concept but not really execution. It quickly became a solidified mass of grease and cheese that was tasty but difficult to eat.
My wife is somewhat of a connoisseur of enchiladas verde, one of her go-to orders, and the verde sauce at Perez Truck ($9.99) is her favorite that we have encountered in the metro. It packs plenty of heat, and the corn tortillas were tender and flavorful.
I ordered Perez Truck's version of tacos árabes ($8.99) because it is one of those dishes I have only heard about. Translating to "Arabic tacos," the dish originates in Puebla, Mexico, and is the result of Middle Eastern immigrants arriving in Mexico and replacing lamb with pork because it was easier to find. Al pastor is a similar mash-up of cultures, using shawarma preparation for local ingredients, but traditional tacos árabes use a thick flour tortilla that has a similar pita texture.
Perez Truck serves its tacos árabes in regular flour tortillas with its al pastor, which is spit-roasted in the kitchen, but layers in onion, cilantro and plenty of melted cheese. The dish was a real treat. The al pastor has a ton of flavor, and the onions are cooked just enough to bring out some sweetness. It offers dollar al pastor tacos on Wednesdays.
I am extremely happy to find that Perez Truck's brick-and-mortar location continues its high quality dishes that started on the food truck.