Garett Fisbeck
Principal Armando Ayala interacts with a first grade class at Shidler Elementary in Oklahoma City, Tuesday, Nov. 10, 2015.
"Hello, Mr. Ayala," said a series of smiling Shidler Elementary School second-graders as they walked past principal Armando Ayala in an orderly line.
He watched them with a look of pride in his eyes. The students beamed with pride, too.
Shidler, located in the Oklahoma City Public Schools (OKCPS) district, is one of those places that visitors recognize as an orderly, productive environment — a "successful school."
Students in the southside neighborhood school quietly passed from one activity to another down the hallways as parent volunteers worked on their latest project.
Teachers spoke in normal tones. Each classroom was engaged in a learning activity, many of them guided by students whose teachers trained them how to lead fellow students.
A visit to Shidler under the productive and positive leadership of Ayala and its teachers might reassure most visitors that, at least there, all is well in Oklahoma City's public school system.
But organizations cannot be uniformly successful all the time, and OKCPS is no exception. Questions remain about whether excelling schools like Shidler are the exception or a sign of positive times ahead for the district.
Efforts to shake a stigmatizing U.S. Department of Education investigation into alleged civil rights violations led the district to adopt measures to drop high OKCPS suspension rates — which were even higher for minority students — while helping more students stay engaged in their education.
Indeed, Teri Bell, OKCPS executive director of student support services, said suspensions are down 63 percent over this time last school year.
But some staff remain anxious of what they believe might be a potentially unsafe leniency toward repeated, problematic troublemakers in schools.
For these reasons, teachers union representatives have argued against the initiatives.
Tensions mounted early this school year — at first with the old code of conduct, which was applied differently than before. The new code, introduced at a Nov. 23 school board meeting, hasn't quelled their apprehension.
Second-year Oklahoma City Public Schools Superintendent Rob Neu reassures teachers that discipline has been and will be a priority. Union representatives still raise doubts that order can be kept in classrooms if the district is too focused on reducing suspension numbers.
The purpose and value of discipline intersects each of these discussions.
Investigation response
A suspension is a disciplinary measure that results in a student being removed from their regular classroom for a specified period of time as they are sent either to in-school suspension (ISS), alternate sites for short- or long-term programs or home.
During the 2013-14 school year, Neu ordered an internal audit of the district's suspension policies and practices after the federal investigation of civil rights complaints against the district came to light.
Accusations of excessive minority suspension rates prompted the audit. It found that, in some schools, black students, especially, were disciplined at much higher rates than students of other races and minority students in general were suspended at disproportionately high rates.
The analysis also found students were suspended for long periods of time, in some cases 45 school days, without being referred to the district's alternative education committee for possible placement in another setting.
Bell authored the report and said the audit found repeated cases across the district where parents were told their child needed to go to alternative school, but the process dictated the principal must refer the student, and parents could not seek out a school.
Thus, students were stuck in administrative limbo after suspensions, depriving them from accessing any education at all.
In response to the audit's findings, Neu ordered that new measures be developed and established, from district administration's top levels down to classrooms. Changing suspension practices would be a key focus of efforts.
In board meetings toward the end of the 2014-15 school year, Neu repeatedly emphasized that if students were not in school, they could not learn.
Longtime OKCPS administrator Chuck Tompkins was tapped to direct a newly created Office of School Climate and Student Discipline. The office oversees coordinating discipline efforts and ensures building administrators followed district policy regarding suspensions.
Another school year began with the expectation that teachers would more actively engage students and develop relationships before turning them over to the principal to discipline.
Union representatives voiced concerns about safety and how focusing too heavily on bringing down suspension numbers could distract from efforts to improve safety and address behavioral concerns.
Bob Hammack, OKCPS Board of Education member, and Ed Allen, American Federation of Teachers president, shared a heated exchange over the new system at a Nov. 2 board meeting.
It came after Allen presented an anonymous survey the union conducted online that showed negative scores for poor disciplinary support of teachers. It also collected 836 anonymous narrative responses, many of which were negative.
Allen said that he believes the district practices an "ignore and deny" discipline philosophy in response to negative national attention it received last school year for its high suspension rate, especially among minority students.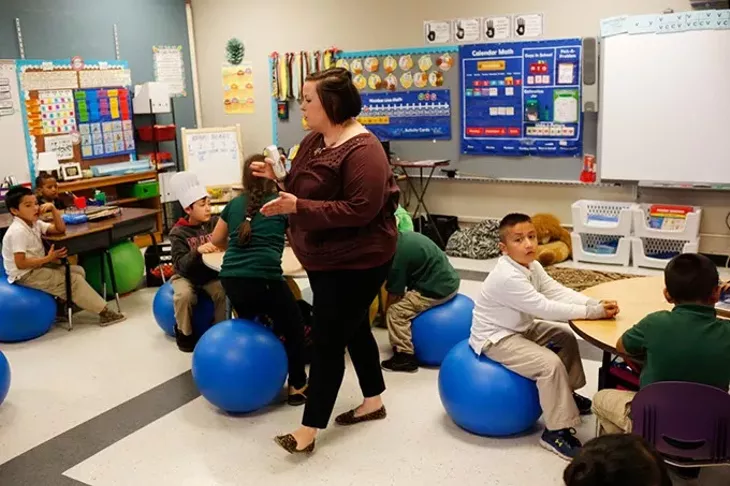 Garett Fisbeck
Ms. Killy Higham teaches a lesson to her first grade class at Shidler Elementary in Oklahoma City, Tuesday, Nov. 10, 2015.
Root causes
"It's bigger than just what goes on in a school or a classroom. It's bigger than education," Neu said. "This is about humanity; this is about how we treat each other."
An era of testing and accountability has had a profound damaging effect on education, Neu said.
"When I look at the root causes of why kids are getting suspended, obviously, there are many factors, many of which we don't control," he said, "stuff that these kids are bringing into the schoolhouse that are coming from poverty. … And they're worried about things that most of us find unimaginable."
Citing efforts in recent years to chase better district test scores, he said schools suppress arts and other electives that foster creative environments and students.
"[Most importantly,] we have excluded building relationships with kids. What we've got to do is focus on that," he said. "When a kid becomes a number, all we're doing is preparing our kids for incarceration. What we've got to do is get to know them from the standpoint of name, strength, hopes and dreams."
Clarifying expectations
Most of the anxiety centers on determining the value and purpose of suspensions.
Many OKCPS teachers agree suspension is sometimes a necessary tool that helps maintain effective learning environments.
Some also believe the current administration endorses suspensions as a last-resort option.
Through union representatives, teachers have contended that principals are being pressured to reduce suspension rates. They said the focus on numbers can leave some teachers feeling exasperated and possibly unsafe, with insufficient district or principal support.
Many teachers also push to add alternative school programs, and administrators must find ways to keep students involved in the education process with the programs in place while fighting budgetary and other limitations.
"You have students with chronic behavior problems that are committing serious offenses in class; for example, getting in fights and making threats," said union field representative Camal Pennington. "And those things are happening repeatedly."
He said that teachers use every option available to halt and correct problem behavior before recommending suspension.
"Then, the principals are making some responses," Pennington said. "But at the end of the day, those interventions are not helping and those students are still in class, causing the same problems."
Two OKCPS teachers shared their experiences with Oklahoma Gazette but wished to remain unnamed to protect their roles and their school principal.
Both expressed frustration at what they perceived to be a lack of support regarding a small number of students whose problematic behavior regularly disrupted their classrooms.
Both also said poverty is the top contributor to behavioral problems in their schools.
Neither wanted any student kicked out of school if it inhibited them from accessing an education. Instead, they wish to see a more extensive alternative school system that addresses deeper needs while enabling other students to learn.
Alternatives
Bell, who also heads student support services at OKCPS, countered that adding more alternative education programs won't provide the panacea many might hope for and schools currently offer short- and long-term discipline alternatives. Two months ago, OKCPS announced school-year 2016 partnerships with Boys & Girls Clubs of Oklahoma County and the Latino Community Development Agency (LCDA) to offer Alternative to Suspension Programs for certain disciplinary infractions that result in out-of-school suspensions that are five days or longer. The 10-day programs may also be used "as a means to shorten longer suspension," according to OKCPS documentation.
Neu, quoted by National Public Radio affiliate KOSU in a Sept. 1 story, compared implementation of the programs to "a plane being built midflight" because they were launched after the start of the school year.
Bell also said certified teachers are assigned to Alternative to Suspension Programs sites to continue the education process while suspended students receive instruction on conflict resolution and character development. LCDA also offers drug and alcohol abuse counseling as needed.
The initiative can serve up to 40 students at a time, and Bell said about 24 now participate.
Bell also cited the district's alternative schools: Emerson High School, Metro Tech's Metro Career Academy, Justice Alma Wilson Seeworth Academy and Harper Academy.
Fully engaged
At Shidler, first-grade teacher Kelly Higham leads her class with the ease of someone who knows that she is supported and is a part of a larger positive effort.
The class moves smoothly between activities, and if a student is off task or distracted, there is no yelling. She approaches and visits quietly with them and then re-engages with the entire class quickly.
"Self-esteem goes down. Grades go down just because they miss school. They miss learning," she said when asked what she sees happen when an elementary student is suspended. "Sometimes, at home, they just aren't getting what they need either. It kind of makes for an overall year's struggle for them."
Trying to avoid that last resort is the reason the staff at Shidler fully engages their students throughout the day.
"It's about trust and relationships between me, the teachers and the students," Principal Ayala concluded. "That's what makes this work."
Print Headline: Disciplinary measures, Suspension rates fall at Oklahoma City Public Schools, but are core discipline, safety and education concerns being addressed?