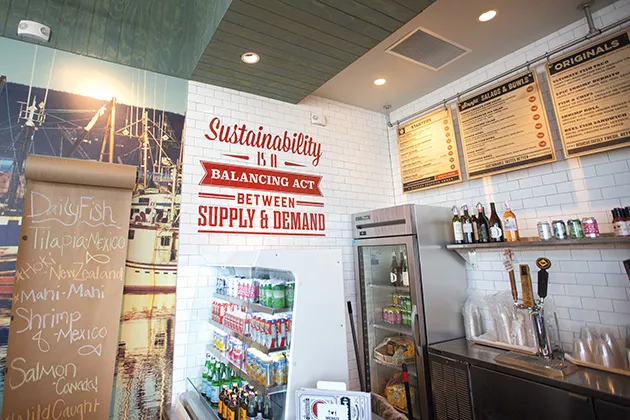 Alexa Ace
A daily offering of fish greets customers as they order at Slapfish.
Slapfish
1125 NW 63rd St., Nichols Hills
405-242-4398
What works:Slapfish's overall commitment to sustainability comes through with fresh fish and well-seasoned rice throughout the dishes.
What needs work:The shrimp ceviche lacked citrus.
Tip:A second location is coming to Chisholm Creek.
Founded in California by a chef with a background in Maine lobster restaurants, Slapfish is a growing fast-casual chain focused on providing sustainable seafood.
When business partners Mechelle Petty and Natalie Neal talked about opening a restaurant, Petty suggested seafood. The duo went to California to sample items and eventually secured a franchise agreement with founder Andrew Gruel to bring three Slapfish restaurants to Oklahoma.
"We really liked it and thought it would work in Oklahoma," Neal said. "We're a landlocked state, so when you get fish, it's either fast food or more of a white tablecloth sit-down where you spend two hours. There's not a lot in between."
Slapfish opened its first Oklahoma location at 1125 NW 63rd St. in Nichols Hills this spring. It is the 23rd Slapfish location in the country, and it is reported by QSR magazine that there are 150 locations in the works. Petty and Neal are bringing a second Slapfish to Oklahoma City that will open in Chisholm Creek later this year or early 2020.
The Slapfish rollout in Oklahoma did not come without hiccups. It had a soft opening at the end of March and was open for a week but then shut down and reopened in early April.
"We wanted to step back and maybe do some rehiring," Neal said. "We were open for a week and it was new; we had a lot of business. So when we did close down, we did probably lose some of those people and some of that excitement."
Getting too much business early can be difficult for a new restaurant, especially for a new concept. During a recent visit, everything appeared to be running smoothly at Slapfish since its rough soft opening, but it is clear there are some folks in the market who wrote it off or forgot about it during its spring retooling.
"Everyone that comes in likes our food," Neal said. "But we have to get our name out there; we still have people coming in for the first time."
Neal said Slapfish's traditional lobster roll, fish taco, poke bowl, appetizer ceviche and fish and chips are among its best sellers. I did my best to sample as much of the menu as possible and came away impressed with the chain's commitment to serving sustainably sourced seafood.
Get slapped
Alexa Ace
from top Slapfish's lobster roll; Slapfish poke bowl; the Epic Shrimp Burrito; the daily offering of fish in the Power Bowl included salmon, tilapia and shrimp; shrimp ceviche.
When you walk in, there is a chalkboard listing the types of fish available at the store that day and a placard for the nonprofit Seafood for the Future that promotes protecting the dwindling fish population and allowing it to recover.
Neal said the local Slapfish works with the California headquarters and relies on its research for suppliers for the right kinds of seafood. Of course, we are pretty deep into the 21st century, and all fish is flash-frozen after being caught, even the stuff you eat at sushi restaurants. No matter where you are in the country, unless you watched the fish get caught and brought into the kitchen, chances are that it is all about the same quality. There are a few programs like the ones used at high-end restaurants Ludivine and Osteria that can get items shipped within 24 hours of being caught, but I am sure that does not fit with Slapfish's lower overhead.
Upon a recent visit to Slapfish, I started the meal with the shrimp ceviche. Since the shrimp is cooked prior to going into the marinade, it does not rely on the lime or citrus juice to "cook" it like other raw preparations. I thought that showed in Slapfish's version, as it was heavy on tomato juice and I did not get much citrus. The shrimp was tender and had some bursts of cucumber atop tortilla chips for an otherwise refreshing opening to a big meal.
I thought Gruel's background working at lobster restaurants in Maine showed in Slapfish's lobster roll and brought me back to my lone visit up there last decade. The lobster is drawn in butter and lightly tossed in mayonnaise and lemon; the key is that it's not swimming in mayo or served with lettuce and tomato. You want the lobster to be the star, and in this case, I thought it was tender. It was honestly better than the lobster roll I ate at a renowned lobster spot in Boston last year.
Next up in the marathon meal was the Power Bowl, which is a mixture of seafood (depending on the day; in this case, it was tilapia, shrimp and salmon) served over brown rice with a nice mixture of red leaf lettuce, spinach and cabbage for crunch. There was also sautéed squash, cucumber, carrots, radish, pickled onion and tomato served with a lemon vinaigrette. The rice was nicely backed with fresh herbs, and the fish filet was not overcooked. It is a large bowl packed with a ton of protein that can easily feed two people.
Similar ingredients can be found in the poke bowl, but it is served with ponzu sesame dressing; I only got a few bites, but the tuna tasted high quality and I liked that you can add your own sauce.
The Epic Shrimp Burrito is a massive meal. Each half of the burrito is stuffed with shrimp, fries and tomato-seasoned rice that was a nice touch. I had to hunt for the shrimp — as is the case with a lot of burritos, there tends to be uneven distribution of protein. It was not my favorite menu item, but it certainly lives up to its name and embraces the San Diego tradition of putting fries in a burrito.
Off the Hook Seafood & More's Britton Road location is the only other contender in the fast-casual seafood space in Oklahoma City, but its service is a little longer than Slapfish and its menu is more dedicated to heavy options. You can eat a lot at Slapfish and not feel like you need to take a nap afterward.
Visit slapfishrestaurant.com.