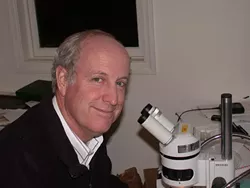 Some of our deeply rooted notions about landscaping might be leaving our local ecosystem dying on the vine. However, Oklahomans will have an opportunity to learn how to strengthen the plant life in their yards and hear from a college professor who has written books on integrating native plants into yards and landscapes.
Doug Tallamy will be in Oklahoma City this weekend. His appearance is a collaborative effort of the Oklahoma Native Plant Society and OSU-OKC. Tallamy's lecture, Bringing Nature Home by Creating Living Landscapes, is 2-4 p.m. Saturday in OSU-OKC's Student Center, 900 N. Portland Ave.
Get there early if you want a seat — Tallamy draws standing-room-only crowds. He is a professor and chairman of the department of entomology and wildlife ecology at the University of Delaware and has been writing and lecturing about native plant use for 15 years.
He also has written 82 research articles and taught Insect Taxonomy, Behavioral Ecology, Humans and Nature, Insect Ecology and other courses for 34 years.
He is an entomologist and ornithologist whose interest in native plants stemmed from a house on 10 wildly overgrown acres that he and his wife bought in 2000.
"It went untended for years and was left open to invasive plants. It looked like Sleeping Beauty's castle," he said.
While restoring the home and grounds, Tallamy realized that insect herbivores were not eating the out-of-control, non-native plants. At the time, despite his background, he hadn't realized that 96 percent of birds feed their young insects, which depend on plants. Insects need plants, birds need insects and people need all of them. This realization is what keeps him motivated.
He said there are four things a landscape should accomplish. It should aid in watershed management, sequester carbon from the atmosphere, support food webs and support pollinators. Without pollinators, we lose between 80 and 90 percent of all plants. Tallamy's talk will elaborate on these concepts.
"My favorite people to talk to are people who have not heard of any of this," Tallamy said. "I often hear that by talking with the people who come to my lectures that I am preaching to the choir. So I say to the choir: Bring a guest. Bring a neighbor."
Joe Roberts, president of the Oklahoma Native Plant Society, is pleased to see interest in native plants blossom in recent years and feels it is part of a larger shift in thinking when it comes to gardening.
"The paradigm used to be to plant all exotic plants in your garden, things not remotely native to your home," Roberts said. "People are realizing that there is a beneficial cascade effect that happens from the bottom up. We are part of nature, and we're beginning to take our sterile subdivisions and make them our habitat."
Tallamy's two books, Bringing Nature Home: How You Can Sustain Wildlife with Native Plants and The Living Landscape: Designing for Beauty and Biodiversity in the Home Garden, will for sale at the event, and he will sign books before and after the talk.
Learn more at oknativeplants.org.
Print headline: Shrub life, Oklahoma Native Plant Society sows seeds of awareness with lecturer Doug Tallamy.