Alexa Ace
Maestro Joel Levine founded Oklahoma City Philharmonic in 1988.
There is no telling which direction fate might take us.
The angst of uncertainty is palpable in the first movement of Pyotr Ilyich Tchaikovsky's Symphony No. 4, penned by the Russian composer in the 19th century as a sonic treatise on the inescapable nature of destiny.
Do things happen for a reason? Is history incidental or a series of events interwoven with purpose and intention?
These were the cosmic questions Maestro Joel Levine sought to answer in October 1989, when Oklahoma City Philharmonic marked its anticipated debut with a stirring performance of Tchaikovsky's fourth symphony inside a packed Civic Center Music Hall.
There were other questions to be answered as well — questions not quite as lofty but no less profound. For about two years, Oklahoma City had been without a full orchestra. The major oil bust of the late 1980s left Oklahoma in the bottom of a deep deficit. As even the state's core agencies faced budget cuts, Oklahoma Symphony Orchestra (OSO) — the full-time, publicly funded state orchestra that preceded OKC Phil and had served the entire state for more than 50 years — found itself in existential crisis.
Orchestra wages went stagnant. Put simply, musicians responsible for playing eight or more shows a week on a year-round basis in all corners of the state felt physically, emotionally and financially stretched to their limits. The musicians decided to strike in hopes of reaching a pay-raise agreement with OSO's board.
Levine, OSO's former associate conductor who recounted the strike in a recent interview with Oklahoma Gazette, said the orchestra's board (of which he was not a member) agreed that the musicians deserved more but simply could not find the money to give raises without eliminating some positions. With the condition the economy was in, no outside businesses or wealthy patrons were able or willing to assist. In 1987, OSO officially disbanded.
The orchestra's absence left a void, but one the community was capable of filling. Few were as well equipped to bring the music back to OKC as Levine, and he wasted little time in utilizing his contacts and resources to form OSO's successor. Levine's vision was for an orchestra that could more easily sustain itself by eliminating a difficult travel schedule and shifting its membership from full-time to part-time.
Some outsiders were skeptical of the approach. To them, part-time meant lower quality. Levine said what these people failed to realize was that OKC Phil was not going to be made of people who played music part-time, but of highly skilled musicians who also held other academic and freelance jobs. OKC Phil's member musicians were playing music on a professional basis all day, just not always for the same employer.
"Because of all the dust in the air," Levine said, "there were some people wondering whether this dog could hunt and what level of orchestra it is."
To put any existing public concerns to rest, Levine chose Tchaikovsky's Symphony No. 4, an epic piece with a triumphant ending and a challenging reputation among players, to showcase the orchestra's skill. The new orchestra's conductor wanted to leave no doubt that OKC Phil was going to pick up directly where OSO left off.
Its performance left an impression. OKC Phil began its maiden season the following January with a near complete return in Classics series subscribers. Within two years, Levine said, the orchestra also gained back OSO's previous Pops series subscriber base.
That was three decades ago. Now Levine, who turned 70 in June, finds himself once again transitioning between chapters. The orchestra's founding conductor and music director is retiring after a farewell concert 8 p.m. Saturday at the civic center, 201 N. Walker Ave. The concert originally was scheduled for May but was postponed as Levine recovered from the draining effects of chemotherapy.
Levine announced his retirement from OKC Phil well before his cancer diagnosis became public knowledge. The orchestra named Alexander Mickelthwate, a German-born former director of Winnipeg Symphony Orchestra (located in Canada's Manitoba province), as his successor in spring 2017.
The farewell concert's program, which includes Aaron Copland's "Lincoln Portrait" and Maurice Ravel's Boléro, will conclude in the same way Levine launched the orchestra back in 1989: with a rousing rendition of Tchaikovsky's Symphony No. 4.
"The subtext of the symphony from Tchaikovsky's point of view is fate," Levine said, "so it was one kind of fate in 1989, and it's another kind of fate now."
'Beyond importance'
Alexa Ace
Levine's farewell performance is 8 p.m. Saturday.
During a leisurely skim through
Variety
magazine in his senior year at University of Rochester's Eastman School of Music, an advertisement for a job opening as Lyric Theatre of Oklahoma's seasonal music director caught Levine's eye. It being the 1970s, he wandered over to a nearby pay phone to see if the position had been filled. It hadn't.
After an in-person interview, Levine was hired. Oklahoma might as well have been Lichtenstein for the lifelong Easterner.
"I knew nothing about Oklahoma," Levine said. "I'm not proud of this, but I actually had to look it up in the World Book — which was then the encyclopedia — to see where it was."
Levine's experience at Lyric was a positive one, and it eventually led him to apply as OSO's associate conductor when the position came open. After landing that gig in the 1988-89 season, he moved to the state full-time.
There were several people who talked about starting a new orchestra after OSO folded, but Levine was in the best position to make something happen. OKC Phil began its first official season in 1990. Since then, Levine has conducted a number of memorable performances, perhaps none greater than playing for President Bill Clinton during the 1995 Oklahoma City Alfred P. Murrah Federal Building bombing memorial service at State Fair Park.
"You certainly don't forget that kind of event," Levine said. "I hesitate to list it as one of the best things that ever happened to the Philharmonic because it's one of the worst things to ever happen to the city. But in terms of importance, in terms of what happened over the 30 years, that event was beyond important and I was thrilled we were asked to participate."
He also loved seeing Civic Center Music Hall transform into a top-level acoustic hall through Metropolitan Area Projects Plan (MAPS) funding. Levine said the 1997 renovation was crucial to maintaining a level of quality that would keep people in the city interested in attending concerts.
"I likened it to an expensive painting in a cheap frame," he said. "You can totally destroy a painting if you frame it inappropriately."
Though a foreign land when he first arrived, Oklahoma is as much of a home to Levine as anywhere else has ever been.
"I got to know Oklahoma better than my own home state of New Jersey by far," Levine said.
'His baby'
OKC Phil principal oboist Lisa Harvey-Reed said Levine personally offered her a position in the orchestra for its inaugural season. It was a fantastic opportunity, she said, because of how rare it is to be handed an orchestral job. Harvey-Reed has been playing with the orchestra since its inception.
From the very beginning, it was clear to her that OKC Phil was an organization that sought to put the happiness of its musicians first.
"The atmosphere was always very friendly, with the management as well as with Joel, because they wanted to create the antithesis of how the old orchestra had ended in a bitter strike and folding situation," she said. "It was a really rough time for those musicians."
Though the Saturday concert is Levine's last as OKC Phil's official conductor, it will likely not be his last time on the podium. He is scheduled to guest conduct the orchestra's annual Christmas shows in late November and early December.
"[Levine] is ready," Harvey-Reed said. "It's not as sad because he is encouraging that it is a good thing for everybody. He's very gracious toward [new conductor] Alexander [Mickelthwate], and it's a good situation. I know he'll still be around. He'll still come to concerts. This is his baby."
OKC Phil executive director Eddie Walker said the orchestra is primed to head into a bold new chapter, largely thanks to the foundation laid by Levine.
"I am very encouraged for the Phil's future," Walker said. "The city seems to be at a tipping point in terms of a second wave of revitalization, and Joel's decision to hand the baton to a new music director seems to be perfectly timed. Alexander's new ideas and style are capturing great attention, and no one is more pleased about this than Joel."
Even though his final show won't be an outright departure from the OKC Phil family, Levine's farewell concert will be an emotional time for the musicians who have worked so closely with him for years or even decades.
"Frankly," Harvey-Reed said, "I'm hoping I can get through [the concert] without too many tears, but I'm sure that'll be impossible. I'm tearing up just thinking about it. It's music he loves and wants to conduct, obviously. It's fabulous music, but knowing that this is his big farewell, that's going to be pretty tough."
'Circle of Life'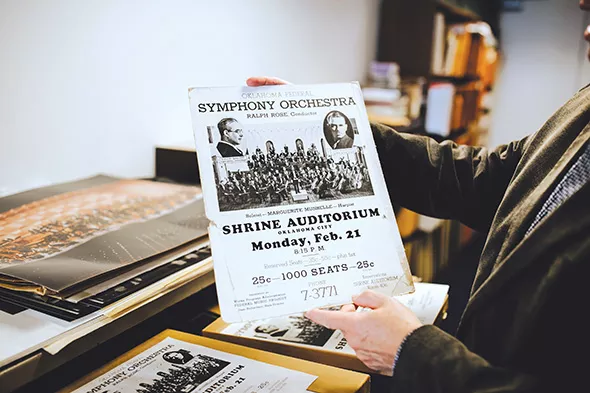 Alexa Ace
Levine will spend part of his retirement working as OKC Phil's archivist.
Saturday will be the first time Levine has been on the conductor's podium since February. Doctors originally cleared him to conduct his farewell concert during its originally scheduled date in May, but it soon became apparent that Levine's cancer treatment was taking a mighty toll on his endurance and stamina.
"I don't think they necessarily realized how physical the act of conducting is," Levine said. "To stand there for two and a half hours and take an orchestra through that kind of repertoire is very physically demanding. It took a recovery."
Levine said he is feeling fine, at least for now. He is one of few men who ever receive a breast cancer diagnosis. According to American Cancer Society statistics, about 2,550 new cases of invasive male breast cancer will be discovered this year. About 480 of those will result in death.
Watching Mickelthwate in his first year with OKC Phil, Levine has been excited by the support the community has shown him. As long as the new conductor shows the same amount of affection for the community as it shows toward him, Levine is confident the out-of-towner will find a warm new home in Oklahoma City, just as he once did.
"This was covered by Disney in The Lion King. It's called 'The Circle of Life,'" Levine said. "And, if it works correctly, that's exactly the way it works. I've had a wonderful career here and friends and memories to last forever."
Following Levine's farewell concert, he plans to continue working with OKC Phil as the orchestra's historian and archivist. There are boxes and boxes of old documents and photographs that need chronicling. Levine said chronicling the orchestral history of the city is a passion of his, perhaps because a solid chunk of that history is also his own.
Like anyone who spends time studying history, Levine knows that it often repeats itself. Maybe that is why he is so keen on ending his reign in the same way he started it: with Tchaikovsky's Fourth and a triumphant celebration of cosmic destiny.
It's a concept he often communicated back to his Easterner buddies.
"Everybody said, 'What are you doing in Oklahoma?' And I'd tell them what I was doing and they'd shut up; they were shocked," Levine said. "I'm not wasting my time here; I'm having the experience of a lifetime."
Visit okcphil.org.