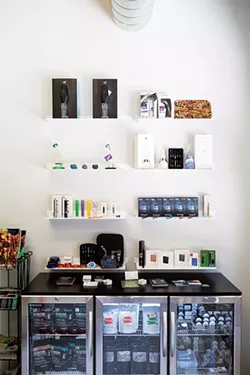 Alexa Ace
ElectraLeaf is a 250 square-foot dispensary in Bricktown.
A shoebox-sized dispensary in Oklahoma City is quickly growing with a flagship facility under construction in Edmond. ElectraLeaf, 25 N. Oklahoma Ave., is a business with only 250 square feet of floor space, but it also just opened its second location in Chickasha, 1625 S. Fourth St., Suite B, co-owner Pedro Sotomayor said.
"We worked long and hard to find a spot that would let us open up in Bricktown because a lot of people didn't want us. Steelyard wouldn't take our business, so we kept looking," Sotomayor said. "The owner of that property said we could do it and we said, 'Man, it's so small. How can we fine-tune this thing?' When you walk in, there was a lot of thought put into what you see; let me just say that. Because it was such a small space, we had to figure out how to make an efficient little business in there. I'm from the East Coast; I spent a lot of time in New York. There's a lot of pizzerias in New York. And that's kind of like part of the inspiration. You know, it's like a New York-style pizzeria. Most people will look at that space and go, 'You can't open a dispensary there. It's too small.' We sat there with pen and paper; we made designs upon designs upon designs to try to figure out how we could make it all work and make it all fit, and it still has its challenges that I don't have in Chickasha.
"Going to New York and spending so much time in New York in my life and my grandfather being from Brooklyn, when I thought of how to do it, I said, 'You know, it's like a pizzeria.' You walk in, there's a counter and the pizzas are there and it's behind glass. We found a way to showcase cannabis in the same manner. The front is all glass. It's wide-open. It's very inviting. You walk in, you grab your slice, and if you need some education about how we make the cheese and how we bake this pizza, we can talk about that."
It currently carries about two dozen strains of cannabis flower as well as assorted edibles and concentrates. Much of the flower on shelves comes from lead "baker" Dave Dodson, a grower who is exclusively partnered with ElectraLeaf under the business name of Altvm, a stylized version of the Latin word altum.
"In Latin, it means 'deeper than deep and higher than high,'" Dodson said. "It's a reflection of how we look at our products, and we put a lot into it. We really try to make it so it's purpose-driven cannabis. We're growing it for a reason: to be extracted or to help someone with a certain medical problem they have. I started growing, like, 13 years ago when I was in college. I went to school for business entrepreneurship and dropped out to start growing weed."
ElectraLeaf and Altvm currently are operating a 3,000 square-foot grow in Norman used for research and development purposes.
"That facility is just used for testing new genetics, popping new seeds," Dodson said. "We're constantly pheno-hunting for the newest strains to grow. Since February, we have popped 418 seeds, and we plan to keep going. I think about every other month, we're planting around 160 or so. What we do there is we just test them all out, we grow them, and the ones that we like, we keep those and we move them over to our facility in Edmond, which is going to be our flower production facility."
The grow room at the Edmond facility is about 10,500 square feet. The location will also be the future home of the processing facility as well as ElectraLeaf's flagship dispensary.
Unlike the Bricktown location, the Edmond store will allow Sotomayor and Dodson to stretch their legs, with about 1,500 square feet devoted to the dispensary side. About half of all products that will be sold at that location will be ElectraLeaf and Altvm, Dodson said. The Edmond location is slated to open this fall.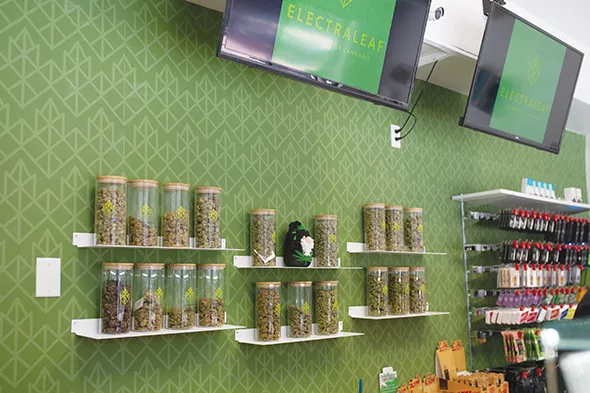 Alexa Ace
ElectraLeaf is preparing to open a new dispensary in Edmond.
Fast program
Originally from the Philadelphia, Pennsylvania area, Sotomayor tried to get into Pennsylvania's medical cannabis market, which was limited by state law.
"Our application was scored in the very top bracket, but we didn't score high enough to be one of the first 12 growers in the state," Sotomayor said. "Pennsylvania had a very limited program, very restrictive and was a merit-based scoring application process. It was basically a competition of some of the biggest cannabis heavyweights in the country. We've helped people in many states in consulting In Oklahoma. We really see an opportunity to help a lot of people in one of the fastest-moving programs and bringing a wide variety of products and experiences. We love cannabis as well, so we're patients and we work hard to source the best products we can find the state. Right now, if you come in and see my top shelf, it's something that I would be proud of display in any state that I've ever been in that sells cannabis."
While it has a partnership with Amedicanna currently, ElectraLeaf will be launching its own branded line of vape cartridges in the next few weeks. The team is still currently taste-testing the products and expects to have them available in eight to 12 strains of one-gram carts. A price point has not been set.
"One of the beauties of doing business here is we can just kind of make decisions as we go and we're moving so fast that we can release the products pretty fast, too," Sotomayor said. "In a lot of other states, before you can release any product, you have to go in and get approval from the state. Once I decide these are my core flavors and I'm ready to go, basically, once I have my product ready, I can launch it, which is nice. This is all kind of real-time as it's happening, so it's fun. It's interesting.
"We've tried to work with a lot of companies that we can build an ecosystem and work together, not just in the short-term, but in the long-term and help each other. We've had a lot of dispensaries come to us and ask us what we sell, who we get it from, how we do business, and we've helped a lot of them in that aspect because, look, at the end of the day, we see this thing as a community that if the people that do it right work together and help each other, we can all be successful, and that's what we're trying to work with, trying to build a community of people that we can work with, whether it's within our own family of companies or others on the outside."
Visit electraleaf.com.