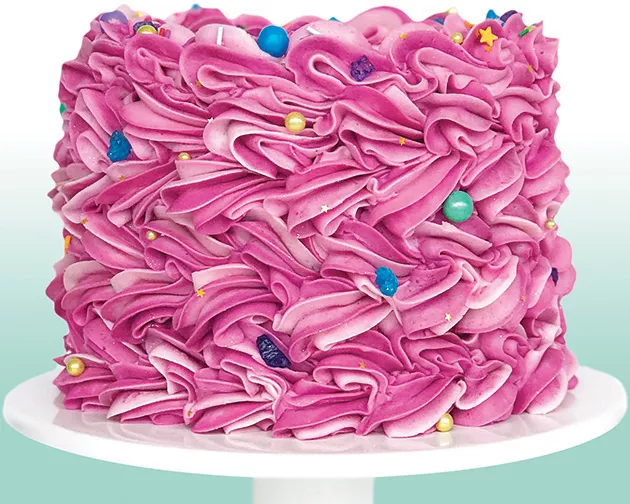 Provided
OKC Sweets is set to expand into a shop by the end of Spring 2020.
Stefanie Embree and her husband decided 2020 is the year they open up a dessert shop. They recently submitted a building permit for a 1,831 square-foot shop at 7306 N. Western Ave. and hope to be open for business around April.
Embree, who has been running OKC Sweets out of her home for two years, envisions a shop where people can stop in and pick up anything from single macarons to prepared party cakes and feel comfortable to meet up and enjoy sweets over a cup of coffee.
"It's going to be such an awesome location," she said. "What we really want to bring to the OKC metro is kind of a gourmet dessert shop, so you walk in and there's a display case just full of delicious treats — so cupcakes, macarons, party cakes that are available day of and other sweets like cookies, cookie sandwiches, maybe even some fun things like gourmet caramel apples or gourmet rice crispy treats — things like that that are really unique."
Sweet beginnings
Embree, a former music teacher, always loved baking but really dove in after having children and becoming a mostly stay-at-home mom. She would bake for her friends and family mostly as a hobby, but after the Oklahoma Home Baking Act of 2017 allowed local bakers to sell prepared foods out of their homes, Embree saw an opportunity.
"That was really exciting as a stay-at-home mom because it was something that I could do and bring in some money while doing something that I really enjoy," she said. "I kind of upped my game, and I really had been baking more for friends, but then I had people starting to ask me for orders. So my husband and I were just like, 'Let's go for it.'"
They started OKC Sweets in 2018, with Embree doing all of the baking and her husband Steven handling the business side of things. Embree also created an Instagram for her business, which took off after about a year.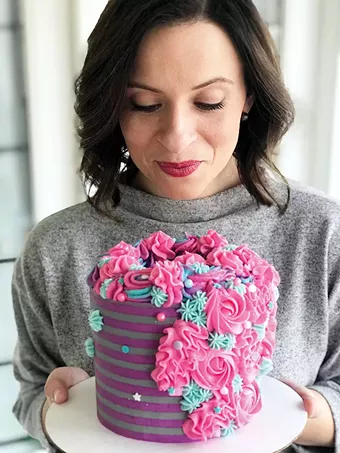 Provided
Stefanie Embree and her husband started OKC Sweets out of their home in January 2018.
"I really kind of [only] reached locally, and then in February of 2019 … I just kind of put myself out there more and started connecting with other bakers around the United States and really around the world," Embree said. "My goal this past year was to kind of grow my Instagram account, and I started being more consistent with my posting and tried to be creative in the content. So that allowed me some really awesome opportunities beyond just baking for people. I was on a podcast recently, and I was featured in an article with a magazine in Houston."
OKC Sweets now has more than 35,000 followers from around the globe. In one June week alone, OKC Sweets gained 1,700 followers. Because of her success running OKC Sweets out of her home, the self-taught baker and her husband felt like the time was right to open up a shop.
"Doing this out of my home has been such a blessing because I have young kids," she said. "But they're all going into school now, so my husband and I were just kind of talking about what the future looks like and what we really wanted to do. We decided to just go for it and open up a shop because we really want to bring something to Oklahoma City that isn't exactly here yet."
The Embrees sold their house in south Oklahoma City, found a location for their shop and are currently leasing a smaller house closer to where their business will be.
"We took the money from the sale of our house and we're putting that into building the shop, and we've got really, really exciting plans for that," she said. "We didn't buy another house right now. We're kind of putting everything into this vision we have for OKC Sweets. … It's been an adjustment but quite an adventure, and we're just really putting ourselves out there and giving it a go. We felt like if we didn't do it now, we might never do it."
As they began the process, the Embrees found that doors were opening for them.
"We really had this mindset that if a door opens, we wanted to be brave enough to walk through it and not let fear get in the way of doing something that has the potential to be really amazing," Embree said.
The move was still nerve-wracking for Embree, as she had to consider how going full-time after being a stay-at-home mom for six years would affect her children.
"I want this to be a positive experience for them too, but in looking at that, I think it really will," she said. "They'll have the opportunity to watch us build something from the ground up and see what hard work looks like and hopefully be able to do that someday themselves."
Gourmet desserts
Provided
OKC Sweets's future location is at Nichols Hills Crossing.
Because she loves sharing not only her desserts but also what goes into creating them, Embree said they want OKC Sweets to host classes for things like cake decorating to get the community involved. They also plan to have a video room set up to further engage with people.
"On my Instagram account, I do quite a few videos. I love showing how the process works, and I think people really enjoy seeing what all goes into creating these things," Embree said. "So we also plan to have kind of like a video room within the kitchen … where I can go live anytime when I'm decorating a cake. Or where we can maybe bring in local celebrities and do kind of like — my husband thinks of it kind of like Carpool Karaoke-style conversational piece while we're decorating a cake or something together."
Embree's love of bright colors will be reflected in her shop. She said her shop's aesthetic will draw inspiration from bakeries like pastel-pink Peggy Porschen Cakes in London and mostly white and gold Jenna Rae Cakes in Canada.
"They're feminine, but it's not overwhelming. It feels really comfortable when you walk in. They're just kind of open and bright," she said.
The Embrees didn't want to open up a shop that was going to be the same as one down the road, so they have been intentional about planning things that will set them apart from other local shops.
"I love making pretty desserts that look amazing, but it's also so important that they taste as good as they look," she said. "Something I do that I think is kind of different is hand-painted cake. I really love doing that. It's something that can be very custom. … So what we're bring to the table will be something that's different and unique."
Visit okcsweets.com.