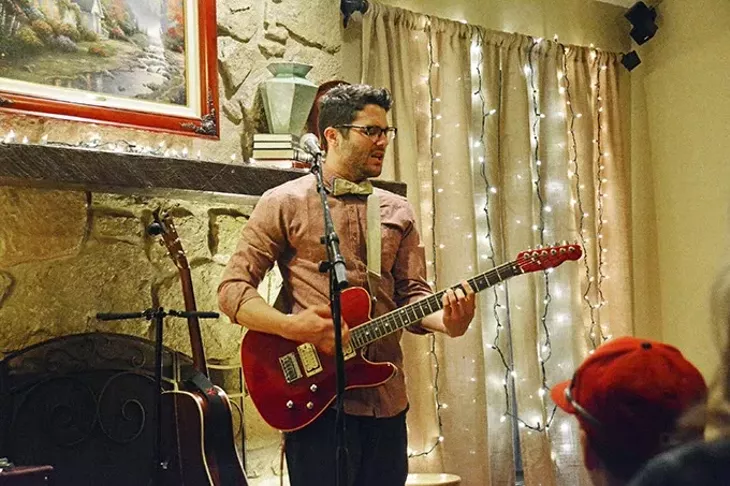 A burgeoning musician and alumnus are returning to Edmond Memorial High School to raise money to aid foster families. Bryce Merritt, Edmond native and Nashville vocalist, will perform a benefit concert as part of the school's annual community service project, Swine Week. The event includes student-planned fundraisers contributing to the awareness and support of a different charitable organization every year. Angels Foster Family Network OKC, this year's recipient, rescues traumatized children from emergency shelters or abusive living situations. They will use the Swine Week donations to build a daycare.
What once was a weeklong project now encompasses more than a month. Festivities include the Hog Jog 5K run and Pig Sty!, a paint-filled balloon battle. Many events involve restaurants like Texas Roadhouse and Earl's Rib Palace.
Momentum builds to its final week, when every school day is packed with events, consuming the school's atmosphere.
"It's the finale, the home stretch of the thing," Merritt said. "You can't go to the school and not be part of it." This year's festivities launched Feb. 4 at Hideaway Pizza and end March 13.
This is Swine Week's 29th year. It began in 1986 when a small group of students wanted to help a friend. The principal agreed to kiss a pig if their goal was reached. The students raised $3,000, and the principal followed through with his promise.
Merritt, whose graduation class of 2010 set a Swine Week fundraising record of $527,000, returns to his alma mater from his home in Nashville to perform a benefit concert here 8 p.m. Sunday at ACM@UCO Peerformance Lab, 329 E. Sheridan Ave.
A lifelong singer and performer, Merritt describes his sound as "soul pop," drawing from the Motown sound featuring soulful vocals layered on horns and piano while delivering a positive message.
"I like upbeat music that puts a smile on your face," he said.
Merritt is a graduate of the Belmont University School of Music in Nashville, Tennessee, and released his debut album, The Simplest Thing, last February. It was a collaboration with Grammy-winning producer Andy Hunt.
Merritt looks forward to returning to Oklahoma and reconnecting with Swine Week. During his time at Edmond Memorial, he used music as a tool to collect donations.
"I tried to be creative and made a CD composed of cover tunes. It was a big hit," he said.
He donated proceeds to that year's charity recipient, Jimmy Everest Children's Cancer Center.
The benefit also marks a joyful full-circle moment in Merritt's personal life. He recently became engaged to Bethany Bruce, a jazz singer who is also an Edmond Memorial grad.
"We grew up together," Merritt said. "We were partners in events at Swine Week."
Merritt encourages everyone to join him.
"I can't think of a better evening. A night of great music and supporting a good cause," he said.
Swine Week has raised more than $4.32 million dollars since 1986, according to Edmond Memorial's Swine Week website. Visit swineweek.org for more information, including a list of events and instructions on how to donate.
---
Print headline: Boosting bacon, Edmond High School's Swine Week has inspired community support for various charities since 1986.