provided
Swingout OKC offers weekly classes and social dances in a variety of styles.
"We just want people to dance."
That was the generating maxim behind Swingout OKC from its origins in 2016, and it remains the organization's guiding principle, according to two of the group's council members, Hannah Berrett and Sarah Bacon Liem, who jointly corresponded with Oklahoma Gazette over email. Swingout OKC offers weekly programming and hosts the first-ever Scissortail Swing workshop in April.
The group was borne out of serendipity and the lack of an organized swing-dancing community in the Oklahoma City area.
"Swingout OKC began in February of 2016, when a handful of strangers who had found each other at a public city dance event decided that while there might not currently be a swing dance scene in OKC, there would be if we kept showing up for each other and for new dancers," Liem and Berrett said.
Both Berrett — originally from Tulsa — and Liem — from Texas — learned how to swing dance before moving to OKC. Upon moving, both said they wanted to help build a vibrant community.
"Our mission is to facilitate, sustain and grow the swing dance community of the greater Oklahoma City area by providing educational and social swing dance opportunities," Liem and Berrett said. "We strive to promote a forward-thinking scene while preserving the historical culture of the dance. It's very appropriate to be talking about the history of swing dancing during Black History Month, as all forms of swing dancing originated from African-American social dancing."
Swing dance has existed for almost a century, first emerging as part of the Harlem Renaissance in the early decades of the 20th century. "Swing dance" is a broad term that covers a wide variety of styles still practiced today, such as East Coast Swing, Lindy Hop, Collegiate Shag, St. Louis Shag, Balboa and Charleston.
"Most of our classes focus on the Lindy Hop, which really got its start in the 1930s at the Savoy Ballroom, where the African-American communities often gathered to dance," said Liem and Berrett.
Performers such as Ella Fitzgerald, Duke Ellington and Cab Calloway frequently headlined Harlem's Savoy Ballroom, and its popularity increased when it got the Hollywood treatment in films such as Hellzapoppin' and A Day at the Races, featuring the professional group Whitey's Lindy Hoppers.
Although the Savoy was torn down in 1959, ending mainstream Lindy Hop, swing dance continued to evolve. Modern styles such as West Coast Swing and Chicago Steppin' emerged. In the 1990s, when Whitey's Lindy Hoppers were hired to hold workshops, there was a revival of vintage styles such as the Charleston and Lindy Hop.
"It's these revived vintage dances that we focus on teaching at Swingout OKC," Liem and Berrett said.
Swingout OKC offers weekly classes. On Tuesdays, there are intermediate lessons at 7:30 p.m., beginner lessons at 8:30 p.m. and a social dance that starts at 9 p.m. at 3Sixty Entertainment Powerhouse, 7312 Cherokee Plaza. On Sundays, Swingout OKC holds classes 6-7 p.m. (excepting every third month) at Oklahoma City Swing Dance Club, 4361 NW 50th St., Suite 400.
All classes are $5, but a five-class punch card is available for $20. Students and military members may purchase lessons for $4 each or a punch card for $15.
"Our vision is to become a community hub for all forms of swing dance, spurring integration of the diverse people of the greater Oklahoma City area through intentional outreach and fostering a safe and welcoming community for education and expression in the form of swing and jazz dance," Berrett and Liem wrote.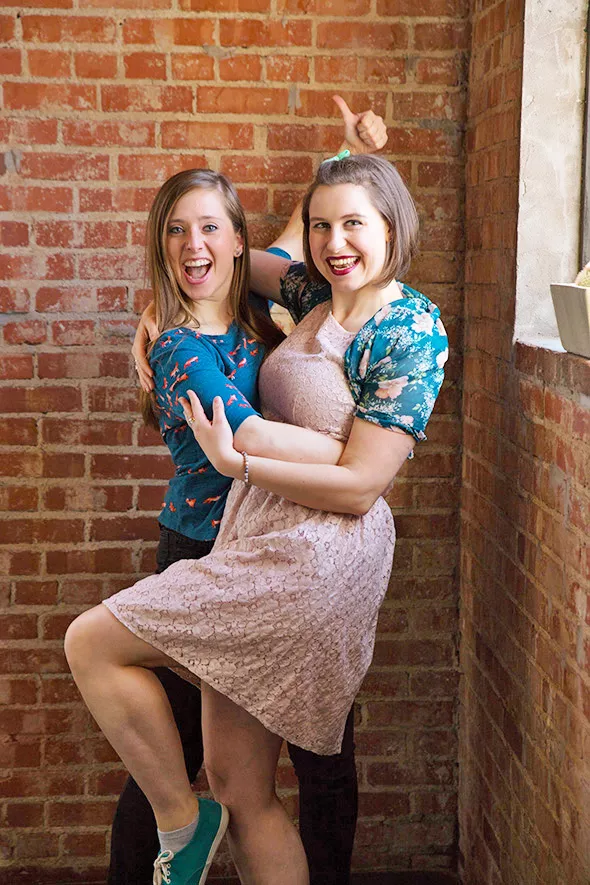 provided
Sarah Bacon Liem and Hannah Berrett helped found Swingout OKC in 2016.
Swingout OKC offers both social dancing and performing options. Social dancing, according to Liem and Berrett, is all about having fun and building community, not to impress other people. Performing, while it includes an element of impressing the audience, is also about connecting.
"We think swing dancing is a lot of fun, so we enjoy performing so we can show people how much fun it is," Berrett and Liem said.
Scissortail Swing
In addition to its regular class programming, Swingout OKC also hosts Scissortail Swing, OKC's first Lindy Hop workshop and dance weekend, April 26-28. It features two days of classes by six nationally known instructors as well as music by three live bands, social dances and even secret competitions (serious and silly) in addition to a jazz brunch. A beginner track — the Baby Bird pass — offers an option for people interested in dipping their toes into swing dance.
Tickets are $5-$140. Registration is open at swingoutokc.com.
Liem and Berrett said Scissortail Swing emerged from their experiences attending similar workshops in other cities.
"We know how valuable it can be to have a large group of people come together who all want to learn more about swing dancing and have fun," they said. "We wanted to bring that big community experience to our own city."
The workshop weekend has been a goal of Swingout OKC for a while and marks a milestone for the group.
"Most swing dance scenes would not be able to host an event of this size just a couple months after their third anniversary, but we have a growing and vibrant community of dancers who have helped make Scissortail Swing possible," they said.
For Berrett and Liem, Swingout OKC is, at heart, a place for communal appreciation of dance.
"We love being a part of this city," Berrett and Liem said, "and we're excited about introducing more people to the fun they can have while social dancing."
Visit swingoutokc.com.