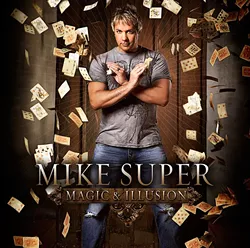 Southwestern Oklahoma State University (SWOSU) is happy to give you several reasons to hit the road to catch the school's Panorama performing arts series, which runs October to April. The series delivers comedy, magic, hip-hop and a Bollywood-style musical revue to Weatherford.
The year's theme is Music, Magic and Memories, and shows include comedian Mike Birbiglia, magician Mike Super, The Gentlemen of Hip-Hop and Taj Express: The Bollywood Musical Revue. All performances start at 7:30 p.m.
First up is Birbiglia on Oct. 27, best known for his appearances on the hit series Orange Is the New Black. He has appeared on The Tonight Show Starring Jimmy Fallon multiple times and has performed on more than 40 talk shows. His style of comedy is described as soft-spoken and self-deprecating.
"It's a neat series for western Oklahoma," said Brian Adler, Panorama committee chairman.
Magician Super is up next on Nov. 10. He won the first season of the TV competition show Phenomenon, hosted by Tim Vincent and judged by Uri Geller and Criss Angel. He is followed by the exuberant choreography of FLY Dance Company street dancers on Feb. 2 with The Gentleman of Hip-Hop. Closing out the 2016-17 series is Taj Express: The Bollywood Musical Revue on April 5, which brings the vibrant and expressive sounds of India to Weatherford.
Generally, the series doesn't make much profit, Adler said. What it does earn is rolled back into providing the series for the next year's audiences.
"Our Fine Arts Center holds 1,350 people, and we have had sell-outs," he said of the popular series. "I think it's an entertaining lineup this year."
Past, present, future
The selection committee begins meeting in October or November to start planning next year's season.
"The committee is broken down into three subcommittees: issues, cultural and entertainment, and we try to schedule at least one program in each of those areas," Adler said. "Once the committee comes up with a list of possibilities, we survey our students via online."
Past SWOSU programs have featured artists such as folk-rock band The Avett Brothers, The Second City, Stomp, actor Nev Schulman, Kunal Nayyar from The Big Bang Theory TV show, The Capitol Steps, American zookeeper Jack Hanna, The Buried Life reality show, Drumline Live, The Peking Acrobats, motivational speaker and outdoorsman Aron Ralston, Dallas Black Dance Theatre, Animal Planet producer Jeff Corwin, alt-rock act Switchfoot, Harlem Gospel Choir of New York City and comedians Lewis Black, Josh Blue, Jeff Dunham, Demetri Martin, Tracy Morgan and Pauly Shore, among others.
All shows start at 7:30 p.m. Ticket prices are $5 to $25. Visit swosu.edu for more information. Find tickets at stubwire.com or by calling Stub Wire at 877-990-7882.
"Print Headline"; Wide view, SWOSU's Panorama performing arts series delivers everything from comedy to culture.