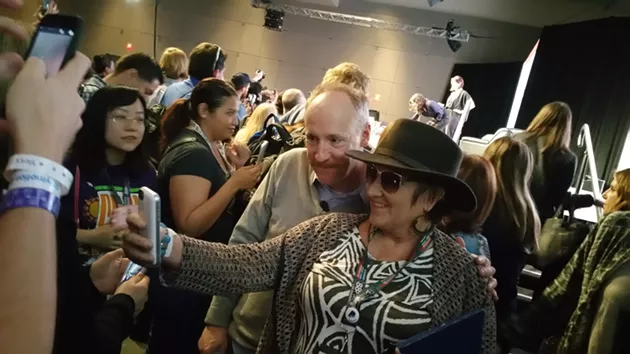 Ben Felder
Matt Walsh, who plays press secretary Mike McClintock on VEEP, poses for a picture with a fan at SXSW.
Approval ratings of politicians continue to plummet, but television shows based on America's political culture are drawing in big ratings. From the dramatic and dark Netflix hit House of Cards, to the witty HBO series VEEP, Washington DC has come to Hollywood.
"Politics and show business have a lot in common in terms of selling yourself," said Julia Louis-Dreyfus, who plays Selina Meyers, the fictional vice president and president on VEEP.
Louis-Dreyfus was joined by other VEEP cast members at a SXSW panel Monday and said the show is not based on any real political storylines or politicians. However, despite its sometimes over-the-top premise, it relates to reality.
"We will do things in our show and think, 'is it too far fetched?'" Louis-Dreyfus said. "But then three months later it happens in real life."
Meyers' political affiliation is kept a secret on the show and there is an effort to stay away from partisan politics. References to modern politicians is also avoided.
"We have been approached by real politicians to get on our show, but we don't do that on our show because that would break our VEEP reality," Louis-Dreyfus said. "We don't refer to recent American politics. It helps the comedy to keep it away from real life politics."
However, the show's creators and actors spent time researching modern day Washington DC in an effort to adopt the culture. Matt Walsh, who plays press secretary Mike McClintock, said he visited with Congressional aides to learn the Washington lingo.
"We got terms like pencil fucked," Walsh said. "That's when someone pencils out all of your speech. The way we talk is pretty realistic"