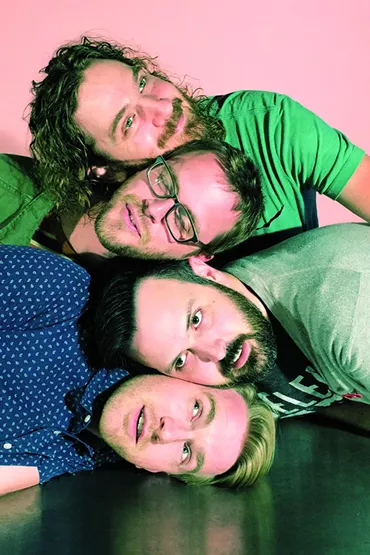 Provided
Beach Language celebrates the vinyl release of its full-length debut album 9 p.m.-midnight July 19 at 51st Street Speakeasy.
In the past five years, Adam LeNaire has expanded Beach Language from a solo bedroom project to a four-piece act, but that does not mean he thinks of himself as a person in a band.
LeNaire, who celebrates the vinyl release of Beach Language's full-length debut, Small Talk, 9 p.m.-midnight July 19 at 51st Street Speakeasy, 1114 NW 51st St., said he has always felt "shy or sort of embarrassed to be a musician."
"I'm in a band, but I never lead with that," LeNaire said. "It's never the first thing I tell anybody, 'Oh by the way, I'm in a band.' … There's the people who are like, 'I've been in a band my whole life since I was like 14 or something.' I was never really that. I always felt a touch outside of that or never really good enough because I always kind of felt like I was on the perimeter."
Beach Language vinyl release
9 p.m.-midnight July 19
51st Street Speakeasy
1114 NW 51st St.
405-463-0470
$5
He did not have a band, but he recorded Beach Language's five-song EP debut Ludwig solo as "a little bedroom project" in 2014 to see if he could make one.
"It was always something I really wanted to do, so then I just kind of sat down and decided to do it myself," LeNaire said. "It's kind of like, 'Rather than try to join the band, I'll just make something and then see if I can get people to be in this band that's not a band yet. … If this is all that ever comes out of it, that's great. I can at least check it off the list of things that I've wanted to do.'"
LeNaire shared Ludwig with acquaintances and friends of friends and discovered bassist Nick Culp, keyboardist Avery Oden and drummer Josh Robinson wanted to join the former solo project.
"For all of us, it had actually been a few years since we had done anything live in the same room with people," LeNaire said. "So there was a few months of rehearsal, learning the songs, and there was a rusty period, for sure. But we just kind of practiced the hell out of the stuff and then finally felt ready to play some shows. Honestly, the songs are not really that hard."
Beach Language did not feel like a success until the band played its first show at a bigger venue.
"I remember thinking, 'I can't believe people will book us. I guess we're a thing that people will come out and see,'" LeNaire said. "'We're playing these bars, and people are here, and they're having a good time, and this is all fun.' Then we got a really strange booking to play ACM@UCO, their little satellite venue that I've seen real bands come through. Of Montreal was there. It's a decent size room. … We get there to open for a band out of Philadelphia called Cheerleader who was doing a US tour … and I think someone just had it wrong, that we were a bigger band than we were or something like that. So we end up sort of opening to like, 10 people in the room, and it's way too large a place, right? Like, you really feel when there's only 10 people in the room, and it's the biggest stage we've been on. … That was like, 'Well, I did think I was in a band for a second.'"
But talking to Cheerleader after the show made LeNaire realize that such ego-blows are common experiences for musicians.
"They go on the road, and it's hit or miss," LeNaire said. "Every other city they go through, maybe there's a crowd, and then maybe there's nobody, because they're doing the same thing, just on a national level. They're playing to people who have no idea who they are."
Extra input
Provided
Small Talk was released online in June.
Released online in June,
Small Talk
is a full band effort recorded and mixed by Dustin Ragland at Mir Studio. LeNaire said he is grateful to have other people's input for this album.
"If it's just me mulling over this part over and over and over again, maybe it gets done only because I just got tired of it," LeNaire said. "I could be like, 'OK. Let's do this, and let's do this, and let's get real weird with this part,' or whatever, but there's no one to lean over to and be like, 'Does this sound cool?' You just kind of have to pick something or at least be so over it that you're willing to let go. And just knowing that when it's done and it's out there, if you're ever looking back and you're like, 'Man, I really don't like that sound,' or whatever, you've only got yourself to blame."
While LeNaire would classify Ludwig as introspective synth pop, he said Small Talk is "a little poppier … a little groovier." As a songwriter, he was able to bring loose sketches of songs for the band to workshop.
"They're just way better at their instruments than I am as sort of a jack-of-all-trades filling in these parts," LeNaire said. "So just having that other musical talent in there helps immensely. … I found myself actually writing less. … I might demo out a song for all of us to get together and listen to, but I knew because Nick was there for the bass part or Avery was there for the keyboards I didn't really have to fully flesh out this idea."
Lyrically, LeNaire said he sprinkled anecdotes and personal details into songs about fictionalized characters and situations, but nothing on the album is completely autobiographical.
"'Be Afraid' is probably the least personal song because it's not really about me or a person I know or anything," he said. "[The main character is] using every sort of religious trope to sort of oppress somebody. … There was a big church boom, in the '90s, so I've heard people kind of talk like this, and if you just take it like five, 10 steps further, I can see how you could have a cult leader."
He relates to the lyrics in "Otsū" on a more personal level.
"It's a real basic kind of unrequited love story," LeNaire said. "Just because one person between the two people might think that something is destined to be doesn't mean that the other person is obligated to do that in any sort of way. … It's kind of dumb wordplay, but I thought, you have the sentence, 'I love you,' but if you just put an apostrophe D in there and say, 'I'd love you,' like, 'I would love you,' then that gets a whole lot heavier and more depressing.'"
He is happier with Small Talk, but LeNaire said he still does not feel like an actual musician.
"Maybe that'll happen one day," he said. "I don't know."
Admission is $5. The Nghiems and JMK share the bill. Visit 51stspeakeasy.com.