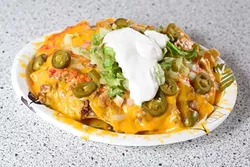 Garett Fisbeck
Nacho plate at Tacoville, Tuesday, April 26, 2016.
Despite having what many might refer to as a nascent food culture, Oklahoma City has plenty of restaurants that locals hold in such high regard that not having eaten there is a disqualifier for "true" residential status.
"You haven't had Pho Lien Hoa? You're not a real Oklahoma Citianiter until you do."
"What do you mean you've never been to Cattlemen's? Did you just move here?"
"Either you eat Bobo's chicken or you are legally required to vacate this city."
Have a seat. Grab a drink of water. Breathe into this paper bag. I don't care how long you've lived here; if you haven't visited Tacoville, 3502 Newcastle Road, then you're probably a deep-cover spy sent here to observe Oklahomans and attack when your handler speaks the activation phrase "tipsy baby."
Don't worry, comrade! I was recently the same way. I grew up in the metro, and it wasn't until earlier this year that someone finally told me my real name was probably Grigor and I was bent on destroying America. But then I went to Tacoville and it's like the Kremlin never even put a killswitch behind my ear.
Tacoville, or "The Ville," as real Americans are wont to call it, has been around since 1967 serving crispy tacos, burritos and chilled tallboys out of a refrigerator case. It's a cash-only business that is closed on Sundays and Mondays and only open from 11 a.m. to 7 p.m. the rest of the week.
It has a following that is, to put it mildly, quite devoted. And rightly so.
In a town that seems to be endlessly fighting a battle between Tex-Mex and "authentic" Mexican food, Tacoville is proudly and defiantly devoted to making the kind of low-cost fast food Mexican fare everybody loves, but better.
Take the taco, for instance. At $1.29, it is one of the best deals going.
Crispy tacos are the kind of comfort food that instantly calms me. The crunch of the shell as it shatters and the inevitable panic about whether the structure can hold as you destroy it bite by bite is a kind of low-level thrill. It's a fun game, especially when you slather on Tacoville's signature hot sauce.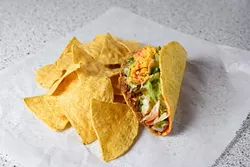 Garett Fisbeck
Taco at Tacoville, Tuesday, April 26, 2016.
Any Tacoville devotee will point you toward a Sancho ($3.49). This supreme burrito might seem familiar in its makeup, but the flavor is much better than you'll find in a drive-thru. A 10-inch, yellow flour tortilla is stuffed with beef, cheese, lettuce, onions, sour cream and hot sauce, and then it is restuffed by you, into your mouth.
The urge to order two or three Sanchos will be strong, but try to refrain. Not only is there more menu to explore, but a Sancho is like the TARDIS of burritos. It might not look huge, but it contains multitudes.
A brief note on the Nacho ($1.39) for any of you who don't read the menu descriptions. At Tacoville, a Nacho is much more like a tostada. If you're looking for shards of fried corn tortilla covered in cheese, you're looking for Chip Nacho ($2.99) or nacho plate ($3.59).
Are you trying to eat healthy? Why on earth would you do that?
If you're looking for something a little leaner than the delightful beef taco meat, you should give the chicken soft taco ($2.39) a try. It's closer to fajita chicken, grilled and seasoned just right, in a big flour tortilla with lettuce and sour cream and cheese and a side of chips.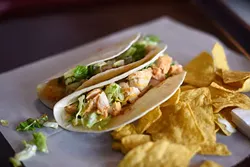 Garett Fisbeck
Soft chicken taco at Tacoville, Tuesday, April 26, 2016.
On the other hand, if you're looking for more ways to eat taco meat, then I firmly recommend the taco burger ($1.69). It's a great option for kids, with its simple filling of beef, cheese and lettuce in a bun. I go crazy with the sauce because it's seriously wonderful.
Garett Fisbeck
Taco burger at Tacoville, Tuesday, April 26, 2016.
The one thing I probably wouldn't get again is the tamale dinner ($4.39). I love tamales, but these didn't hit the spot. They were tender enough but didn't have as much flavor as some of the other entrees.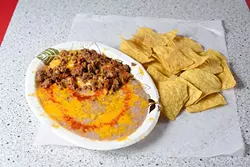 Garett Fisbeck
Tamale dinner at Tacoville, Tuesday, April 26, 2016.
Space is an issue at Tacoville — not just the dining room, which can get plenty crowded at lunchtime, but in your stomach. The competition is fierce, and with food this good, you want to make sure you're eating the best of the best.
If you're the sort who likes to end a meal with an alcoholic beverage, then you will find Tacoville has a leg up on its competitors with a case full of domestic ($1.59) and imported ($2.50) bottles of beer. It's kind of a luxury. I don't know the last time you've sat down in a fast-food taco joint, but they tend to frown on you opening up a cold one in the dining room.
Maybe you didn't know about Tacoville before, but you do now. And if you're going to keep living in Oklahoma City, it's time to make your pilgrimage. There's a reason it has been around this long.
Print headline: Residency requirement, At almost 50 years old, Tacoville is a delicious local institution.