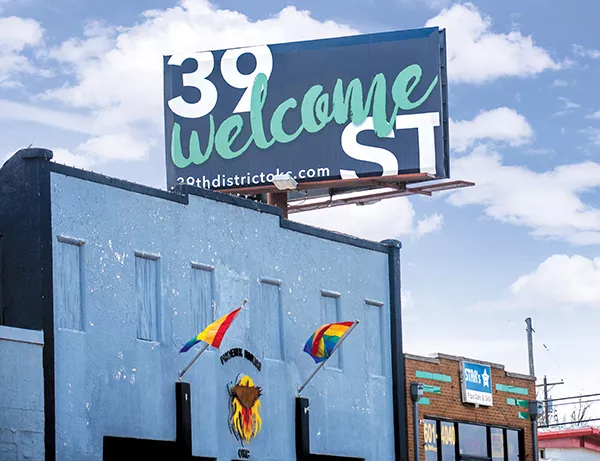 Miguel Rios
39th Street District Association hosts the annual Pride parade and festival June 21-23.
For the first time in decades, OKC Pride Inc. will not host the annual Pride festivities. Instead, 39th Street District Association will take lead on the parade and festival that celebrate the LGBTQ+ community.
Former OKC Pride president Lori Honeycutt was charged with embezzling about $5,000 from the organization last September, which left the group scrambling to continue operations. While the organization worked through restructuring, Lauren Zuniga, director of the district, said 39th Street District members felt the need to take a leadership role to make sure Pride events would still happen this year.
"We care a lot about the Pride festival; it's the biggest event of the year for the district," she said. "So it's important that it happens, especially this year because this is the 50th anniversary of [the Stonewall riots]. So we want to make sure that we go big and that we really can show out for our community."
OKC Pride is currently operating with interim president Brandon Odom. The organization did not respond to Oklahoma Gazette's requests for comment but did release a statement through The Gayly. The statement begins by thanking the community for their patience while they revitalize the organization and affirms they cut ties with people who committed misdeeds.
"The 39th Street District will be hosting and organizing a Pride parade and festival in 2019. OKC Pride, Inc. wishes to make it clear, however, that this is being done without our consent," the statement reads. "It is not and has never been the intent of OKC Pride, Inc. to have our annual marquee event appropriated by the for-profit business owners who comprise the 39th Street District."
Zuniga said the district is a nonprofit organization that exists for the interest of the district as a whole. The board is made up of the district's business owners, which she said makes sense.
"It is made up of business owners, and those business owners have profited from Pride. Several are gay business owners, and they have created gay establishments — gay-friendly and accepting and celebratory establishments," she said. "Generally, in every city that I'm aware of, those venues should profit from Pride and have in the past, but that piece isn't any different than any other year."
OKC Pride's statement also mentions multiple meetings between the district and the organization that took place regarding a potential collaboration for the Pride events. Though the organization claims those conversations devolved into discussions of community leaders pressuring the district to host the events completely.
Zuniga said the district wanted to collaborate with the organization for Pride's sake.
"That is what we definitely were trying to offer because we knew they were in a tricky situation; fundraising might be hard. We were just kind of worried about it. We also offered to do fundraisers to pay off any debts that maybe there are outstanding, but we don't know what they are because they've been kind of quiet about all that," Zuniga said. "I guess I understand that; it's just that as a member of the community myself, what happened [last year] was kind of a breach of trust. A lot of feelings were hurt because you feel a little betrayed when an organization that you trust to take care of your community and put on this important event mishandles things."
OKC Pride claims that the district's decision to host the events were not the result of the organization's recent setback.
"These issues have been addressed, changes have been made, and OKC Pride, Inc. stands in a strong position. We are ready to move forward," the statement reads. "Unfortunately, inaccurate and misleading statements made regarding OKC Pride, Inc. by certain of those affiliated with the 39th Street District, have been disheartening."
OKC Pride wrote that they could counter every allegation about their organization but would "refrain from doing so in the interest of uniting our community." The group also said in the statement that it is planning events and fundraisers to support future endeavors, including the Pride events in 2020. Zuniga said the district would not be opposed to that.
"If OKC Pride is a viable organization, on their feet and thriving by next year and ready to step back in the ring and do the whole thing, gladly," Zuniga said. "I think we would hope in the future that there would be more collaboration between the district and the organization. … That was just something that this year the interim president didn't have any interest in. He didn't want to work with us in any capacity."
The district just wants to move on and make sure the event happens, Zuniga said.
"We have about six months, so we don't really have time to argue and discuss how the last six months has gone," Zuniga said. "I have children, and Pride is one of our very favorite events of the entire year. It's like Christmas, especially for my daughter. She's 16, and she identifies as queer. I would not be able to live with myself if there was something I could have done to make sure the festival happens."
Pride full
Alexa Ace
Lauren Zuniga, director of 39th Street District Association, said Pride is one of the most important events in the city.
Despite some contention between the district and Pride OKC, Zuniga said they've received mostly positive feedback from the community and even mayor David Holt. Zuniga said a team of community members with experience in fundraising, marketing and event planning has been formed and is meeting often to continue planning the events.
"We're all really committed to making Pride a good experience for ourselves and for young people; especially because we're talking about this anniversary of Stonewall, it's like how far we've come," she said. "I feel like one of the things that was really inspiring about mayor Holt sharing his support was the fact that he feels we're the biggest city in the state so we should have the biggest pride event; we should show off how diverse and thriving the LGBTQ community is here."
The theme will be revealed on Valentine's Day and will be related to the Stonewall riots, which sparked the gay rights movements and is considered the dawn of Pride.
"We realized that a lot of people don't know what Stonewall is and they don't know how important it is," Zuniga said. "So another piece that we've discussed a lot is bringing an educational component this year and making sure there are those kind of events."
A lot of the team members organizing Pride typically participate in the parade, but this will be their first time on the planning side of things.
"We all talk about when you come over the hill in the parade and you see tens of thousands of people screaming and rainbow flags," Zuniga said. "I mean, there's just nothing like that."
Parade registration is open, and vendor registration will open Saturday. There is also an opportunity to join the Unicorn Squad volunteer group, which people can sign up for on oklahomacitypride.org. Pride is June 21-23.