On Oct. 1, the game changed for Okla-homa breweries. Not only could they sell their full-strength beers in supermarkets and keep them cold at liquor stores, but the breweries' taprooms could stay open until 2 a.m. and allow guests under age 21 to hang out while their parents sample the latest local beers. Fewer restrictions plus food on the menu in many locations mean more people, more families and more inclusion — more of everything!
With so many taprooms proliferating in Oklahoma City and the holidays in full swing, Oklahoma Gazette implores you to step away from the turkey and venture out on your first taproom crawl through OKC's burgeoning brewery scene. Check them all out, but please, please, please get a rideshare.
Stonecloud Brewing Co.

1012 NW First St.
stonecloudbrewing.com
Number of beers on tap: 17, with additional beers available by the bottle
Current special: "We feature a new beer almost every week," said head brewer Colton Simmons. "Some of our current favorites are:
Havana Affair — German Pilsner, the newest addition to our year-round lineup!
Amarilla Thrilla — single-hop pale ale
Fat Tony — rum barrel-aged stout with malted milkballs and coconut (releasing Saturday)
Look for seven specialty stouts releasing for Christmas!"
The standout beer: Neon Sunshine — A bright Belgian Wit brewed with orange peel and coriander; it's full-bodied and easy drinking. The name pays homage to the original neon laundry sign that sits atop the historic building Stone-cloud calls home.
Atmosphere/size: The taproom, built where the dry-cleaner drive-thru originally operated, is filled with natural light and warmth.
Brewer's take: "From the start, our goal was to bring vivid, progressive beers to Oklahoma," Simmons said. "Our owner Joel [Irby] and head brewer Nate [Roberts] got most of their brewing chops in the Colorado beer scene and hope to use what they've learned to create a unique craft beer experience to Oklahoma."
Roughtail Brewing Co.

1279 N. Air Depot Blvd.
roughtailbeer.com
Number of beers on tap: 14
Current special: Bice is Right and Spoonbender
The standout beer: Everything Rhymes With Orange
Atmosphere/size: 550 square feet
Brewer's take: "We do a lot of special releases and tap house-only stuff to get people out. Although it feels like we're in the middle of nowhere, we're only 7 miles east of downtown," said owner Blaine Stansel.
Prairie Artisan Ales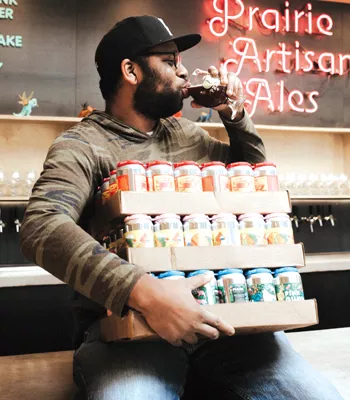 3 NE Eighth St.
prairieales.com
Number of beers on tap: 16
Current special: Rotates weekly
The standout beer: Barrel-Aged Nigerian Prince. An imperial stout with peanut butter roasted coffee aged in bourbon barrels.
Atmosphere/size: A bright, colorful Scandinavian vibe in a warehouse setting.
Brewer's take: "We are constantly rotating the beers, so there is always something new and exciting," said taproom manager Greg Powell. "We keep a good mix of fruited sour beers, IPAs, stouts and pilsners."
Twisted Spike Brewing Co.

1 NW 10th St.
twistedspike.com
Number of beers on tap: 24
Current special: Two Bean or Not Two Bean, a vanilla coffee robust porter with 5.8 percent ABV.
The standout beer: Dirty Blonde, a Belgian blonde with 6.2 percent ABV, has been winning awards since owner Bruce Sanchez was brewing it in his garage in the 1990s. Each barrel of Holy Beer, a smooth dark Belgian quadruple with an ABV of 9.8 percent, is reportedly blessed by a priest.
Atmosphere/size: Twisted Spike features several TVs for watching sporting events, including a 70-inch screen in the back event space. In addition to beer, it also offers several wine selections and food from Calico Joe's Sports Grill in a casual, family friendly environment.
Brewer's take: "Everything's growing and migrating back downtown, and we just wanted to be part of that growth and make things a lot more fun in downtown," Sanchez said. "We're the first brewery with an in-house restaurant. … A lot of these beers started out as my home brew favorites. They're like my kids. I love them all. Sometimes I'll walk into the taproom after a few weeks of not having tasted one for awhile, and I'm like, 'Oh yeah! I love this beer!' I do that constantly."
Anthem Brewing Co.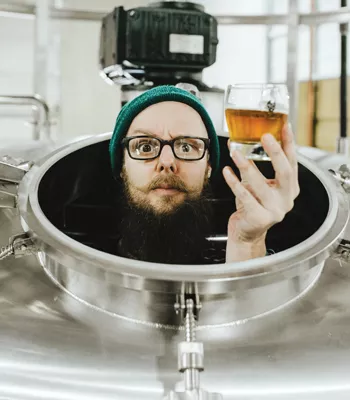 908 SW Fourth St.
anthembrewing.com
Number of beers on tap: 12, with plans to expand to 16-18 at the beginning of next year
Current special: Anthem recently re-released its popular Rye'd or D'ipa Double IPA and plans to release a special Festivus-themed ale (after the non-religious holiday "for the rest of us" invented by George Costanza's father on an episode of Seinfeld) with hints of ginger, nutmeg and cinnamon in December.
The standout beer: Federal Level, a sour dark cream ale with an ABV of 8.8, was developed to celebrate the anniversary of Oklahoma's Senate Bill 424, which allowed brewers to sell high-point beer on their own premises. FarmHouse, with an ABV of 7 percent, is aged for a year in a chardonnay barrel for a crisp, tart taste.
Atmosphere/size: Head brewer Shaun Wright said the minimalist taproom with its small bar area will be expanded in early 2019 when Anthem enlarges its operations to meet the growing demand for its products in stores and bars.
Brewer's take: "We have a very well-rounded, diverse group that enjoys our beer," said brand ambassador Jesse House. "People from everywhere come in all the time. There was one weekend where I had nothing but Alaskan people coming in, and I was like, 'Why are you all here and wearing shorts when it's 30 degrees?' … At the end of the day, we're all just boiling some water and throwing some flowers into a pot, just trying to have a good time with what we can make out of it."
Brewers Union

520 N. Meridian Ave.
buok.beer
Number of beers on tap: 18
Current special: Night Ops American Stout by Crossed Cannons Brewery, with an 8.7 percent ABV, and Bourbon Barrel Mashie by Elk Valley Brewing Company with a 10.9 percent ABV are both currently available in the taproom.
The standout beer: Steel Beach Picnic by Crossed Cannons, a session IPA with a 5 percent ABV and Magic Juice, a Northeast-style double IPA with an 8.2 percent ABV by Elk Valley.
Atmosphere/size: The taproom features draft beer from multiple local breweries and seats a maximum of 49 people. Customers can sign up for a weekly pingpong tournament on Wednesday nights.
Brewer's take: "We're a cooperative, and we have multiple startup breweries working under our roof," said owner Brad Stumph. "We provide the setup, and then those other guys come in and basically work in the space and are able to produce their beer. Our goal is to lower that barrier of entry for startups. Of course, if they're not purchasing equipment and real estate and things like that, it allows them to come in and basically just brew for the price of rent and ingredients and they can get their brand started. … If I can help some other entrepreneurs get going and start a business, that's definitely pretty fulfilling for me, and I think it helps grow our craft beer industry here in the city as well."
Angry Scotsman Brewing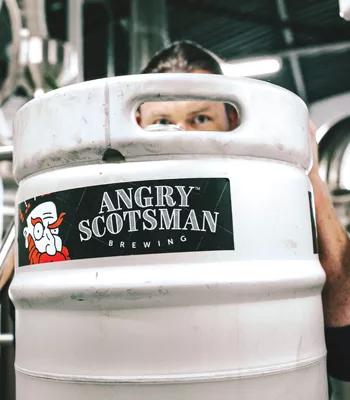 704 W. Reno Ave.
angryscotbrew.com
Number of beers on tap: 10
Current special: The Fall Back Pumpkin Dunkelweizen is a German dark wheat beer that Angry Scotsman owner Ross Harper offers during the fall. Common People, a California lager, is a year-round special.
The standout beer: Rusty Kiltpin is a malty Scottish export beer that Harper describes as "easy to drink."
Atmosphere/size: Harper said the brewery's patio is one of the largest downtown. When the weather permits guests can get toasty outside by relaxing near the bar's fire pits and patio heaters.
Brewer's take: "When I came to the States for college, I learned that even though Americans speak English just like the English speak English, there are many differences in our interpretations. One night when I was drinking with my college roommates, I told them I was pissed. In England, the expression means that a person is drunk or tipsy, but in America, it means that a person is mad. So I became known as the Angry Scotsman. When the liquor laws in Oklahoma changed, I thought it was time I had fun with that name, so I opened this place up. The atmosphere here is fun and lighthearted, but we like to say that everyone gets angry from time to time."
Vanessa House Beer Co.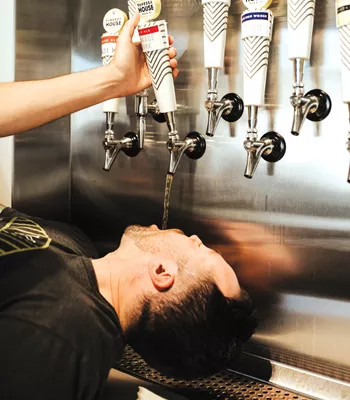 118 NW Eighth St.
vanessahousebeerco.com
Number of beers on tap: 12
Current special: T-Shirt Co. is an IPA New England-style beer with tropical notes. A 4 oz. pour is $3.50 and a full 16 oz. glass is $7. Customers can also buy four-packs to go.
The standout beer: 401 Cream Ale is an old-style American beer that contains no cream despite its name. It has a smooth taste, bar co-owner Andrew Carrales said. Another flagship beer is Broken Tile, which is a double IPA and has the hops grapefruit flavor with a bittersweet back end.
Atmosphere/size: The atmosphere includes a throwback to Automobile Alley with a superhero mural on one wall painted by local artist Jack Beeson. The atmosphere is intentionally bright in every sense of the word.
"We wanted this to be a very open place with lots of natural light," Carrales said.
Bar owners and staff strive to implement a bright attitude as well, and the element of fun is apparent.
Brewer's take: Vanessa is not so much about a woman as it is about friendship, Carrales said.
"There are five of us who own this bar, and we all grew up together. In college, we lived on Vanessa Street in a rental house we called Vanessa's House. We had so much fun. Later, we graduated, got married, had kids and realized that we hardly hung out like we used to, so we started brewing beer together on Saturdays at Zac's house. One day, we had the idea to make a business out of our hobby, and here we are."
Vanessa House's owners are Carrales, Nick White, Justin Wright and brothers Zac and Evan Smith. "We like to say that we take our beer a lot more seriously than we take ourselves," said Carrales.
Elk Valley Brewing Co.

1210 N. Hudson Ave.
elkvalleybrew.com
Number of beers on tap: 17
Current special: Specials will be offered when Elk Valley's Midtown location opens in December according to owner, John Elkins.
The standout beer: Magic Juice is a double IPA Northeast-style beer with Mosaic and Comet Hops. The beer has a strong citrus flavor, Elkins said. The Tenkiller Pilsner is an American Pilsner with malt, barley, flaked corn and American hops.
Atmosphere: Inclusive.
Brewer's take: "This has been a vision of mine for a long, long time," Elkins said.
The Midwest City born and bred 44-year-old went to tech school after high school and worked as an aircraft mechanic for the Department of Defense years before he ever made his dream a reality. When his wife finished nursing school, she advised Elkins to pursue his beer-brewing hobby full time and open the brewery he always hoped to. "I am a family man," he said. "Everyone is welcome into my bar, and you can bet the beer is good. My motto is simple: I brew the beers I love to drink."
COOP Ale Works

4745 Council Heights Road
coopaleworks.com
Number of beers on tap: Seven handles are dedicated to COOP's core line of beers, one dedicated to seasonal beers, one or two handles for barrel-aged beers and eight handles for experimental beers that are being market-tested.
Standout beer: Green Room IPA is a variant on the F5, double dry-hopped with Citra hops.
Atmosphere: Relaxed and casual — the better to sample some future favorite beers and provide a little feedback.
Brewer's take: The new COOP Ale Works location scheduled to open in late 2020 at the former 23rd Street Armory, 200 NE 23rd St., will broaden visitors' beer-tasting experience.
"There will be multiple bars instead of a single taproom, and each of those bars will have a unique quality to it," said Sean Mossman, director of sales and marketing at COOP Ale Works. "We know we're having a full-blown brewpub in the space, and we're working on what the menu will be. There could be as many as three bar locations on the site."